The Heysham-Gibbon Branch
This branch of the family is famous for a prominent line of physicians, including the inventor of the heart-lung bypass machine, and an Army Major General of the Union Army during the Civil War and his Confederate brothers.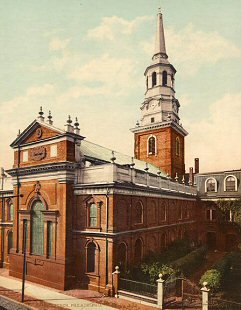 (21) Mary Heysham-Gibbon (1761)
(6) Richard de Heysham (c1190)
(7) Thomas de Heysham (c1220)
(8) Adam de Heysham (c1250)
(9) John de Heysham (c1280)
(10) David de Heysham (c1320)
(11) Thomas de Heysham (c1350)
(12) William de Heysham (c1400)
(13) Nicholas Heysham (c1450)
(14) William Heysham (c1520)
(15) Gyles Highsame (c1540)
(16) William Heysham (c1580)
(17) Giles Heysham (1603)
(18) John Heysham (c1635)
(19) William Heysham (c1680)
(20) Captain William Heysham (1720)
Mary is the matriarch of this line. She was the oldest daughter of Captain William Heysham of Philadelphia. She was born on 29 December 1761 and christened on 03 January 1762 at Christ Church and Saint Peters, Philadelphia, Pennsylvania. Saint Peters was a subsidiary to Christ Church, built when the congregation became too large for the older facility. I suspect Mary's christening was taken from a joint record of the two churches, so she was christened in one church or the other, not both. Looking at her father's record and her marriage, I'll assume she was christened at the larger, and more prestigious, Christ Church, pictured to the right.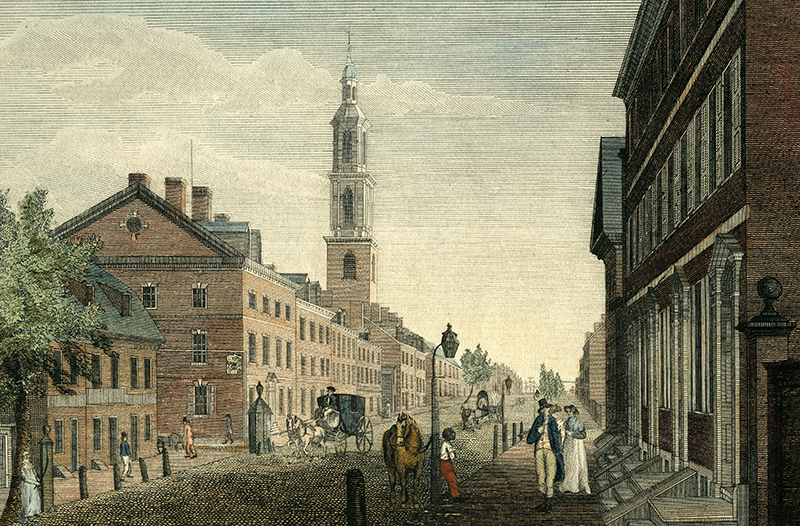 Like her younger sister, Ann, she was the daughter of a prosperous ship-captain/merchant and, as such, lived a relatively privileged life on Arch street, in Philadelphia, pictured to the left. The Captain's family lived on the left (north) side of the street, several houses up from the intersection, which is 4th Street. The home of Betsy Ross was amongst the same row of houses. The church in the background is the Second Presbyterian. Across the street, on the south side of Arch street, a low brick wall can be seen which surronded the Quaker Meeting House and burial ground.
Mary would have received a basic education in reading, writing, some arthimetic and morals, but it was from her mother that she would have gained her real education in how to run a household, raise an upstanding family, and be a suitable consort of an up-and-coming young man.
Mary was 13 years old when the Revolution began at Lexington & Concord in 1775, and 15 when the army of General Howe occuppied Philadelphia. This was a dangerous time for her family because they were known to oppose the King. Mary's father was a radical in the forefront of the patriot cause and had angered many of his Loyalist neighbors. He was arrested soon after the occupation, though how long he was held I don't know. Mary's brother, William Jr., was at sea, an officer onboard an American privateer, the REVENGE, that had gained an evil reputation in England. Her other brother, Robert, was in the militia and had fought against the British at Trenton and Brandywine. I suspect Mary, her sister, and her mother also aided the rebel cause in the same manner women over the ages have done, in making bandages, knitting & sewing garments and blankets for the soldiers, etc.
It's possible given their background that the family either fled the city or that their home was commandeered and they were forced to live elsewhere. Their house was in one of the better neighborhoods and centrally located, and so would have been a prime property for housing British officers. If so it undoubtedly suffered as a result. While the occupation was not a severe one, the troops took as good a care of property that was not their own as you might expect. When the British departed, many portable goods left with them. In an assessment of the damages sustained during the occupation, William Heysham claimed a loss of 286 [pounds] 3 [shillings].
After the British left Philadelphia in June 1778 Mary's father, William Sr., renewed his activities in various radical patriot organizations. Her brother Robert mustered with Captain George Esterly's company of militia, although Philadelphia was never directly threatened again. William Jr. was taken by a British warship while piloting the prize BETSEY back to an American port and spent the next 2 years in Portsmouth prison.
Meanwhile, the war in America took another turn with the British embarked on a campaign in the South. This would end with the British army under General Cornwallis trapped at Yorktown, Virginia and forced to surrender to a combined American and French force.
In 1783 the war was over and the United States was now a free nation. Mary's father continued to take an interest in government and politics. In 1788 a parade was held in Philadelphia celebrating the establishment of the Constitution. Brother Robert led a corps of infantry and father William rode in a float representing the Sea Captains Club.
Nothing is known of Mary until 1787 when she was confirmed.
""1787. Names of Persons confirmed in St Peters Church, in the City of Philadelphia, on the 10th Day of November, 1787
. . .
Mary Heysham" - from "Pennsylvania and New Jersey, Church and Town Records, 1708-1985"
Mary Heysham was a witness and heir, along with her mother and sister, to the will of Susannah Cumming of Philadelphia. The will was signed 17 November 1789 and proved on 26 April 1791. Mary's father and brother, Robert, were executors.
"Cumming, Susannah. (Late of City of Phil'a.) Mooreland, Co of Philad'a. Widow. Signed Nov. 17. 1789. Son- Joseph. Nieces- Margaret Craft and her Daughter Maria. Nephew- James Craft. Friends- Mrs. Mary Heysham and her Daughters Mary and Ann, Katharine, Mary, Phibe, and Rachel Comley, James Mounteer. James (Son of Joshua Comley). Exec. Joseph Cumming, Robert Heysham, William Heysham Senr. Witnesses- Joshua Comly, Ann Heysham. Prov'd. Ap. 26. 1791."
Mooreland, or Moreland, was a township in northeastern Philadelphia.

The census of 1790 shows three women living in William Heysham's house on Arch street. These were most likely William's wife and two daughters, Mary and Ann.

Mary Heysham married Dr. John Hannum Gibbons, a Quaker, in 1794 in Philadelphia.
"In 1794, he and Mary Heysham were married; he was thirty-five at the time, she thirty-three. Mary's father had emigrated in 1721 [sic] from Lancaster, England, to New York where he had met and married her mother, also named Mary. They moved to Philadelphia shortly after the daughter was born. Dr. Gibbons and his wife had only a short while together for he died the following year, on October 4; their son, John Heysham, was only eight months old. Dr. Gibbons was interred in the burial grounds of Christ Church at Fifth and Archer Streets, just opposite the grave of Benjamin Franklin." - from "A Dream of the Heart" by Harris B. Shumacker
John Gibbon's family had come to America from Wiltshire, England in 1684. He was a physician and a graduate of the University of Pennsylvania. He received "a part of his education in Edinburg, Scotland" - from "Genealogy of the Hannum Family." His practice was in Philadelphia and the couple settled on Arch street, perhaps in her father's house. It is interesting to note that Mary's sister, Ann, also married a Doctor, Francis Bowes Sayre, in 1792. Did the doctors meet the two sisters through their own mutual acqauintance, or vice versa [interesting, too, that the younger sister married first]? Also of interest was that the Gibbons family were Quakers. Was John Hannum Gibbons still a Quaker at the time of his marriage and, if not, when did he change?

John had graduated from the University of Edinburgh of Medicine in 1786. "In 1789 and for some years afterwards he lectured on the "Theory and Practice of Medicine." - from "History of medicine in the United States: With a Supplemental Chapter on the Discovery of..." by Francis Randolph Packard.

Interestingly, "Dr. John Hannum Gibbons, Philadelphia physician" was mentioned by John Adams in a Letter to Thomas Jefferson, in London, on 30 November 1786 - from "The Adams-Jefferson Letters: the complete correspondence between Thomas Jefferson and Abigail and John Adams," edited by Lester J. Cappon, pg 156. It was in this letter that Jefferson first learned of "Shay's Rebellion" in western Massachusetts. In his reply he famously said "I like a little rebellion now and then. It is like a storm in the atmosphere." I haven't looked up this book yet.

Dr. Gibbon and his new wife settled down in Arch Street, perhaps living with Mary's father, William Heysham. - from "History of medicine in the United States: With a Supplemental Chapter on the Discovery of..." by Francis Randolph Packard.

At the end of the summer of 1793 the Yellow Fever had returned to Philadelphia. People developed violent fevers, yellow skin, and black vomit (from intestinal hemorrhages), and often died within a few days. In response to a request by the Mayor, 16 of the 26 Fellows of the College of Physicians met to discuss what should be done. Among the Fellows was John H. Gibbons - From "Bring out Your Dead: The Great Plague of Yellow Fever in Philadelphia in 1793" by J. H. Powell, 1993. Note that Dr. Adam Kuhn, another Fellow, who had a run-in with Mary's father, William Heysham, was greatly vilified for leaving town at this time to live in Bethlehem. He left many patients behind that other doctors had to treat. Gibbons himself became ill from the fever in September, though he apparently recovered. Unlike Dr. Frances Sayre, his brother-in-law, he was not a protege of Benjamin Rush, but more closely his equal. When the epidemic faded in November, one-tenth of the city's residents had died and over 17,000 others had fled the city.

The College of Physicians of Philadelphia

The College was founded on 2 January 1787 by twenty-four prominent Philadelphians, including John Redman (1722-1808), elected first president of the College, John Morgan (1735-1789), founder of America's first medical school, and Benjamin Rush (1745-1813), a signer of the Declaration of Independence and vigorous advocate of many humanitarian and social causes. The College, according to its constitution, was founded "to advance the Science of Medicine, and thereby lessen Human Misery, by investigating the diseases and remedies which are peculiar to our country" and to promote "order and uniformity in the practice of Physick."

The College's members immediately became involved in public health issues. In 1787 they published a temperance memorial. Then,
"When Yellow Fever struck the city in 1793, the vexed question of whether the disease was local in origin or had been imported from the West Indies divided physicians not only in Philadelphia but also elsewhere. At the same time, Benjamin Rush, an enthusiastic purger and bleeder, had introduced his famous ten-and-ten treatment-ten ounces of blood and ten of calomel (mercury)-a therapy which led to considerable "contrariety of opinion" between Rush and his fellow College members. In response to queries from the Governor of Philadelphia, the College supported the importation theory of Yellow Fever, an opinion that Rush opposed and that, together with arguments over his heroic treament, led to his resignation from the College." - from a review of "The College of Physicians of Philadelphia: a bicentennial history" by Whitfield J. Bell Jr., 1988.
In 1793 the College had 26 Fellows, all doctors. A special meeting of the members was called to answer Governor Mifflin and Mayor Mathew Clarkson's questions about the fever then raging in the city. The Fellows attending were William Shippen, the College's Vice President, Samuel Powell Griffitts, its Secretary, Benjamin Say, the Treasurer, Adam Kuhn, Thomas Parke, Caspar Wistar, Benjamin Duffield, Samuel Duffield, John H. Gibbons, Andrew Ross, John Carson, William McIlvaine, Nathan Dorsey, Benjamin Rush, William Currie, and James Hutchinson, the Port Physician. Non-attendees included John Redman, the College's President, Michael Leib, Peter Glentworth, Robert Harris, Waters, and John Foulke.
John was an Edinburgh-trained physician and this may have been his introduction into the higher levels of medical society in Philadelphia and for admission to the College of Physicians.
The Edinburgh Influence

Edinburgh was at this time the most famous place for medical education in Europe, certainly for English speaking students. It was here that the foundation was laid for what proved to be the beginning of medical teaching at Philadelphia. John Morgan met there an old fellow student at Dr. Finley's Academy, William Shippen Jr., son of a Trustee of the Philadelphia College. Morgan and Shippen would later found the medical school at the University of Philadelphia. Adam Kuhn and Benjamin Rush, both Edinburgh graduates, were added as lecturers in the school's first year. Each man maintained his own private practice as well.

Note, above the entrance to the medical school is carved the thistle of Scotland, a tribute to the influence of Scotland on the school and medicine.
John's brother-in-law, Francis Bowes Sayre, was an associate of Benjamin Rush, one of America's most famous doctors. Rush exchanged medical data with numerous doctors, including a Dr. John Gibbons of Delaware. John H. Gibbons was from Delaware county. Could this be the same man? Could Ann and Mary Heysham's husbands have met through their mutual acquaintance with Rush?
John Hannum Gibbons died soon after he married, on 4 October 1795, predeceasing his own father by 4 years. He was only 36 years old. This would have been just 8 months after the birth of his son, John Heysham Gibbon. There is no indication of how, or from what, he died, but as a Doctor he frequently came in contact with infectious diseases. Note that Yellow Fever struck Philadlephia in 1793, 1794, 1797, 1798, 1802, 1803, 1805, 1819, 1820, and 1853.
"All persons indebted to the Estate of Doctor John H. Gibbons, late of Philadelphia, deceased, are requested to make payment; and those who have any demands against said Estate, are desired to bring inn their accounts duly attested, for settlement, to
Robert Heysham
Attorney in fact for Mary Gibbons, administratrix to the said deceased's Estate.
Arch-street, No. 107; Nov. 4." - from the "Gazette of the United States" of 26 November 1795
An attorney in fact is a person who is authorized to perform business-related transactions on behalf of the principal. Authorization is provided through a power of attorney.

Mary Heysham was "Rvcd on Trial" as a member of the Union Methodist Episcopal Church on 2 October 1810, and into full membership on 10 April 1811. Why didn't she use her Gibbon name? The Methodist Episcopal Church, sometimes referred to as the M.E. Church, was a development of the first expression of Methodism in the United States. The current church building was constructed in 1888 and is today the Jones Tabernacle AME Church.

Mary Heysham Gibbons died 29 years later, on 29 January 1824, while still living in Philadelphia, and was buried alongside her husband at the Christ Church Burying Ground. She and John had only one child,
(22) Dr. John Heysham Gibbon (1795)

(22) Dr. John Heysham Gibbon (1795)
(17) John Gibbons (1656) (18) James Gibbons (1683) (19) Joseph Gibbons (1712) (20) Joseph Gibbons Jr. (1739) (21) Dr. John Hannum Gibbons (1759)

He was born on 14 February 1795 [his tombstone shows 1796] in Philadelphia [or possibly Westtown, Chester county, next door to Philadelphia]. His father died 8 months later, perhaps of the Yellow Fever which was recurrent through the 1790's. Did John's widowed mother receive support from the Gibbons, Hannum or Heysham families? John was named in his Grandfather Joseph Gibbons' will of 18 August 1796. It provided for his grandson, referred to as John Haysham [sic] Gibbons of Philadelphia, "when of age." His uncles James M. Gibbons and Joseph Gibbons were executors of the will and probably helped fund young John's education. William Heysham, his maternal grandfather, was also alive at this time and capable of providing support.

He studied medicine at the University of Pennsylvania, perhaps in memory of his father and at the urging of his mother, but he never practiced. He probably attended the school from about 1815 to 1820, or thereabouts. Note that in 1816, at the age of 21, he would have received the bequest from his grandfather's will.

John married Catherine Lardner [sometimes referred to as Katherine] on 4 November 1819. She was born on 31 March 1799 [or 1800] in Philadelphia, the daughter of William Lardner, of "Lynfield," near Holmseburg in Philadelphia county, and Ann Shepard [Shepherd], of Newborn, North Carolina. This was an excellent marriage. William was the son of Lynford Lardner, the elder, who had been an attorney for the Penn family and a member of the Pennsylvania Provincial Council.

John and Catherine had ten children, Lardner, Robert, Mary, John Hannum, Catherine, Anna, Virginia, Nicholas Biddle, Margaret and Frances, who died young.




The Shepard Family

The family of Catherine Lardner's mother. Note that Catherine's son, Lardner Gibbon, would marry Alice Shepard, his second cousin, below.

In the 1830 census for Lower Dublin township, Philadelphia county, Pennsylvania as John H. Gibbon. The village of Holmesburg, where his children were born, was situated in Lower Dublin Township. At the time he had 1 boy under 5, two boys who were 5-10, and one man 30 to 40 years old. Women in the house included 1 girl under 5, 1 who was 5 to 10, and 1 woman 30 to 40 years old.

In 1832 John H. Gibbon, Dem, appears on a list in both the 'Star and Republican Banner' and the 'Gettysburg Compiler,' two newspapers of the day, as a newly elected Representative to the Pennsylvania State House of Representatives from Philadelphia county. Lynford Lardner, the younger, his wife's cousin, was also elected. This would have been a two-year term. The House was made up of 61 Democrats, 33 Anti-Masons, 5 National Republicans and 1 Undetermined. Pennsylvania was primarily a Democratic party state, having turned against what many saw as the aristocratic leanings of the Federalists. Both governors from 1823 to 1834 were Democrats. Politics changed in 1834, however, when a Whig party candidate took the governorhsip. Note that the state government was located in Harrisburg.

Also in 1832, and perhaps related to his election that year, an act was passed to incorporate the Philadelphia and Trenton railroad company. Dr. J.H. Gibbon, of Philadelphia was amongst a long list of men "appointed commissioners, to construct a railroad of one or more tracts, from the district of Kensington, through the borough of Frankford, intersecting the Delaware division of the Pa. canal, in the borough of Bristol, to the Trenton Delaware bridge in the borough of Morrisville. 23 Feb 1832." - from "The Statutes at Large of Pennsylvania," Harrisburg, Pennsylvania, 1911, Laws Passed Session 1831-1832. I suspect this meant that the Doctor was one of the lines' backers and early shareholders.

Philadelphia and Trenton Railroad

The P&T was chartered on 23 February 1832 by the Pennsylvania State Legislature. It was organized on 9 June 1832 with a captilization of $600,000. A stock offering was made that was easily sold out and construction began immediately.
"When organizers of the new Philadelphia and Trenton Railroad decided, with the approval of the distant state legislature, to run their tracks down the center of Front Street to their depot at Third and Willow, East and West Kensingtonians buried their differences to preserve their communities from cinder-throwing machines. They united in a drawn-out series of disturbances and altercations known as the Railroad Riots. After workmen had finished laying track and ties during the day, local residents would rip out the work overnight, burning the ties to melt and warp the rails. After months of turmoil, the railroad directors decided to concede defeat and the Kensington Depot was finally constructed at Front and Berks Streets." From The Historical Society of Pennsylvania, "Old Kensington," by Rich Remer.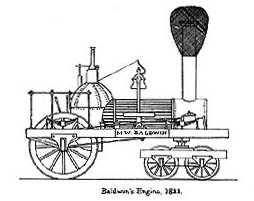 The line began operation on 3 November 1834 from Philadelphia to Morrisville, just opposite Trenton, a total of 26 miles. This corporation had also secured a majority of the stock of the Trenton Bridge Company and the Trenton and New Brunswick Turnpike Company. In 1836, in a bid to remove competition, the Camden and Amboy Railroad of New Jersey bought a controlling interest in the company. The line eventually became part of the Pennsylvania Railroad system. The majority of it is now part of Amtrak's Northeast Corridor.
This was one of several very early rail lines operating out of Philadelphia. The earliest, the Philadelphia, Germantown and Norristown railroad, began operation in June 1832 with the cars drawn by horses. In November of that year the innovation of steam locomotives was introduced. It had a speed of about 28 miles per hour. A second line, the Delaware and Schuykill railroad, continued to be horse-drawn in 1834. The P&T used a locomotive from the outset, most likely a Baldwin model, made in Philadelphia, like the one pictured above.
The chartering of railroad lines by the state assembly were surronded by intimations of corruption.
I wonder how the Doctor did in the stock sale? It was about this time that John began looking for a midshipman's berth on a Navy ship for his eldest son, Lardner. John's position in the Assembly probably helped in that endeavour. Unless re-elected, John would have been out of office by the end of 1834 and looking for something to do.
In 1835 John appears to have accompanied Charles Biddle in a survey of the Panama Isthmus for a possible railroad. I wonder whether Biddle took Gibbon along for his knowledge of mineralogy (assuming he had any), of railroads, of the financing of railroads, or simply as a companion. The following indicates that he was an interpreter, but did he really speak Spanish or was this meant more broadly as an "interpreter of the sights?"
"Dr. John Heysham Gibbon was an intelligent and likable physician who enjoyed a good life in Philadelphia. In 1836, he served as an interpreter to a member of an important family on a trip to Panama." - from "A Dream of the Heart: The Life of John H. Gibbon Jr." by Harris B. Shumacker
Charles Biddle was the son of Captain Charles Biddle and Hannah Shepard, and the brother of Nicholas Biddle, the head of the Bank of the United States. Hannah Shepard's sister was John H. Gibbon's mother-in-law. From "Isthmus of Panama: History of the Panama Railroad" by F.N. [Fessenden Nott] Otis, M.D, New York, 1867:
"Pursuant to a resolution offered by the Hon. Henry Clay, of Kentucky, in the Senate of the United States, in the year 1835, the President, General Andrew Jackson, appointed Mr. Charles Biddle, formerly of Philadelphia, then of Tennessee, as a commissioner to visit the different routes on the Continent of America best adapted for inter-oceanic communication, and to report thereon, with reference to their value to the commercial interests of the United States.
Mr. Biddle, accompanied by Dr. Gibbon, of Philadelphia, sailed from that port for St. Jago de Cuba, to gain preliminary information regarded to be important." See Isthmus of Panama for the complete book.
See also "A Philadelphian and the Canal: The Charles Biddle Mission to Panama."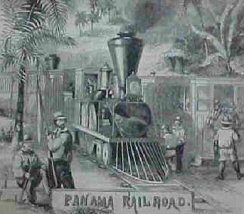 The Panama Railroad

In 1835 President Jackson commissioned Charles A. Biddle, an Army Colonel, to go to Nicaragua and the Isthmus of Panama, survey the ground, and report on the different routes which had been proposed for interoceanic communication. Biddle, being greatly impressed with what he saw of the Panama route, did not carry out the whole of his instructions, never visiting Nicaragua, but instead proceeded to Bogota, where he succeeded in securing a private franchise for a trans-Isthmian railroad. This action put his mission and his reputation under a cloud. He returned to the United State in 1837 with this franchise, but died before he was able to prepare a report.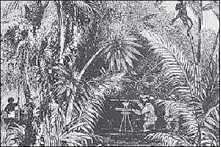 This project for a railroad might have materialized immediately, but the Panic of 1837 prevented it from being properly financed. The railroad was finally begun in 1850. Biddle determined, by the way, that it ought to be clear to anyone that it would be impossible to build a canal through the malarial jungles of Panama.
The Panamanian travelors returned to the United States late in 1836, but Charles Biddle died soon thereafter, on 31 December 1836. An official report of the expedition was never made. Note that John's eldest son, Lardner, mimiced his father's adventure, making his own expedition to South America in 1851.
By this time John may have been looking for a government sinecure. On 27 February 1837 the President, Andrew Jackson, nominated J. H. Gibbon to be assayer of the branch mint at Charlotte, North Carolina. On 2 March the Congress consented. In 1838 Gibbon accepted the appointment and moved his family there.
Was John a trained mineralogist or was his appointment purely political? While he may have been an amateur "rock hound," and could have practiced this avocation in Panama, I have to think he was chosen more because of his family and political connections.
Men hired to make coins at the Charlotte facilty attended special training at the Mint in Philadelphia, Pennsylvania and John probably did too. When the Charlotte Mint opened, the superintendent's salary was $2,000 per year. The chief coiner, John R. Bolton, earned $1,500 per year. The assayer, J. H. Gibbon, earned $1,000 per year.
The Charlotte Mint

In 1788 young Conrad Reed found a shiny 17-pound rock in Cabarrus County, North Carolina. His family used the rock for years as an interesting doorstop. That is, until they discovered it was gold. This gold find triggered America's first gold rush in the early days of the republic while George Washington was still President. During its peak years gold mining employment was second only to farming in the South. Over a million dollars a year was mined in gold in the early 1800's. In fact, North Carolina led the nation in gold production until 1848 when it was eclipsed by the California Gold Rush.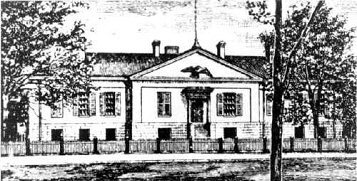 Initially the gold had to be sent back to the U.S. Mint at Philadlephia, the only branch at that time, but the lack of good roads and prevalence of bandits made this a poor alternative. This situation prompted the placement of a mint, a branch of the Philadelphia mint, in Charlotte, North Carolina to produce "gold only" coinage. In all, $5,059,188 in gold was minted at Charlotte.
On the night of 27 July 1844, the Charlotte Mint was nearly destroyed by fire, which occurred in the coining room and nearly consumed the entire building. The machinery was seriously injured, but the records, being stored in the vault, were not injured. Mr. Caldwell, the superintendent, reported that evidently the fire was the work of a thief, as his living apartments had been entered and articles stolen.
The present building, pictured above, was authorized by Act of 3 March 1845 and was completed at a cost of $31,572.97, and occupied in 1846, and used for coinage purposes until May 20, 1861, when North Carolina entered the Confederacy and operations were suspended. After Abraham Lincoln was elected President, North Carolina seceded from the Union in May 1861. During the Civil War the building was turned into a Confederate headquarters and hospital. The facility never re-opened as a Mint but, after the Civil War, from 1867 to 1913, it operated as a U.S. Assay Office. Today the structure houses an art museum.
Unlike at the Philadelphia Mint where the roles of assayer and melter-refiner were separated, at the Charlotte Mint Dr. J.H. Gibbon had both jobs and was, when the Mint first opened, overwhelmed by the tasks. This caused a several month delay in minting the first coins because he simply couldn't do all the work by himself. Does this portray an unfamiliarity with his duties that would be implicit in a political appointment?
Gibbon remained the Assayer during the entire period the facility was a U.S. Mint and throughout the Civil War under the Confederacy.
The Assay process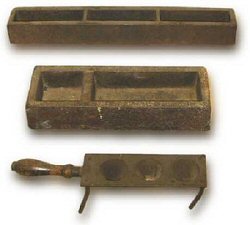 During the assaying process, other metals like lead, copper and silver were extracted from the gold. When the metal was first melted it was poured into molds like those to the right.
"In July 1838, worried about the chance of fire at Charlotte's Mint, one of its officials, John Heysham Gibbon, issued a warning. He reminded Superintendent John Wheeler Hill that the city operated only one fire truck, located far from the Mint. Gibbon suggested installing buckets and tanks to collect rainwater in and around the building. Hill partly complied, but one day disaster struck. On 27 July 1844 John Heysham Gibbon's gruesome prediction came true. Fire erupted at the Charlotte Mint and destroyed the stately building on Charlotte's West Trade Street. Gibbon had tried to warn Mint officials about the need for fire protection six years previous."
In the 1840 census of Mecklenburg county, North Carolina as John H. Gibbon. His household included had 1 boy under 5, 2 boys 10 to 15, and a man 40 to 50. Women in the housefhold included 2 girls under 5, 1 girl 5 to 10, and 2 girls 10 to 15, and a woman 30 to 40 years old. For an excellent history of the region, see History of Charlotte-Mecklenburg by Dr. Dan L. Morrill.
On 9 February 1842 in the House of Representatives, "Mr. Fillmore presented a petition of John H. Gibbons, praying to be allowed and paid 134 dollars for services rendered in transcribing, in part, the opinions of the Attorneys General, in answer to a resolution of the House of Representatives of the 23d March, 1840; which petition was referred to the Committee of Claims." Is this our John?
Gibbon, though born in Philadelphia, became more Southern in his outlook and opinions than the Southerners themsevles. On the eve of the Civil War, John is noted as being a "Democrat and a slaveholder." A footnote in Chapter XV of "The Church And Social Control," reads: For the Biblical justification of slavery by a North Carolina doctor, see J. H. Gibbon, "The Institution of Slavery in Accordance with the Principles of the Moral Law," DeBow's Review, XVI, 410-13. John Heysham Gibbon's opinions had moved very far from his Quaker forebears.
He appears to have been a writer on many subjects and was, as was typical of the era, an amateur naturalist. In 1845 J.H. Gibbon published an article, "Gold of North Carolina," in the American Journal of Science. In 1850 the Doctor found a meteorite "near the post office at Flows, 22 miles east of Charlotte." "An account of the principal circumstances attending the fall of the mass has been given by Dr. J.H. Gibbon, of the United States Branch Mint, Charlotte, N.C. . . ." - from "Summarized Proceedings . . . and a Directory of Members," by the American Association for the Advancement of Science. He appears to have been a member of the Association. An article, "Meteorite in North Carolina," was published in the American Journal of Science. It was also published in the Philosophical Magazine and abstracted in 5 other scientific journals. John also wrote a paper "On some of the applications of Natural Sciences to the moral laws of ancient nations." He may have been a member of the American Philsophical Society as well. He presented a paper to them titled "Report on the Utility of a uniform System in Measures, Weights, Fineness and Decimal Accounts, for the Standard Coinage of Commerical Nations," 1854. He wrote three such historical papers on the subject.
I haven't yet been able to find the Doctor and his family in the 1850 census, though I do have Robert living on his own in a boarding house in Charlotte. Note that the first passenger train service did not reach Charlotte until 1852.
At about this time the Doctor's son, Lardner, returned from his expedition to South America. He apparently brought back some ancient relics with him. In "Prehistoric Man: Researches Into the Origin of Civilization in the Old and the New World," of 1862, its author, Daniel Wilson, remarks that "Dr. J. H. Gibbon, of the United States Mint, has favored me with the analysis of another chisel or crow-bar, brought from the neighborhood of Cuzco by his son, Lieutenant Lardner Gibbon, who formed one of the members of the Amazon Expedition."
In the 1860 census of Mecklenburg county, North Carolina as Dr. John Gibbon,a 65 year old. Living with him is Catherine, 62, Nicholas, 21, Margaret, 28, Catherine, 27, Mary 29 [?], Alice, 25, and Virginia, 20.
North Carolina seceded from the Union on 20 May 1861. The Charlotte Greys, a local Confederate unit, seized the Charlotte mint and turned it over to the Confederate States government on 27 June. As with the Federal mint at New Orleans, the employees resigned from federal employment, but kept their jobs once they swore allegiance to the Confederacy. The bullion kept by the mints was confiscated. Minting continued as before in New Orleans using Union dies. Though a new coin design was soon produced, the Confederate government decided that coins were "a waste of means and money," because they feared that there would not be enough bullion to produce circulating coinage, and that most of the coins produced would be exported and melted outside the nation. As a result the New Orleans Mint was ordered to suspend its operations and the South committed itself to a policy of paper money. Although the main Southern mint had closed, the desire to establish some sort of Southern metallic currency never died out. At one point John Gibbon, in his role as Assayer of the Charlotte Mint, suggested to the North Carolina Governor John W. Ellis, that their gold be used to make 1,000 five-dollar gold pieces bearing a unique state design. Nothing ever came from this suggestion because the Governor never took it seriously. All the southern mints were eventually converted into assay offices.
Gibbon attended a convention of Southern teachers during the war. Their self-described mission:
"Resolved, That this Association recommend a general convention of the teachers of the Confederate States, to be held at ----on----1863, to take into consideration the best means for supplying the necessary text-books for schools and colleges, and for uniting their efforts for the advancement of education in the Confederacy; and that the Executive Committee of the Association be directed to correspond with teachers in the various States on the subject." - from the "Proceedings of the Convention of Teachers of the Confederate States", Assembled at Columbia, South Carolina, April 28th, 1863.
The following resolution was offered to the Convention by Dr. J. H. Gibbons, a member of the associattion for North Carolina:
"Resolved, That it be recommended by this Convention, to introduce the Constitution of the Confederate States as a text-book in all public schools." - from the "Ante-Bellum North Carolina: A Social History", Johnson, Guion Griffis, 1900- 1989.
During the war the Charlotte-Mecklenburg region was important strategically to the South. It had been a major railroad junction which, in time of war, transformed the region into a major manufacturing and distribution center for the South. The most important local facility was the Confederate Naval Yard, which produced mines, anchors, gun carriages, and marine engines. Other important facilities included a powder factory and the Mecklenburg Gun Factory, run by Dr. J.H. Gibbon.
"Prominent antebellum entrepreneurs invested in two new wartime industries: a powder-manufacturing company and a gun factory. Patriotic and profit-driven Charlotte entrepreneurs happily embraced the opportunity to take advantage of well-paying government contracts and the Confederacy's lucrative offer to subsidize powder and arms manufacturing. Local businesspeople, headed by lawyer S. W. Davis, established the North Carolina Powder Manufacturing Company on Tuckaseegee Road. That same year, William Phifer and J. M. Springs called a public meeting to form a joint-stock company to manufacture ordinance and shells. The company, noted the Western Democrat, was made up of "a goodly number of our wealthy and most influential citizens," who subscribed $15,000 for the factory. Dr. J. H. Gibbon served as president of the Mecklenburg Gun Factory, and the board included lawyer J. H. Wilson and planter A. B. Davidson." - from "Bittersweet Legacy: The Black and White "Better Classes" in Charlotte, 1850-1910" by Janette Thomas Greenwood, 1994.
Note that a gun factory had been built in Mecklenburg as early as 1740. One of its guns was given as a gift to George Washington.

Several letters of John H. Gibbon, circa 1863.
"I have just received a letter from my youngest Son, Capt. Nicholas Gibbon, 28 Regt. N.C. Troops, in the General Hospital No. 8 in Raleigh, where he is obliged to remain for want of an extension of his furlough, that he may not be reported "absent without leave."
"I have just received a letter from my son Dr. Robert Gibbon, Senior Surgeon B. Gen. Lane's Brigade, dated 22 June, "in The Valley of Virginia, near Winchester," who writes, "If you think that it is necessary for an extension, all Nicholas has to do is to send Col. Lowe a physician's certificate, certified before a Justice of Peace, which I will approve for 30 days." - from "Papers" by William Alexander Graham, Max Ray Williams, Mary Reynolds Peacock.
The war ended in 1865. The local economy crashed, there was little hard currency left in circulation, and crime, especially theft, became rampant. Gibbon's future now depended on how the Federal government would treat those who had been in its employ, and then rebelled. In May 1865 Union troops occupied the region and their commander, Colonel Willard Warner, announced that ". . . all persons who wish to engage or are engaged in any business, are required to take the oath of allegiance to the United States." - from "The Civil War In Charlotte-Mecklenburg" by Dr. Dan L. Morrill.
On 29 December 1865 the President, Andrew Johnson, noted that "A commission having been granted during the recess of the Senate to John H. Gibbon as assayer of the branch mint at Charlotte, in the State of North Carolina, to fill a vacancy, I now nominate him to the same." On 29 January 1866 the nomination for a post unknown for a John H. Gibbon was referred to the Congressional Committee on Finance where it was tabled. On 26 June 1866 the President then nominated "Isaac Walter Jones, of Salisbury, North Carolina, to be assayer of the U. S. branch mint at Charlotte, in the State of North Carolina, vice J. H. Gibbon who cannot qualify." Then, on 6 March 1867 the President told the Senate that "I nominate Isaac W. Jones to be assayer of the branch mint at Charlotte, N. C., in place of J. H. Gibbon, who failed to take the oath, no action having been taken upon this nomination during the last session of the Senate." The Charlotte branch never reopened as a mint, but did operate from 1867 to 1913 as an Assay office with Mr. Jones in charge.
It is interesting that Gibbon, as a rebel and an old one at that, was even considered for this post. I had at first thought that he was not have been able to qualify simply due to his age. He was, afterall, 71 years old. However, it seems clear that the old rebel simply could not work for a Federal government he had so opposed - he would not take the oath.
"An undated newspaper article of unknown origin, found in the Bible of William Heysham and his wife, Mary, put it this way:

From his eminent fitness, as well as from these circumstances of fidelity to his trust, he was promptly reappointed to his former position. Here, with his old pursuits open to him, with the emoluments, more than ever before, needed in the wreck of Southern fortunes, the nice sense of honor of Dr. Gibbon found an insuperable obstacle. He refused to take the "iron clad oath." Many of his friends could not see the ground for his scruples. His age, his northern connection, his known sentiments as a Union man, had withdrawn him from any military or political connection with the rebellion. But the vague and comprehensive terms of the oath declare that the affiant has never given "aid or comfort to the enemy of the Constitution of the United States." Dr. Gibbon has passed his whole life in doing kindly offices to his fellow man, without regard to their political opinions. He would not take this oath, and he put from him the office that would have provided congenial employment for his declining years.

Such a man was Jack Gibbon's great-grandfather. With no means of support, Dr. Gibbon called upon one of his long-held interests, archaeology and extinct American Indian tribes, and planned to give lectures in various cities. He first visited Baltimore and it was there that his death occurred, on December 16, 1868. His remains were buried in the Elmwood Cemetery in Charlotte. The Charlotte branch of the Gibbon family survived; the Charlotte mint did not."

- from "A Dream of the Heart: The Life of John H. Gibbon Jr." by Harris B. Shumacker
Those interests in archaeology and Indian tribes was probably spawned by both his trip to Panama and his son Lardner's adventures in South America.

John Heysham Gibbon died on 16 December 1868 and was buried in the Elmwood Cemetery, Charlotte, North Carolina. From "The Chicago Historical Society," page 161:
Gibbon, Dr. J. H., d. in Baltimore, Md. Dec. 16, 1868, a. 74; was a native of Philadelphia, but had lived south many years, and was the father of Maj. Gen. J. H. Gibbon.
Baltimore was the home of John's estranged son, General John Gibbon, during the war. The General and his family were, however, out west at this time.

Catherine died on 20 December 1874 in Charlotte and was buried alongside her husband.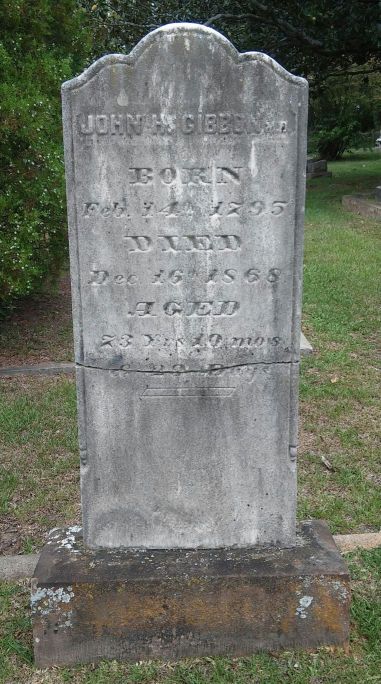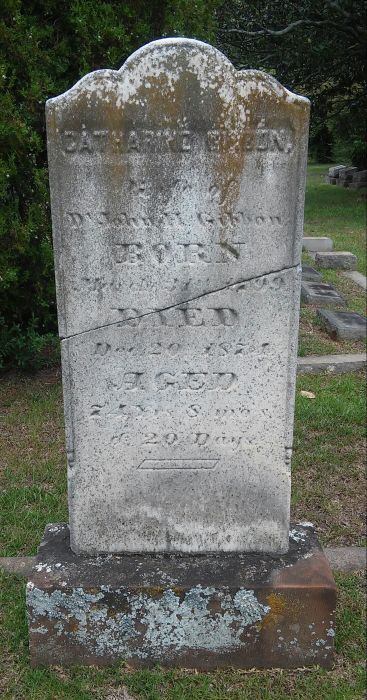 Their children were,
(23) Lardner A. Gibbon (1820)
(23) Dr. Robert Gibbon (1822)
(23) Mary Gibbon (c1825), unmarried
(23) General John Hannum Gibbon (1827)
(23) Catherine Gibbon (c1830)
(23) Anna Gibbon (c1833)
(23) Virginia Gibbon (c1835)
(23) Nicholas Biddle Gibbon (1837)
(23) Margaret Gibbon (c1838)
(23) Lardner A. Gibbon (1820)
(22) Dr. John Heysham-Gibbon (1795)
John H. Gibbon's first son, Lardner Gibbon was born on 13 August 1820 in the Holmesburg district of Philadelphia. His interesting first name was clearly a nod to the family of John's wife, Catherine Lardner Gibbon. I don't know what his middle initial stood for and there is a question whether he had a middle name at all. Lardner's younger brother, Nicholas Biddle, noted that his father disliked middle names and that he was the only child of the family to get one.
Holmesburg

Present-day Holmesburg was the first area of Northeast Philadelphia to be developed into a town, originally called Washingtonville. Eventually the town took the name of the Holme family. Thomas Holme, William Penn's Surveyor General, and his son, John, were among the major early landholders. The village was located in Lower Dublin township. Lower Dublin Township was north of Township Line Road - now Cottman Avenue - from the River to the County Line, and north to Byberry and Moreland Townships. A year prior to the consolidation the township spilt in two. The eastern portion of Lower Dublin Township, including Holmesburg, became Delaware Township.

Thanks to its great natural beauty and resources of the area, Holmesburg developed into a home for well-to-do families as well as an industrial outpost, with a grain mill, a calico print factory and a farming-tool manufacturing plant. In the 1830s, Philadelphia-born Shakespearean actor Edwin Forrest opened his home for aged actors there. The residents of the home -- some of the most renowned retired actors in the world -- would regularly stage plays for the local citizens. "Holmesburg was very aristocratic," Silcox said. "After the Civil War, you had four Union generals move in there." It lies near the Delaware river and was part of the 23rd Ward. For a fuller history, see Holmesburg.
One of Lardner's earliest memories was of the week-long visit of Lafayette to the city. In 1824 President Monroe invited the 68 year old Marquis for a visit to the country he had helped make possible. Lafayette was received with wild adulation wherever he went. When asked by hosts how he wished to be introduced to his audiences, he replied,"As an American General." From 28 September to 6 October 1824 he visited Philadelphia, making an unforgettable speech at the State House, today's Independence Hall. Lardner remembered that he "had looked through the rails of the fence at the procession on that occasion as it passed by and recalled the hearty welcome way in which the famouse Frenchman received the guests at a reception near Holmesburg . . ." Lafayette College in Easton, Pennsylvania was named in honor of the man and his visit. Lafayette died in 1834.
Lardner was appointed a midshipman in the U. S. Navy "when about 15 years of age," - from the United States Congressional Serial Set. I have a contrary reference that "Lardner Gibbon was appointed a midshipman on December 22, 1837. He was then 17 years 4 months and 9 days old." - from the "Bulletine of the Pan American Union" of 1910. The "Naval Register of the United States Navy, 1851" confirms this.
"Register of the Navy of the United States for 1851.
. . .
Passed Midshipmen (233).
Name, and Date of Entry.
. . .
L. Gibbon, 22 Dec. 1837." - from "The Life and Character of John Paul Jones" by John Henry Sherburne, 1851
I suppose the term "about" covered a lot of territory. This was in the period before his father's move to North Carolina when the family was still living in Philadelphia. In this era joining the Navy meant finding a ship's Captain who was willing to give you a berth on his ship. The ship's Captain, often deluged with such requests, would give priority to the sons of his relatives, his friends, other Captains, his superior officers, well placed officials, and his banker or his prize agent.
While John H. Gibbon had just finished a term in the Pennsylvania Assembly and was not without clout, Lardner's most likely ally in finding a post was Commodore James Biddle, right. The Biddle's were related to the Gibbon's through the Shepard family. The Commodore's mother, Hannah Shepard, was the sister of John H. Gibbon's mother-in-law. The Commodore had been the commander of the Mediterranean and South American squadrons and, in 1835, he was in charge of the nearby Philadelphia Naval Yard. From 1838 to 1842 he was the Governor of the Naval Asylum, a hospitial in Philadelphia. It was at his suggestion that midshipmen who had not yet passed their rating exams were sent to the Asylum for instruction, laying the foundation for the Naval Academy. Note too that the Charles Biddle that John H. Gibbon accompanied on his expedition to Panama was the Commodore's brother.
There were many other members of the family who were also in the Navy and might have either helped Lardner find a place or influenced his decision to join. The Navy was "in the blood" so to speak. James Lawrence Lardner on his mother's side of the family would rise to an Admiral's rank in the Civil War. Born in 1802, he was 18 years older than Lardner Gibbon and may have influenced Lardner's decision, though he was perhaps too junior in 1835 to find Lardner a midshipman's berth. The Commodore's son, James Stokes Biddle, had been found a berth in 1833, just four years before Lardner and his process of finding a posting may have attracted Lardner's attention, or that of his father's.
However, note that young Lardner's first posting was to the West Indian squadron, operating out of Pensacola, Florida. His uncle, Commodore James Biddle, had been the commanding officer there in 1822. Young captains would have been all too eager to accomodate this senior officer by taking his nephew aboard.
15 [if he did in fact join in 1835] was a not uncommon age to commence a naval career. William Herndon, mentioned below, also became a midshipman when he was 15 years old. Lardner's parents would have procured a sea chest for the lad with all the necessaries, including the regulation uniform, white ducks, white vest, and navy-blue pea jacket properly decorated with brass buttons and midshipman's insignia. He would also have a visored cap and a dirk attached by a gilt chain to the blue webbing belt around his waist.
Lardner would have, most likely, been ordered to a ship almost immediately. Unlike the Army which first taught its young officers the basics at the Military Academy at West Point, the Navy believed the best school was the deck of a ship at sea. The Navy kept ships on station in the West Indies, off the eastern seaboard of South America and in the Mediterranean, as well as off the coast of the United States.
"He was assigned to the West Indian Squadron on January 23, 1838 . . ." - from "United States Congressional Serial Set." Ships in the squadron in 1838 included the frigate CONSTELLATION, sloops BOSTON, CONCORD, LEVANT, ST. LOUIS, and VANDALIA.
The West Indian Squadron

The squadron was based at Pensacola, Florida, which is located just east of Mobile, Alabama. It had been established in 1822 under the command of Commodore James Biddle to control piracy and defend trade. The area they were responsible for was vast, including all of the area from the tip of West Africa to the Gulf of Mexico. In 1838 its commander was Willian Branford Shubrick. During this period the Navy assisted the Army in Florida during the Second Seminole War and helped suppress the slave trade, which had been outlawed by the US Congress. Below is the Navy Yard at Pensacola in about 1860, seen from across the bay, at Fort Pickens.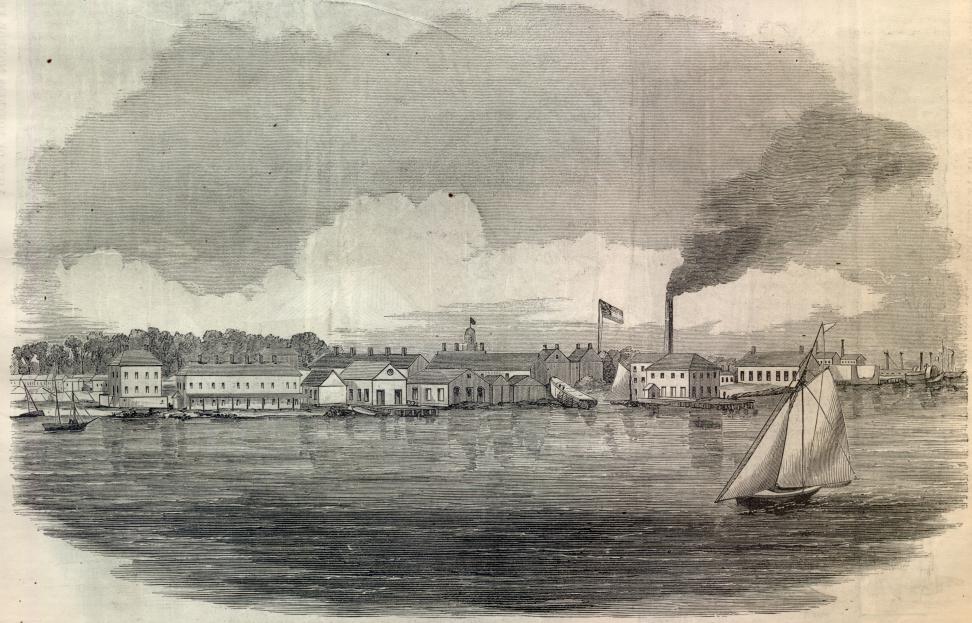 Midshipman Gibbon was assigned to the frigate CONSTELLATION.
"Navy.
Orders.
Jan. 23--Mid. Lardner Gibbon, W.I. squadron." - from "The Army and Navy Chronicle" of 1838, page 80. . . .

Pensacola, May 12. "The frigate Constellation, bearing the broad pennant of Com. Dallas, sailed on Wednesday morning last, for Tampico and thence to Vera Cruz.

The following is a list of officers attached to the CONSTELLATION. Commodore, A.J. Dallas; Flag Captain, J.M. McIntosh; . . . Midshipmen: . . . Lardner Gibbon . . . " - from "The Army and Navy Chronicle" of 1838, page 347

. . .

2 October 1838, Pensacola, Florida. "The U.S. frigate Consellation sailed from this harbor, on Tuesday the 2d inst. Her destination is Boston. The following is a list of the officers of the frigate.

James M. McIntosh, Esq., Commander; . . . L. Gibbon [Midshipmen] . . ." - from "The Army and Navy Chronicle" of 1838, page 269
Frigate CONSTELLATION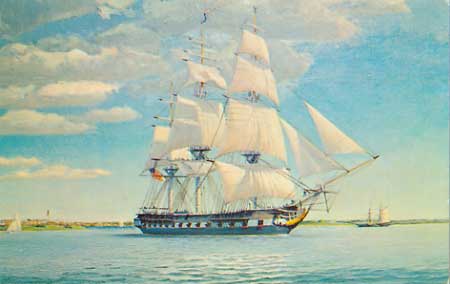 The heavy frigate CONSTELLATION, of 36-guns, was built in Baltimore to a design by Joshua Humphreys and launched in 1797. This was part of an order for six frigates, which also included CONSTITUTION, CONGRESS, CHESAPEAKE, UNITED STATES and PRESIDENT.
"In October 1835, Constellation sailed for the Gulf of Mexico to assist in crushing the Seminole uprising. She landed shore parties to relieve the Army garrisons and sent her boats on amphibious expeditions. Mission accomplished, she then cruised with the West India Squadron until 1838 serving part of this period in the capacity of flagship for Commodore Alexander Dallas." - from DANFS
CONSTELLATION was disassembled in 1854, by then almost 60 years old, her hull twisted and hogged, and some of her parts were used in the construction of the sloop of the same name.
In January 1839 CONSTELLATION was put into the Norfolk [?] yards for a refit and Midshipman Lardner was ordered to join the ST. LOUIS, then in New York City where it was just coming back into commission after having been laid up in ordinary.
"He [Lardner] was assigned to . . . the St. Louis from 1839 to 1842." - from "United States Congressional Serial Set"
The sloop-of-war ST. LOUIS sailed under the command of Command French Forrest to join the Pacific Squadron at Monterey, California via Cape Horn.

USS ST. LOUIS

The first Navy ship to bear the name, she was a three masted vessel built at the Washington Navy Yard and launched on 18 August 1828. A 700-ton sloop-of-war, she had a complement of 125 and was armed with 18 to 20 24-pound guns. A sloop-of-war carried all of her guns on one-deck only.

ST LOUIS had been part of the West Indian squadron, operating out of Pensacola, Florida from 1832 to 1838, largely as flagship for the squadron, cruising the Caribbean. On 28 May 1838, she sailed from Havana for New York where she placed "in ordinary," that is out of commission, on 1 July and laid up until 5 April 1839. On 30 June 1839 she sailed under the command of Commander French Forrest to join the Pacific Squadron at Monterey, California. She stopped at the Cape Verde islands, Rio de Janeiro, and various ports on the Pacific coast of South and Central America.

Below is a watercolor of the ST. LOUIS by Moses Lane, a Navy gunner, during the sloop's Mediterranean cruise of 1852-1855.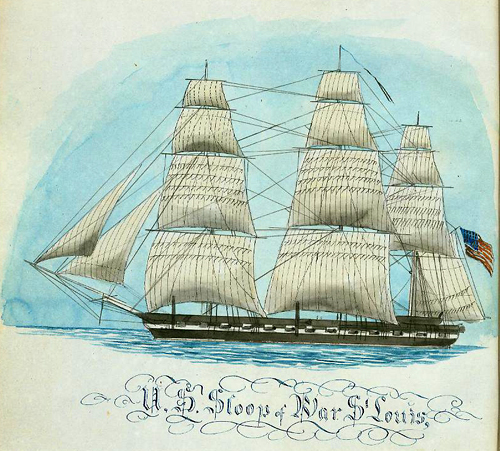 Onboard ST LOUIS Lardner would have begun "to learn the duties of a seaman by firsthand experience; sails and ropes, knotting and splicing, charting a course, the lore of the sun and stars, the winds and currents, steering, and gunnery. He went aloft with the crew, but he also learned the duties of command in anticipation of advancing someday to the quarterdeck." - from "High Seas Confederate," the story about a young midshipman who also served onboard the ST LOUIS in the 1830's.
The ship would have made the transit into the Pacific via the dangerous waters of Cape Horn. Lardner mentions in his "Exploration of the Valley of the Amazon" about the Indians he had met that "Many of their expressions in Quichua sound like the language of the natives of the South Pacific islands, as I recollect it ten years ago, while cruising as a midshipman in the ship-of-war St. Louis."
In another quip about Navy life from his book, Lardner says "We saw here what we had before seen at a midshipman's mess--one man cunningly eating another man's allowance."
French Forrest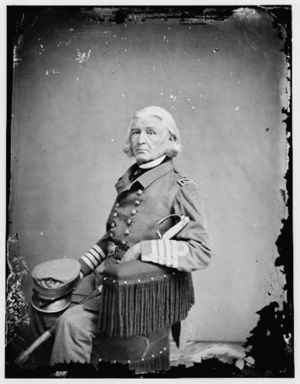 He served in the War of 1812, with Commodore Oliver Perry at the Battle of Lake Erie, and onboard the HORNET is her defeat of the British PEACOCK. He was a Commander while on ST. LOUIS, making Captain in 1844. He was adjutant general in the Mexican-American War and commanded the American naval forces in the landing at Vera Cruz. He was a native of Virginia and when that state seceded he went with her. He took command of the Norfolk Navy Yard, and so had influence on the construction of the ironclad VIRGINIA. He later commanded the James River Squadron. His photo, at the left, is from this latter era.
Captain Forrest was a forward thinking man and shared the general desire in the Navy to create a training program for sailors. He established onboard a school to make boys into apprentice seamen. He had the ST LOUIS "rigged entirely by apprentice boys . . ." - from "The Story of the United States Navy" by Benson John Lossing. This was a widely shared idea at the time, but one which failed because so many of the boys taken as apprentices were confused about the program, thinking that they would become midshipmen, not sailors. This failure however helped lead to the founding of the Naval Academy.
In 1839, and I suppose while enroute to her duty station, ST LOUIS was in the port of Callao, Peru when the country's President, General Agustin Gamarra, was forced to flee opposition forces. He sought and received asylum onboard ST LOUIS. Four years later he attempted to return to office, was unsuccessful and fled to the USS FAIRFIELD in Callao Bay. One of ST LOUIS' boatswain's mates at this time, John J. Chase, had been a ship-mate of Herman Melville on the USS UNITED STATES. He deserted to join the Peruvian revolution.
The Pacific Squadron

This squadron, also known as the Pacific Station, had been established in 1821. Its responsibilities included the entire west coast of North and South America, and the Hawaiian and Society islands. Its mission was the protection of commerce. Its issues were revolution in South America, tense relations with Mexico, which rightly feared American intentions in California, and the unsettled question of the Oregon territory. Commodore Alexander Claxton had been ordered to the Pacific in 1839, relieving Commodore Ballard. It is conceivable that he came in the ST LOUIS. The USS CONSTITUTION was the squadron's flagship. Claxton died in CONSTITUTION while in Chilian waters on 7 March 1841 and was succeeded by Captain Thomas ap Catesby Jone, who brought out the USS UNITED STATES in 1842 to replace CONSTITUTION.
In 1840 Mexican officials at Monterey had imprisoned 40 British and American citizens for alleged spying. The newly-arrived ST LOUIS was sent to intecede. Unfortunately the ship soon sailed again and little was accomplished. The release of the Americans did not occur until 1841.
In February 1841 ST LOUIS was in Nukahiva, in the Marquesas "ascertaining the sentiment of the Natives towards our whale fishery-men." Captain Forrest broke up a local war between two pilots that had closed one of the bays to the whalers. The Marquesas are part of French Polynesia, just northeast of Tahiti, in the Society islands. ST LOUIS also visited Honolulu in Hawaii. Late in the year she became the first American man-of-war to enter San Francisco bay.
She was relieved by the USS DALE and returned to Norfolk on 15 September 1842 where she was laid up in ordinary again.
"In 1842 and 1843 he [Lardner] attended the naval school in Philadelphia, stood his examinations, and was warranted a passed midshipman on July 12, 1843." - from "United States Congressional Serial Set." The Naval Historical Center indicates he made this rank on 29 June 1843. Note that Commodore James Biddle, a near relation on the maternal side of Lardner's family, was still Governor of the Asylum in 1842.
The Naval Asylum

While the U. S. Naval Academy at Annapolis was not established until 1845, it had been recognized early in the Navy's history that the training of officers needed to be addressed formally. In 1802 the education of midshipmen was resolved by instructing them aboard ships at sea with chaplains as schoolmasters. The need to provide instructions in mathematics and navigation led to the authorization in 1813 of civilian schoolmasters, and teachers of these areas, eventually appointed as professors of mathematics. By the early 1830's "cram schools" were operating in three states and beginning in 1838 midshipmen approaching examinations for promotion, were assigned to a naval school in Philadelphia for 8 months of study. For an understanding of what the life of a midshipman at-sea might have been like, read the novels of C.S. Forester and Patrick O'Brian.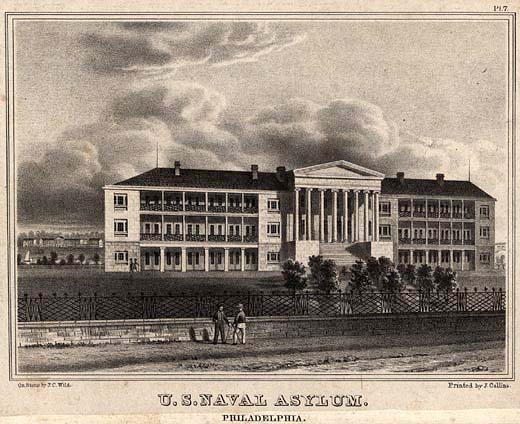 First planned in 1799, the Philadelphia Naval Asylum was built in 1833. From 1839 to 1845 it had three naval functions, an asylum for retired sailors, a naval hospital, and a naval academy for midshipmen. At left is the main hall in 1838. The classic Greek-revival building still stands today, though in woeful condition. The central building was named Biddle Hall, after the naval hero. The midshipman program was informal and poorly equipped. In 1842 William Chauvenet was placed in charge of the school and immediately took steps to improve the program. A tougher course of study was enacted and new instruments were obtained for students to work with. His proposal for expanding the school to a two-year program provided George Bancroft, then Secretary of the Navy, with a workable plan for a permanent academy and the ultimate establishment of the new "Naval School" at Annapolis, Maryland. Bancroft opted to move the Naval School to the "healthy and secluded" location of Annapolis in an effort to rescue midshipmen from "the temptations and distractions that necessarily connected with a large and populous city." For more information about the Naval Asylum, see 'Beautifully situated on the River Schuylkill'.
19th Century Navy Rank Structure

The rank system prior to 1862 was: Midshipman, Passed Midshipman, Master, Lieutenant, Commander, and Captain. After 1862 it became: Ensign, Master, Lieutenant, Lieutenant Commander, Captain, Commodore, Rear Admiral.
"He [Lardner] served successively on a receiving ship at Norfolk, Virginia, on the On-ka-Hy-e, on the Boston, and at the Naval Observatory . . ." - from "United States Congressional Serial Set." Here the term "successively" appears to mean "in quick rotation" for at least the first two units, because on 27 October 1843, just three months after he finished the naval school, the BOSTON left Boston harbor for the Brazilian station.
USS ON-KA-HY-E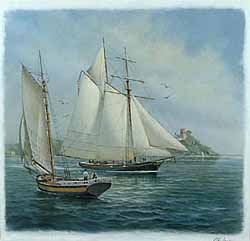 The name is Indian for "dancing feather." She has been described as "a curious schooner;" an experimental yacht built in 1839 to a radical design of Robert Livingston Stevens, the famous New York naval architect. She was an especially fast ship. She had put into Norfolk in February 1843, heavily damaged by a recent storm. Upon the local Commodore's suggestion she was purchased by the Navy and towed to the Norfolk Naval Yard for repairs. She departed Norfolk on 23 October 1843 on her first commission, to Charleston, South Carolina. She was used as a mail schooner, carrying naval dispatches, and later on anti-slaving patrols.
Transferring from the unnamed receiving ship, Lardner may have been assigned to ON-KA-HY-E only during her time in the yards. This would make sense if he transferred to BOSTON during the latter's possible stop in Norfolk, or Charleston, enroute to station. If BOSTON was short of men, say a midshipman fell ill and had to be left behind, as a ship departing on a cruise she would be given her pick of the men in port.
The Duke University Rare Book, Manuscript and Special Collections Library has the papers of Lardner Gibbon from 1843 to 1848. The collection includes a diary, chiefly from the period when Gibbon was off the coast of South America on board USS BOSTON while the Navy was protecting U.S. interests during the conflict between Uruguay and Argentina. Also included are daily accounts given during part of the siege at Veracruz, Mexico during the Mexican-American War.
The Uruguayan War Against Argentina

In 1839 President Rivera, with the support of the French and of Argentine émigrés, issued a declaration of war against Argentina's dictator, Juan Manuel de Rosas. The French, however, reached an agreement with Rosas and withdrew their troops from the Río de la Plata region in 1840, leaving Montevideo, in Uruguay, vulnerable. For three years the locus of the struggle was on Argentine territory. However, in 1842 Rivera was defeated and, in 1843, Argentine forces laid siege to Montevideo. This siege was to last for nine years.

The intervention first of France, from 1838 to 1842, and then of Britain and France, from 1843 to 1850, transformed the conflict into an international war. First, British and French naval forces temporarily blockaded the port of Buenos Aires in December 1845. Then, the British and French fleets protected Montevideo at sea.
USS BOSTON's role off the coast of South America was probably to observe the movements of the foreign fleets and to be prepared to offer assistance to the embassy and American citizens ashore, as required. The frigate CONGRESS was also on-station. I suspect she hosted the flag, Commodore Daniel Turner. He had been the captain of the CONSTITUTION, on the Pacific station, while Lardner was on the ST. LOUIS.
USS BOSTON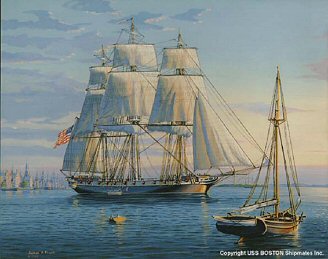 Seven ships named BOSTON have served in the U.S. Navy since 1776. Lardner's ship was the fourth of this name, a sloop-of-war built in the Boston Navy Yard in 1826. She was the first of a class of seven 700-ton 18-gun sloops of war. In the painting at the left she is getting underway from the port of Philadelphia, around 1831. She was 127 feet long, had a beam of 33' 9", displaced 700 tons and had a crew of 125. She carried between 18 and 20 24-pound cannon.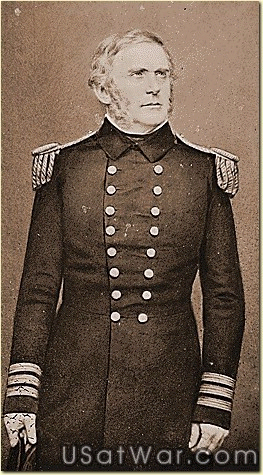 USS BOSTON served on the Brazil Station through 1829 and the Mediterranean Station through 1832. She was then laid up at Boston Navy Yard until joining the West Indies Squadron in 1836. Except for two short periods in ordinary at New York Navy Yard, she served continuously for the next ten years. USS BOSTON cruised on the West Indies from, 1836 to 1839, then started an around-the-world cruise in 1840. She went to the East Indies from 1841 to 1843, and in February 1843 she was in Honolulu.
BOSTON was back in Boston early in August 1843 and was put out of commission. She was recommissioned on 27 October 1843 under the command of Commander Garrett J. Pendergrast, right. Soon thereafter she joined the squadron on the Brazil Station where she remained from 1843 to 1846. She returned to the United States and was placed out of commission for repairs in the New York Navy Yard on 10 February 1846.
She completed repairs in the fall and was then ordered to join Commodore David E. Conner's Home Squadron, blockading the Mexican east coast. While enroute to her new station, under the command of Commander George F. Pearson, USS BOSTON was wrecked on Eleuthera Island, in the Bahamas, during a squall in November 1846. Her crew was saved, but the ship was totally destroyed.
Captain Pendergrast of the BOSTON had a sharp difference of opinion with the charge d'affaires at Buenos Aires, William Brent, on the blockade of Montevideo by the Argentine Navy in 1845. Brent wanted the US Navy to comply with the blockade while Pendergrast insisted on his right to break the blockade, as the French had, if he needed to replenish his ship. Pendergrast did subsequently break the blockcade and was reprimanded by the Secretary of the Navy.
The BOSTON came back to America from the Brazil Station and entered the yards at New York City for extensive repairs from February to November 1846.
I had misread this before, but the "United States Congressional Serial Set" clearly stated that Lardner went to the Naval Observatory after his tour on the BOSTON. While I thought that meant in 1848, it is now apparent that he had two tours at the Observatory, the first being in 1846.
At the Observatory Lardner became acquainted with its superintendent, Lieutenant Matthew Maury, the Navy's Oceanographer - from "Matthew Fontaine Maury: Scientist of the Sea" by Frances Leigh Williams, 1963. Another source claims that Lardner became a "protege" of Maury. Lardner would also have met Lieutenant William L. Herndon, Maury's brother-in-law. Herndon had been attached to the Depot of Charts and Instruments, later to become the Naval Observatory, from 1842 to 1846. It was in about 1845 that Maury was making his first astronomical observations. William Herndon was the permanent observer for the prime vertical telescope. - from "Sky and Ocean Joined: The U.S. Naval Observatory 1830-2000" by Steven J. Dick.
The Naval Observatory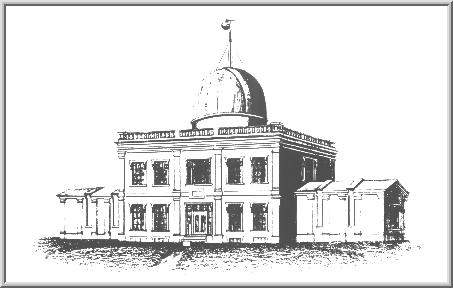 The U.S. Naval Observatory is one of the oldest scientific agencies in the country. Known originally as the Naval Depot of Charts and Instruments, it was established under the Board of Navy Commissioners on 6 December 1830. In a major reorganization of the Navy it was transferred to the Bureau of Ordnance and Hydrography on 31 August 31 1842. It was known informally and variously as the Naval or National or Washington Observatory, the Depot of Charts, or the Hydrographical Office from 1844 until 1854, when the name was officially changed to the Naval Observatory. It was located on the hill north of where the Lincoln Memorial now stands, it what today is known as "Foggy Bottom." It was moved out of the city in 1893.
Its primary mission was to care for the U.S. Navy's chronometers, charts and other navigational equipment, such as sextants, barometers, and thermometers. It is also the repository of all ship's logbooks. The time ball, shown at the top of the observatory, left, was one of the first systems to enable the Observatory to support remote users. The ball was dropped at established times, which enabled ships anchored in the Potomac River to calibrate their chronometers. The building depicted was completed in 1844.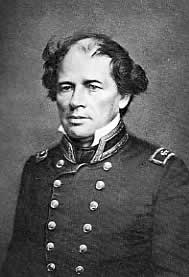 Matthew Maury, its first superintendent and its most famous, took charge in 1842 and served until the Civil War. His first priority was the preparation of new ocean charts. These were to be based on an examination of old ship's logs and new navigational, hydrographic, and meteorological observations that Maury requested ship's navigators make for the Observatory. The new "wind and current" charts enabled navigators to predict the average winds and currents his ship would encounter in a certain season in any charted ocean area, as well as the safest course to sail. Sailing times were dramatically decreased when Maury's suggested routings were used. This work also led to the identification of ocean currents, including the Gulf Stream.
I don't know how or why Lardner got these orders; they do not fit in the natural progression expected of a naval officer. He should have gone back to sea. If nothing else it meant that Lardner's mastery of mathematics & navigation was strong. His new boss, Lt. Maury, had, afterall, written the official Navy handbook on the subject, titled "Navigation."
Three Lieutenants and six Passed Midshipmen were assigned to duty at the Observatory, in addition to three Navy Professors of Mathematics and assorted civilian workers. Lardner's duties would have included collating the incoming meteorlogical and hydrographic data recorded by naval ships, compiling and correcting charts, periods at the great telescopes observing the night sky and cataloguing the stars, and mathematical computations, or reductions, that had to follow the astronomical observations. He also learned drafting skills which he would later use creating the maps from his South American expedition.
In 1846 war broke out between Mexico and the United States. The officers at the Observatory immediately began to campaign for sea-duty orders; no one wanted to miss the chance for fame and promotion.
The Mexican-American War

Friction between the United States and Mexico, aggravated by an ever-increasing American population in the southwest and admission of the Texas Republic into the Union, resulted in war in 1846. The Navy's Home and Pacific Squadrons blockaded the enemy's east and west coasts, and seized numerous ports.
Early in 1847 Lardner was ordered to the frigate, USS CUMBERLAND, then in Norfolk completing repairs. The ship was ordered to the waters off Vera Cruz, Mexico.
USS CUMBERLAND

The CUMBERLAND, a 54-gun frigate, was built over an extended period, from 1825 to 1843, at the Boston Navy Yard. She had a complement of 400 men. She was commissioned in November 1843 and her first service was as flagship of the Mediterranean Squadron from 1843 to 1845. She was several times flagship of the Home Squadron between February 1846 and July 1848, serving in the Gulf of Mexico during the Mexican War. She was initially under the command of a Captain Dulany, but he had fallen ill soon after reaching Vera Cruz and was replaced by Captain French Forrest, who had been captain of ST. LOUIS when Lardner was onboard.

On 28 July 1846 CUMBERLAND ran aground while off the point of Anton Lizardo and, while not seriously damaged, she returned to Norfolk in December, under the command of Captain Francis H. Gregory of the RARITAN, to have her copper bottom replated. The officers and crew of the two ships were also swapped, with the RARITAN becoming the new flag ship. Note that CUMBERLAND and RARITAN were very similar ships making this crew swap relatively easy.

CUMBERLAND later returned to Mexican waters, probably early in 1847. After the war she returned to the United States via Havana, and was in New York City by July 1848. By this time Captain William Jamesson had assumed command.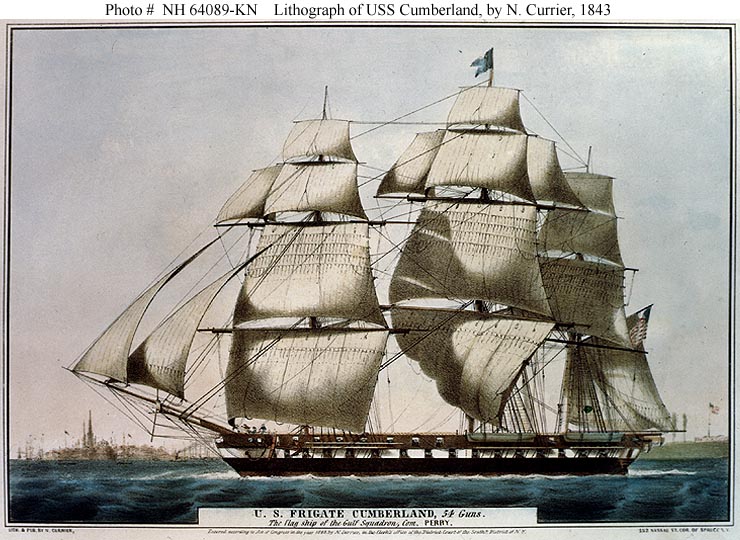 "U.S. Frigate Cumberland, 54 Guns. The flag ship of the Gulf Squadron, Com. Perry."
She was later modified by removing her spar-deck, that is, she was razeed, to carry a smaller number of heavier guns and redesignated a 32-gun sloop. During the Civil War she was part of the blockading fleet, anchored off Newport News, Virginia, under the command of Captain Pendergrast, whom we last met as Captain of the BOSTON. In March 1862 the Confederate ironclad, VIRGINIA, rammed and sank the Union frigates CUMBERLAND and CONGRESS.
In 1847, assumably at the same time Lardner got his orders, Lt. James Harmon Ward was given command of CUMBERLAND, which would again became flagship of the Home Squadron off Veracruz, now under Commodore Matthew C. Perry. Harmon had taught at the Naval Asylum School at Philadelphia and may have known Lardner as a student there.
James Harmon Ward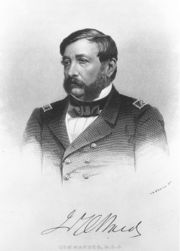 One of the more highly trained officers in the Navy, Ward attended the American Literary Scientific and Military Academy at Norwich, Vermont and, after a midshipmen tour on the CONSTITUTION, Washington College, in Hartford, Connecticut. A normal series of sea-duty orders followed, then, in about 1843, Harmon became an instructor at the Naval Asylum in Philadelphia and, in 1845, at the new Naval Academy at Anapolis. He taught Gunnery and Steam, and served as the first Executive Officer, a position later known as the Commandant of Midshipmen.

In 1847 he took command of the frigate CUMBERLAND during the Mexican-American War. He has the sad distinction of being the first officer of the US Navy to be killed during the Civil War. He wrote two books, "An Elementary Course of Instruction in Ordnance and Gunnery" and "A Manual of Naval Tactics," and a popular treatise on steam engineering.

Matthew Calbraith Perry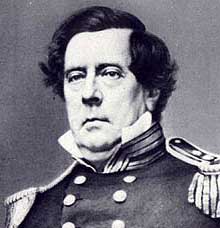 Matthew Perry came from a Naval family. His father was Captain Christopher R. Perry and his older brother, Oliver Hazard Perry, had won a great victory on Lake Erie during the War of 1812. Matthew was onboard the USS PRESIDENT during the war, but that ship was trapped in New London, Connecticut by a superior British force. He held various commands then, in 1845, he took command of the USS MISSISSIPPI during the Mexican-American War. Perrry captured the Mexican city of Frontera and took part in the Tampico campaign. He was forced to return to the United States to make repairs to his ship. He returned, as the new Commodore of the Home Squadron onboard CUMBERLAND, during the siege of Vera Cruz, replacing Commodore D. Conner. After that city was captured Perry moved on to capture Tuxpan and Tabasco.
Perry's most famous accomplishment, however, was the opening of Japan in 1852-1854. He subsequently wrote a 3-volume report on the expedition. He died in 1858.
Lardner was joined onboard the CUMBERLAND by his Naval Observatory shipmate, William Herndon.
"During the Mexican war he [Lt. William Herndon] applied for orders, and was appointed to the frigate CUMBERLAND. He proceeded to Norfolk, and had embarked, when his destination was changed. Commodore Perry, then in the Gulf, had applied to the Department to send out to him an active and intelligent officer, who could speak the Spanish language, to be placed in command of a small steamboat . . . " - from "Monthly Nautical Magazine, and Quarterly Review."
This steamboat was the IRIS.
"Propelled by radial paddle wheels, Iris built at New York in 1847 and purchased there by the Navy in the same year. She commissioned at New York Navy Yard 25 October 1847, Commander Stephen B. Wilson in command. The next day Iris departed New York Harbor for Vera Cruz, Mexico, where she arrived 11 December. With the exception of a brief visit to Mobile, Alabama, in February 1848 and a voyage to Pensacola, Florida, in September, Iris remained on duty in the vicinity of Vera Cruz for the next year. During the closing months of the Mexican-American War, she assisted in maintaining the blockade of the coast of Mexico and protected the Army's water communications. Thereafter she vigilantly protected United States interests in that volatile area lest trouble break out anew. Iris departed Vera Cruz 8 November and arrived Norfolk, Virginia 16 December. She decommissioned there 16 December 1848 and was sold soon thereafter. She redocumented as Osprey 9 March 1849, being destroyed by fire at Kingston, Jamaica, 18 April 1856." - Wikipedia
"In this small vessel he remained till the close of the war, often performing tasks of much difficulty and danger, but with uniform skill and success." - from "Monthly Nautical Magazine, and Quarterly Review."

Lardner was assigned to the steamship SPITFIRE as acting Master, probably upon arriving off Vera Cruz onboard the CUMBERLAND. The SPITFIRE's executive officer was Lieutenant David Porter, another of Maury's followers at the Naval Observatory. At the outbreak of the war, however, Porter was just coming off a mission to Haiti. Upon arriving in Vera Cruz he was assigned to the SPITFIRE, under the "peppery, impulsive" Commander Joshua Tattnall. Porter later gained fame in the Civil War, becoming the Navy's first Full Admiral.

SPITFIRE

On 19 May 1846, only six days after President Polk signed the Declaration of War with Mexico, Secretary of the Navy George Bancroft authorized the purchase of Spitfire and Vixen, two light draft steamers being built for the Mexican Navy. The ships were delivered to the United States Navy on 14 July 1846, and Spitfire was commissioned on 21 August 1846, Commander Josiah Tattnall in command, Lt. David Dixon Porter executive officer.

The SPITFIRE was a two-masted sidewheel steamer designed for inshore operations. She was poor under sail, making as much leeway as headway in a stiff breeze, and shipped a great deal of water in rough seas.

After a period carrying dispatches, she joined the American blockage off Vera Cruz on 10 November 1846. Commodore David Conner used her as his flagship for the attack on the port of Tampico. Two days after the town's capitulation, boats from Spitfire and Vixen ascended the Panuco river and captured three small Mexican gunboats. On the 18th, Spitfire and schooner Petrel went further up the river and captured the town of Panuco. They also destroyed nine Mexican 18-pounders, threw a large supply of 18-pound shot in the river, and burned military stores before heading downstream on the 21st. On 13 December, Connor departed Tampico in the USS Princeton and left Commander Tattnall in charge there until enough Army troops arrived to hold the town. Spitfire did not return to Vera Cruz until 3 January 1847.




The Battle of Veracruz

The Army had decided that the best way to end the war was to take Mexico City, and the best route there was through the city of Vercruz. Commodore David E. Conner had concentrated a naval force off the city which consisted of three frigates, the CUMBERLAND and RARITAN, which shared flagship duties, and the POTOMAC, four sloops-of-war, FALMOUTH, JOHN ADAMS, ALBANY, and ST. MARY'S, four screw steamers, MISSISSIPPI, which was Deputy Commodore Matthew Perry's flagship, PRINCETON, SPITFIRE, and VIXEN, brigs, SOMERS, PERRY, TRUXTON, and PORPOISE, schooners FLIRT, REEFER, PETREL and BONITA, and store-ship RELIEF. General Scott brought the USS MASSACHUSETTS, a wooden steamer, as his flagship. Later the ship-of-the-line OHIO was brought in to assist in the assault on the fort of San Juan de Ulua. - from "The Home Squadron Under Commodore Conner in the War with Mexico" by Philip Syng Physick Conner.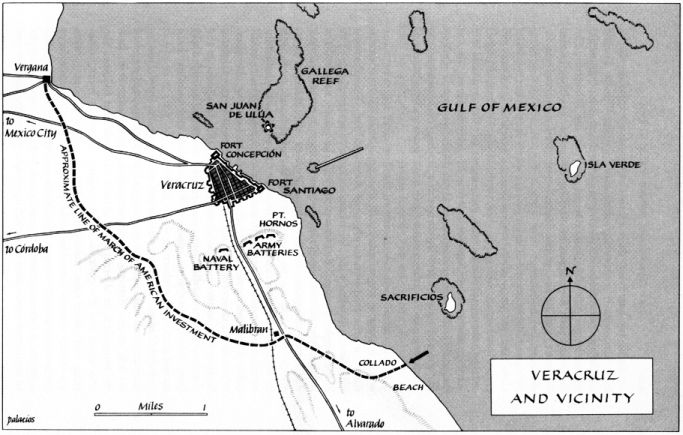 While Scott's officers had recommended a direct assault against the city, Scott feared the number of casualties that would result. Instead, on 9 March 1847, the Navy landed Scott and his 12,000 at a beach at Collado three miles southeast of Veracruz in the United State's first large-scale amphibious landing. The RARITAN and the POTOMAC, the largest ships, each carried 2,500 troops close in to the beach before transferring them to specially built, flat bottomed, landing craft. Other ships in the battle group carried lesser numbers of men.
SPITFIRE led a flotilla of gunboats and other light draft naval vessels close to the shore to support the landing of Army troops who began to invest the city. The next day SPITFIRE anchored east of the Mexican fortress at San Juan de Ulloa and opened fire on the castle to divert the attention of the Mexicans from General Winfield Scott who shifted his headquarters ashore that morning. After an engagement lasting about 30 minutes, SPITFIRE withdrew out of range of the Mexican cannon.
The days that followed were devoted to preparations for a siege of the city. At mid-afternoon on the 22nd, when the cannonading began, SPITFIRE led Tattnall's flotilla in an attack on the shore end of the city walls and maintained the bombardment until dark. The steamer's fire was praised as being especially accurate and effective. During the action, the batteries in the fortress fired on the flotilla, but its ships were undamaged.
That night, SPITFIRE's executive officer, Lt. David Dixon Porter, made a daring boat reconnaissance of the harbor at Vera Cruz to locate the best position for the flotilla when it resumed its shelling.
The next morning, Tattnall sailed his gunboats within grape-shot range of Fort Santiago and opened fire on both the town and the fort. The Mexican guns replied but were unable to depress their pieces sufficiently to hit the fearless American gunboats.
By the 15th Veracruz was surrounded. On March 22 after the town refused to surrender Scott began an cannonade of the town. Army cannons, however, were too light to break through the walls. Commodore Matthew C. Perry, who had just relieved Conner, suggested using the heavier Navy cannons with Navy gun crews. The battery was laid out under the direction of Captain Robert E. Lee. After twelve days of firing the Mexicans agreed to surrender. American forces occupied the town on 29 March 1847. General Scott then led his forces on to the Mexican capital. The war ended in 1848.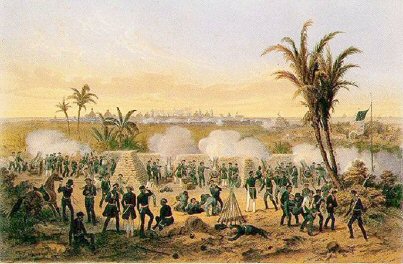 After the amphibious landing at Veracruz was successfully completed, Matthew Perry relieved Conner as Commodore. He offered General Winfield Scott 6 heavy naval guns manned by sailors from the ships to help break the walls of Vera Cruz during the siege that began in March 1847. These included two 32-pounders from the POTOMAC, one 32-pounder from the RARITAN, and one 8-inch shell gun (68-pounder) each from MISSISSIPPI, ALBANY, and ST. MARY'S. These were landed at night with double crews, the junior officers casting lots for the service. The illustration to the right shows the high and commanding position of the naval artillery and a the full view of the city under bombardment. The position was under the command of a young Robert E. Lee. The naval officer present included Smith Lee, Robert's brother, and Raphael Semmes who later commanded the Conderate ironclad, ALABAMA [Semmes was Conner's flag officer onboard CUMBERLAND and later RARITAN]. Gun crews from the fleet took turns serving the pieces. All the Navy men complained about fighting ashore and the necessity of digging-in and building revetments. One officer told Robert E. Lee, "I suppose the dirt did save some of my boys from being killed or wounded," but I have "no use for dirt banks on shipboard--that there what we want is clear decks and an open sea. And the fact is, Captain, I don't like this land fighting, anyway. It ain't clean!" Lardner Gibbon may have been attached to the Naval battery during the siege. This would account for him being ashore to provide "daily accounts given during part of the siege at Veracruz." I suppose I may be making too much of this statement. He could have made daily accounts while bombarding Vera Cruz from the decks of the SPITFIRE as well.
The SPITFIRE

After the surrender of Vera Cruz, Spitfire participated in the expedition against Alvarado and the capture of Tuxpan as Commodore Matthew C. Perry's flagship. Sometime before the action at Tabasco, described below, David Porter took command of Spitfire.

On 14 June, she was part of the force which took Frontera at the mouth of the Tabasco River.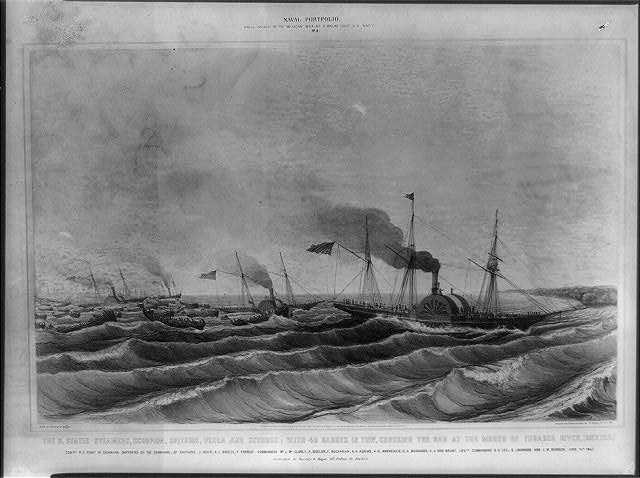 The U. States steamers, Scorpion, Spitfire, Vixen ... crossing the bar of the mouth of the Tabasco River ... June 14, 1847.
Lithograph by Sarony & Major, 1848, after H. Walke, Lt. U. S. N.


The American ships then ascended the river, engaged Mexican batteries at three points on the Tabasco, and occupied the city of the same name on the 16th. The American warships remained until 22 July when they headed down river toward the Gulf of Mexico. - from DANFS.
Tabasco

Commodore Matthew C. Perry, commander of the U.S. Home Squadron had recently captured the port cities of Tuxpan and Carmen. He next decided to move against the city of San Juan Bautista (present day Villahermosa), the capital of the state of Tabasco. Perry assembled the Mosquito Fleet in June and began moving towards the Grijalva river towing 47 boats carrying 1,173 strong landing force.

On June 15, 12 miles (19 km) below San Juan Bautista, the fleet ran through an ambush with little difficulty. Again at an "s" curve in the river known as the "Devil's Bend", Perry encountered Mexican fire from a river fortification known as the Colmena redoubt. The heavy naval guns quickly dispersed the Mexican force, but the fleet, blocked by river obstructions, anchored in the bend. While investigating the obstructions, one of Perry's lieutenants was fired upon and wounded. It was then decided to land the troops at Devil's Bend and march against the city over land.

On June 16, Perry opened a brief bombardment of the shore before leading the landing party and 4 artillery pieces ashore, leaving Lieutenant David D. Porter in command of the vessels.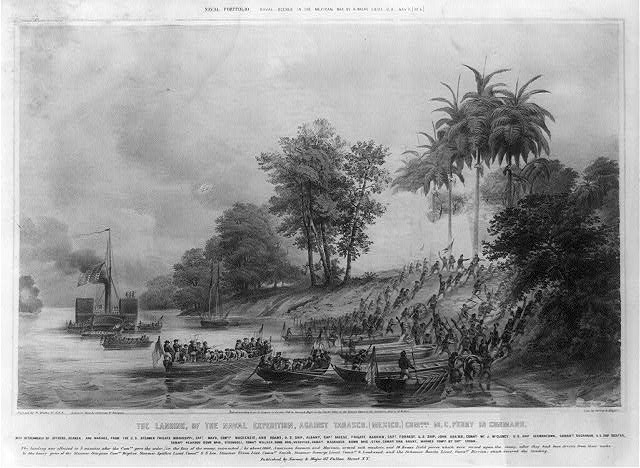 The landing of the naval expedition against Tabasco. Lithograph by Sarony & Major, 1848, after H. Walke, Lt., U. S. N.
Spitfire in the background.


The overland route bypassed the Colmena redoubt, and before long they encountered a stronger defensive fortification known as Fort Acachapan manned by 600 troops under the command of Colonel Claro Hidalgo. Perry unlimbered his artillery and shelled the position then ordered a charge. With his sword in had, Perry personally led the charge which drove the Mexicans back so quickly that breakfasts were left uneaten.

In the meantime Lieutenant Porter had managed to destroy the river obstructions and move up the river. At one point just as Perry was approaching the Mexican defenses, Porter opened fire on them mistaking the Americans for the Mexicans. The mistake was quickly remedied, and Porter kept on moving upriver, soon reaching Fort Iturbide guarding the city from the riverbank. Two ships ran past the fort and began shelling it from the rear. Porter led 60 sailors ashore and seized the fort, raising the U.S. flag over the works. Perry and the landing force arrived and took control of the city around 2 p.m. - from Wikipedia.
The following is a letter from Commodore Perry to the Secretary of the Navy subsequent to the naval landings at Tabasco.
"No. 6.
U.S. Flag-Ship Mississippi,
Anton, Lizardo, July 28, 1847.

Sir: In trasmitting the accompanying correspondence, I feel myself called upon to invite the attention of the department to the zeal and gallantry with which Commander Bigelow, Commander Van Brunt, and all the officers, seamen and marine of the detachment left by me at Tabasco, performed their arduous duties in defending the city against a most active enemy.

Subjoined is a list of the officers referred to.

I am, sir, with great respect, your obient servant.

M.C. Perry
Commanding home squadron.

List of officers at Tabasco.
. . .
Spitfire.--Lieutenant Commanding D. D. Porter, Acting Master L. Gibbon, Passed Midshipmen G. C. Stile, R.A. Marr and J.M. Bradford, Passed Assistant Surgeon J.H. Smith, Second Assistant Engineer B.F. Isherwood, Third Assitant Engineers William Taggert and L. Caldwell." - from "House Documents" of 1848
Benjamin Franklin Isherwood would become a famous naval engineer, retiring as a Rear Admiral.

Lieutenant Porter's ill-health forced him to return home in 1848 and J.P. Wilson replaced him as commander of the SPITFIRE.
"Home Squadron.
Commodore, Matthew C. Perry, Commander-in-chief
. . .
Steamer Spitfire, 3 [guns].
Commander, J.P. Wilson.
Acting Master, Passed Midshipman Lardner Gibbon.
Passed Midshipman, John W. Bennett.
Engineers, Third Assistants, Benjamin F. Gavin, Edward Whipple." - from "Register of the Commissioned and Warrant Officers of the United States Navy" of 1848
Most of the fighting for the Navy had ceased and, after routine duties protecting Army supply lines and communication, SPITFIRE returned home and was sold at Norfolk in 1848. The following is from a letter of an officer onboard the USS SPITFIRE, conceivably Lardner himself,
"The steamer Spitfire expects to go to New Orleans & repair ship, as our noble little craft, from such hard service, leaks 20 inches per hour steadily." - from the "National Intelligencer Newspaper Extracts. 1847" by Joan M. Dixon
Lardner and his old friend Herndon left Mexican waters onboard the USS CUMBERLAND.
July 1848. "Naval--The U.S. Ship Cumberland, Capt. Jamesson, bearing the broad pennant of Commodore Perry, arrived at New York on Wednesday night. The Cumberland sailed from Havanna on the 8th instant, and just before her departure a rumor was circulated that an insurrection had taken place in Puerto Rico, and that the Government officers in that place had sent to Havana for assistance. The report was not, however, believed. All was quiet at Havana.

The Cumberland sailed from Vera Cruz on the 17th ult [ultimo], and anchored at Pensacola on the 23d ultimo. She sailed hence on the 2d inst., and hove to off Havana on the 8th. After communicating with the American Consul, she sailed the same day for this port, and her passage hither has been delayed by alternate head winds and calms. She ws three days between the Capes of Virginia and Sandy Hook. All well on board.

The following is a list of "her officers:
Com. M. C. [Mathew] Perry, Commanding Home Squadron
Captain--William Jamesson . . .
Lieutenants--Wm. L. Herndon . . .
Acting Master--Lardner Gibbon . . ."- from "Niles National Register," volume 74, July 1848 to January 1849.
Lardner was not rated a Master until 9 May 1851. Note that Gibbon and William Herndon were again shipmates; both were returning to duty at the Naval Observatory.

Lardner was detached from the CUMBERLAND on 23 August 1848. He was at home in North Carolina on 2 November 1848 when he and his brother, John, attended the wedding of fellow Mexican War veteran Daniel H. Hill as his "best men." Note that Hill would later become Superintendent of the North Carolina Military Institute and, following the start of the Civil War, Colonel of the 1st North Carolina Infantry Regiment. Lardner's youngest brother, Nicholas, was a member of the latter and perhaps also a cadet at the former. Another sign of the many family ties that linked these people.

Lardner was ordered to the Naval Observatory for a second tour. His time at home in North Carolina was probably what we called "leave enroute." On 3 November 1848 Lardner reported back to the Naval Observatory. William Herndon had returned the month before.
"Bureau of Ordnance and Hydrography
Name. Duty. Place of birth. Where a citizen. Present appointment. Salary.
. . .
Lieut. M.F. Maury Superin't of Observatory. Virginia. Tenn. 29 June 1842. 3,000
. . .
Lieut. Wm. L. Herndon. At the Observatory. Virginia. Virginia. 2 October 1848. 1,500
. . .
P.Mid. Lardner Gibbon. At the Observatory. Penn. N.C. 3 November 1848. 750"
- from "Register of the Commissioned and Warrant Officers of the United States Navy" of 1848
Lardner remained at the Observatory until 15 February 1851. William Herndon, however, stayed for only a year before he received orders to the VANDALIA in the Pacific.

In 1849 Matthew Maury published a wind and current chart of the North Pacific, "drawn by P.M. [Passed Midshipman] Lardner Gibbon, U.S.N." A wind and current chart of the South Pacific was published in 1852, "drawn by Lardner Gibbon, P.M. U.S.N." These were included in Maury's book, "Explanations and Sailing Directions to Accompany the Wind and Current Charts" of 1853.

Matthew Fontaine Maury was one of the true "greats" of the era and the father of the science of oceanography (read "Tracks in the Sea" by Chester G. Hearn for an account of his life), but a weakness of his was an obsession with the creation, in the Amazon basin, of a new American empire. This was another aspect of the idea of Manifest Destiny which drove many to believe that the United States was predestined to expand not just coast to coast, but from pole to pole. Brazil, already a slave society, appeared to offer the world's most promising arena for expansion of a Southern-style plantation system. Maury convinced the new Secretary of the Navy, William A. Graham (who Maury had met when Graham was the Governor of North Carolina), to fund an expedition to explore the Amazon river to ascertain its potential.

Note that Maury thought that slavery was a "curse" and was injurious to the Union, but he felt that it could not be ended suddenly. His idea was to export the South's slaves to the Amazon basin, protecting the property rights of their owners while cleansing the region of slavery. His ideas did little, of course, for the slaves themselves. Maury wanted to maintain the Union, but felt the states had a right to secede, just as the states of New England had threatened to do during the War of 1812. In the last months before the Civil War he worked hard for concilliation, but when Virginia seceded, he went with her.

I suspect that it was at this time that Lardner, by birth and upbringing a Northerner, began to become a Southerner under Maury's tutelage. This grandson of Quakers would, in the 1850's, become a slave holding plantation owner and fight on the Confederate side in the Civil War.

In 1850, in Washington, D.C., a neighborhood on the west end of H street, just northwest of Lafayette park, suffered a destructive fire. The inhabitants turned volunteer firemen, amongst them Lardner Gibbon and his brother, Jack [John Gibbon]. - from "A Book of Remembrance" by Elizabeth (Duane) Gillespie. The west end of H street lies in "Foggy Bottom," the location of the Naval Observatory at that time. It was a residential area, originally called Hamburg for its community of German laborers who worked at the nearby breweries. Today this is the location of the headquarters of the US State Department, the main campus of George Washington University, the Watergate Hotel, and the Kennedy Center for the Performing Arts.

In 1851, Lardner, 31 years old and still a Passed Midshipman, and Lieutenant William L. Herndon were instructed by the Secretary of the Navy to "cross over the Andes from Lima, and descend the Amazon as they might" and explore the entire watershed of that river with regard to navigability and also to the terrain's possibilities in "the field, the forest, the river or of the mine." They were also required to bring back any specimens or seeds thought to do well on American shores.

I don't know whether Lardner understood the ulterior motives of this expedition, but I would expect that knowing Maury's ideas about colonizing the Amazon, he must.

His companion for this trip and the designated leader, Herndon, was a Virginian and the brother-in-law of Maury, whose views about the development of the Amazon valley as a slave empire he shared. He had also recently served with Maury at the Naval Observatory and his service overlapped with Lardner's. From the opening of Herndon's book, "Exploration of the Valley of the Amazon,"
"Attached to the U. S. Ship VANDALIA, of the Pacific squadron, lying at anchor in the harbor of Valparaiso, in the month of August 1850, I received a communication from the Superintendent of the National Observatory, informing me that orders to explore the Valley of the Amazon would be sent by the next mail steamer.

The ship was then bound for the Sandwich Islands, but Captain Gardner, with that kindness which ever characterized his intercourse with his officers, did not hesitate to detach me from the ship, and to give me permission to await, at Valparaiso, the arrival of my instructions."
Herndon remained in Valparaiso and Santiago until January 1851 when he received orders to proceed to Lima, Peru. Lardner's engraving of Lima is shown below. Herndon arrived there on 6 February 1851.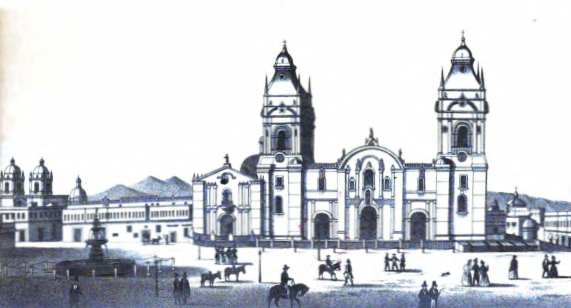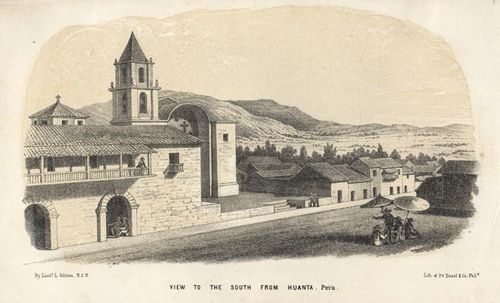 On 4 April Herndon was joined by Lardner who hand-carried their orders, apparently coming straight from Washington. They left Peru on 21 May, but after climbing the Andes together they determined, in late June, to split up the expedition. Herndon would travel north, exploring the head waters and main course of the great river while Gibbon would travel south via Cuzco, La Paz in Boliva and followed the Bolivian tributaries down the Madeira to the Amazon. While still in La Paz Lardner convinced the Bolivian government to "commit itself to open navigation of her rivers," which it finally did in 1867. - from "United States-Latin American Relations, 1850-1903: Establishing a Relationship" by Thomas M. Leonard, 1999.
Lardner and Herndon made small natural history collections and recorded ethnological observations from 1851 to 1852. Loring W. Bailey (1839-1925), the chemist-geologist son of Jacob W. Bailey, reported unofficially on the microorganisms. The two explorers met again in Serpa, then traveled down the Amazon to Para.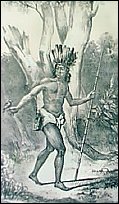 Larder Gibbon was rated a Master on 10 April [or 9 May] 1851, while in Lima.
The USS DOLPHIN, a Navy war ship, anchored off Una, in sight of Para, Brazil on 17 April 1852.
"Sunday, April 18.--At 8 a.m., received pratique from the health officer. Sent a boat to Henry Lee Norris, esq., our consul, who came off with letters, and accompanied by Lieutenant William Lewis Herndon, United States navy, who had recently arrived here, after an examnination of the Amazon, under the instruction of our government.




April 19.-- . . . The arrival here of this naval vessel, though for supplies, happening when Lieutenant Herndon, (of the navy,) had just got here from an exploration of the Amazon, whilst his companion, Lieutenant L. Gibbon, US navy, was still in the interior, had excited some suspicion ashore as to the real object of our visit."

- from "Report and Charts of the Cruise of the U.S. Brig Dolphin" of 1854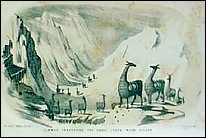 Herndon returned to New York in May 1852, but Lardner "remained in Peru and Bolivia investigating mining procedures and making an archaeological study of certain pre-Columbian natives" - from "Biographical Dictionary of American and Canadian Naturalists and Environmentalists" by George A. Cevasco, Lorne F. Hammond, Richard P. Harmond, and Keir B. Sterling, 1997.

Lardner returned home in March 1853.

The two explorers met again at the Naval Oberservatory where they prepared their official report which became "Exploration of the Valley of the Amazon," the first volume of which (Herndon's) was published in 1853 and the second (Gibbon's) a year later. The book was an excellent and thorough survey of the inhabitants and geography of the Amazon, its tributaries, and the Andes. The plates, some of which are shown here, were drawn by Lardner and illustrated the inhabitants, villages, river, mountain, jungle and village scenes. Their collections were transferred to the Smithsonian in 1858. From a review, it "Contains minute, accurate and very interesting accounts of the aborigines of the Andes, and the Amazon and its tributaries." I should note that reviews of a 20th century reprint of the report pointed out the superiority of Herndon's account over Lardner's more pedantic prose. As a contrast:
"Widely read in the United States. Gibbon is ungrammatical, but as an observer he is superior to Herndon." - from "Gleanings and Remarks," Gillespie Alexander, London
"Herndon's volume has numerous engravings and interminable discussions of the "Cordillera". The rather more lively Lieutenant Gibbon talked of "the pampas of Buenos Ayre and Brazil," of "Potosi" and its wealth, and of diving for diamonds in the rivers of Brazil." - from "Emily Dickinson's Imagery" by Margaret H. Freeman and Rebecca Patterson, 1979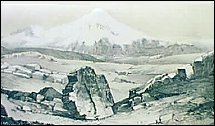 Lardner was still very close with Maury, who wrote, on 19 November 1853, "Gibbon is at my house well, Herndon ill."
Note that Lardner was familiar with the same Professor Louis Agassiz who would correspond with his brother, John, for many years about the flora and fauna of the American West.
"Gibbon caught two fish, "designed for Professor Agassiz,"" - from "South America Rediscovered" by Tom B. Jones, 1949
Where was the connection? Note that Agassiz wrote "A Journey in Brazil" in 1867, so he may have corresponded with Lardner & Maury about their earlier work. He was also the President of the American Association for the Advancement of Science, of which Maury was also a member. Did Lardner meet Agassiz through Maury and then point the Professor to his brother? Also note that Lardner was, from 1854 to 1859, a contributor for a meteorological study run by the Smithsonian Institute. Was this more influence from Maury and Agassiz?

Herndon and Lardner's report aroused great excitement for its description of the riches of the Amazon and the beauty of its women. Samuel Clemens (the American writer Mark Twain) was one of the several young men who, after reading the report, rode south to New Orleans, hoping to find a ship that would take them to Pará, in the mouth of the Amazon. Fortunately for American literature, Twain could not find any ship going to Brazil then and decided instead to become a river pilot on the Mississippi river. Mark Twain mentions the report by Lieutenants William L. Herndon and Lardner Gibbon in "Mark Twain's Letters," vol I, 34-35.

The report affected another American author, Emily Dickinson. The book was given to her by her father and was the principal source for her knowledge of South America, as exhibited in her "Brazilian Poems." Henry David Thoreau and John Greenleaf Whittier also were apparently influenced. Lardner also drew a map of the continent which was published for general use.

Book Review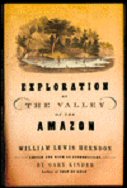 "Herndon & Gibbon departed Lima, Peru, on May 20, 1851, and arrived at Para, Brazil, nearly a year later, traveling 4,000 miles by foot, mule, canoe, and small boat. They cataloged the scientific and commercial observations requested by Congress, but they filed their report as a narrative, creating an intimate portrait of an exotic land before the outside world rushed in. Herndon & Gibbon's report so far surpassed their superiors' expectations that instead of printing the obligatory few hundred copies for Congress, the Secretary of the Navy ordered 10,000 copies in the first print run; three months later, he ordered 20,000 more. Herndon & Gibbon described their adventures with such insight, such compassion and wit, and such literary grace that they came to symbolize the new spirit of exploration and discovery sweeping mid-nineteenth-century America. For the next hundred years, Herndon and Gibbon's report languished out of print before being revived briefly in 1951. Now, for the first time in nearly fifty years, Gary Kinder and Grove Press bring to readers one of the greatest chronicles of travel and exploration ever written."
William L. Herndon (1813-1857)

Born in Fredericksburg, Virginia, on 25 October 1813, William Lewis Herndon entered the Navy in 1828 at the age of fifteen and was commissioned a Lieutenant in 1841. From 1842 to 1847 he served at the United States Naval Observatory and Hydrographic Office in Washington, D.C. There he worked closely with his cousin, brother-in-law, and good friend, Lieutenant Matthew F. Maury, who later became known as "the father of modern oceanography" for his revolutionary studies of winds and water currents.

In 1851, Herndon was assigned to lead the first scientific expedition to explore the Amazon River Valley and three years later published the results in a popular illustrated book. Lt. Maury had projected the Amazon expedition in the hope that it would open up a large and fertile area for American slave-owners.

In November 1855, Commander Herndon was given command of a wooden-hulled 280-foot sidewheel steamship, the CENTRAL AMERICA (then named the GEORGE LAW) in accordance with an act of Congress requiring that all mail steamships be captained by an officer in the US Navy. He completed 18 voyages before the ill-fated trip that began in Colon, Panama on September 3, 1857.
While enroute to New York from a stop in Havana, a gale of unexpected fury struck. After battling the storm for three days, and despite the heroic efforts of both crew and passengers to bail-out the ship, it foundered. Commander Herndon was cited for his bravery in saving the women and children. In a dinner conversation earlier in the voyage Commander Herndon had told a passenger that if his ship were ever to go down, he would go with it. Now, having done everything he could and wondering if he could have done anything different to avoid the imminent tragedy, Commander Herndon retired to his quarters. Stoic and proud, he returned to the wheelhouse wearing his full-dress uniform. Three mintues later the ship went down, taking her Captain with her.
There are a number of good websites that deal with this disaster. If you're interested in more information, try Ship of Gold.
The ship carried 21 tons of gold from California to New York and 425 of 528 passengers were drowned. The wreck was in 8,000 feet of water and in 1987-1988 salvage operations were begun by Tommy Thompson. He hauled in $500 million worth of gold bars, coins and nuggets. After a court battle he was awarded 92% of the gold. The story is told in the 1998 book "Ship of Gold in the Deep Blue sea" by Gary Kinder. The loss of this quantity of gold had sparked "The Panic of 1857." Herndon was survived by his wife Frances Hansbrough Herndon, and one daughter, Ellen Lewis Herndon, who later married Chester A. Arthur. She died, however, before Arthur became the 21st president of the United States.
The town of Herndon, Virginia is named in his memory. In 1860, the United States Naval Academy erected a monument to the Captain's memory, making Herndon the first peacetime hero to be honored at Annapolis.
The defining moment that ends Plebe year at the U.S. Naval Academy is the climbing of Herndon monument. Legend has it that the first Plebe to reach the top of the monument will be the first in the class to make the rank of Admiral. Although the legend has yet to prove itself, the spirit of the tradition thrives.
By the way, Herndon's daughter married the future President, Chester A. Arthur, though she died before he was elected.
While gone on his exploration, but after Herndon had returned, Lardner was finally promoted to Lieutenant. From the Journal of the Executive Proceedings of the Senate of the United Statesof America, 1852-1855, of 9 December 1852:
"Lardner Gibbon to be a lieutenant in the Navy, from the 5th of December, 1851, to fill a vacancy occasioned by the death of Lieutenant William Preston Griffin."
of 21 December 1852:
"The Senate proceeded to consider the nominations of . . .
Lardner Gibbon . . .
Resolved, That the Senate advise and consent to the promotion and appointment of the said persons in the Navy of the United States, agreeably to their nominations respectively."
From "Public Acts of the Thirty-second Congress," reference Pay, there is a mention of Lardner Gibbon.
"March 3, 1853
Wm. L Flemdon [sic] and Lardner Gibbon.
And there shall be allowed to Lieutenants William Lewis Flemdon [sic] and Lardner Gibbon, officers of the United States Navy, who were engaged upon the exploration of the Amazon, the same pay as has been allowed to the superintendent of the Naval Astronomical expedition in Chili, by the act making appropriations for the Naval Service, approved March third, eighteen hundred and fifty-one, during the period of their service as aforesaid, which period shall be reckoned from the date on which each officer left the United States until the final return of the exploring party."
I don't know how much money this was, but it was clearly a bonus to their normal pay and a signal of Congress' approval of the conduct of their expedition.

In the "Register of the Commissioned and Warrant Officers of the United States Navy" of 1854 is,
Name and Rank: Larder Gibbon, Lieutenant; State where born: Penn; State from which appointed: Penn; State of which a citizen: N.C.; Original entry into the service: 22 Dec 1837; Date of present commission: 5 Dec 1852; Sea service under present com'n: 0 0
The following is a link to Lardner Gibbon's Exlorations in South America, including an etching of his likeness.
At this point I need, lacking facts, to imagine what happened next. First, in 1853 Lardner was 33 years old. He had only just been promoted to Lieutenant and he would be due for a new set of orders once his report on his South American expedition was complete. As a Line officer, that is an officer "in line" to command a ship, his tours at the Observatory and the expedition to South America had not helped his chances for promotion; only duty shipboard would do that. His apparent choice of Matthew Maury as a mentor also would do little to help. Even today young officers get mentored (we used to refer to this as having a "sea-daddy"), but Maury's influence would have been limited to the scientific. Lardner needed a Line officer, a ship's Captain, to have taken him under his wing; someone like Forrest, of the ST. LOUIS, Pendergrast, of the BOSTON, or Ward, of the CUMBERLAND. If you read the novels of Forrester and O'Brian you know that a Captain, moving from one ship to another, was by courtesy allowed to bring certain of his officers and men along with him. He was their "sea-daddy" and would help in their advancement. The same happens today and happened in Lardner's navy. So as Lardner contemplated his future, he understood that he had no such mentor and no special prospects.
Second, for one brief moment Lardner would be famous. William Herndon's book came out in 1853, and Lardner's in 1854, to great acclaim. They were "best selling" authors and, while the modern engines of fame did not yet exist, they would be the center of attention at parties, congratulated on the street when recognized, and probably bombarded with offers. Consider Lardner's resume. He was a naval officer, thus a man of considerable leadership and managerial experience. He had just completed a perilous, even an herioc expedition where he had exhibited diplomacy, quick judgement, and a scientific spirit. His prospects of employment outside the Navy were probably as good as they would ever get.
Based on what happened next, I'll guess that around this time Lardner went to Charlotte to visit his folks. Being parents, they would proudly present him around town, showing off their hero. Lardner's father might query his friends about job offers in order to keep his son at home. He might, if I'm right about Lardner's fame, have to, instead, fend off and negotiate a flood of job offers. At the same time friends, neighbors and relations would come to call to meet Lardner. Amongst these would be Lardner's rich Uncle, John Shepard. Shepard had done well down in Florida and had a plantation with over a 100 slaves. He brought with him his young daughter, Alice - Sparks fly between the youngsters - John Shepard and John H. Gibbon retire to the library to discuss joining their family's together. Lardner is offered Alice's hand and a plantation in Florida as a dowry. They marry. End of story.
I have a source that claims that Lardner married Alice Shepard [Sheperd] on 22 May 1871. This is clearly in error and I've previously assumed that this was a transcription error for 1851. While this is possible, there was a period early in the year while Lardner was still assigned to the Naval Observatory and before he left for South America, I think the previous story makes more sense. However, I have now found the marriage records and, happily, they support my favored theory. Lt. Lardner Gibbon married Alice Rebecca Sheppard on 20 February 1855 in New York City [the "Genealogy of the Hannum Family" says in Tallahassee, Florida]. The choice of city makes it look like a great deal was made of the event.
What doesn't fit in this story is that Lardner knew nothing about farming. He had been raised in the city and on ship. He would, of course, have brought a quick, scientific mind to the subject. I imagine he would have read all the books on the subject of farming, analysed the soil, and considered the vagaries of light, wind and rain with all the diligence of a Maury-trained student. His overseer would listen to all this, nod, and then go do what he had originally intended to do.
However, Lardner was not quite finished with the Navy yet. In the year he married, 1855, he was a Lieutenant on the newly commissioned sloop-of-war CONSTELLATION in 1855.
"Navy Department
Navy List - Lieutenants.
30 Sept 1855
Names . . . Where born. . . . Where appointed . . . Duty or station.
. . .
Lardner Gibbon . . . Pennsylvania . . . Pennsylvania . . . Sloop Constellation" - from "Official Register of the United States" of 1855
Charles H. Bell was the commanding officer.

The CONSTELLATION had been built at the Navy Yard in Norfolk, Virginia. She was launched in August 1854 and commissioned on 28 July 1855. If Lardner was a "plank-owner," that is a member of the commissioning crew, this was probably his first set of orders after the publication of his exploration notes.

This ship is not to be confused with the frigate CONSTELLATION that Lardner served on earlier in his career.

Sloop CONSTELLATION

The sloop-of-war CONSTELLATION, of 23-guns, was built in Norfolk, Virginia, launched in August 1854, and commissioned on 28 July 1855. It is the latter which is berthed in Baltimore as an historical relic. For years it was passed off as the earlier vessel, but is now given its own historical significance as the last sail-only powered warship designed and built for the U.S. Navy. Part of the confusion was that the old CONSTELLATION was in the Norfolk yard at the same time the sloop was being built and the money approriated by Congress to repair the frigate was instead used to build the new ship. Fraud lives in all ages.

The sloop CONSTELLATION was a sleeker, and theoretically faster ship than her predecessor, 12 feet longer and with less tumblehome. The sloop's armament consisted of 8-inch exploding shell guns and 32-pound broadside guns, vice the 18-pound iron-ball firing guns of the frigate.

After several sea trials she departed under the command of "Captain Charles H. Bell for a 3-year cruise with the Mediterranean Squadron to protect American interests. While on station, Constellation was dispatched to protect American lives and property at Malaga, Spain, in July 1856 during a revolution in that country." - from DANFS. She was detached from the Mediterranean Squadron on 17 April 1858, ordered to Boston and placed in ordinary.

Below is a painting of CONSTELLATION in 1862.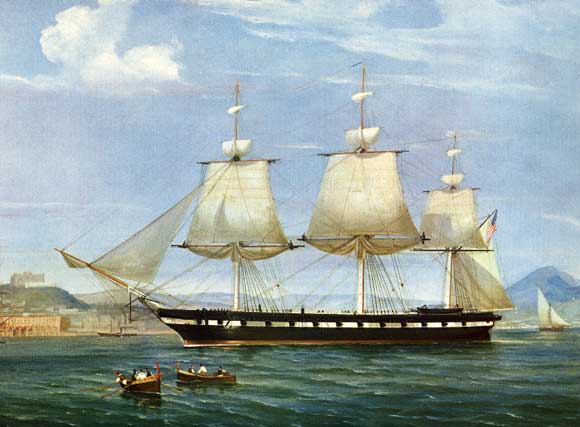 On 30 September 1855 the CONSTELLATION was enroute to the Mediterranean for a three year cruise. While on station, she was dispatched to protect American lives and property in Malaga, Spain, in July 1856 during a revolution in that country. While cruising in the Sea of Marmora the same year, she rescued a barque in distress, and received an official message in appreciation from the court of the Austrian emperor; an uneventful cruise. She remained in the Med until 1858. - from DANFS.
On 15 May 1857 Lardner resigned from the Navy. The Congressional Serial Set says only, "After his return from South America, Lieutenant Gibbon spent several uneventful years in the naval service, and resigned on May 15, 1857, four years before the breaking out of the civil war, in which he took part under the Stars and Bars of the Southern Confederacy."
In "Results of Meteorological Observations" made under the direction of the United States Patent Office and the Smithsonian Institution from 1854 to 1859, Lardner Gibbon was listed as an observer from "Seville (near Tallahassee)," Leon county, Florida. Oddly, modern-day Seville, Florida is no where near Tallahassee. I'd guess then that Seville was the name of Lardner's plantation [could this have been near Lake Ella? There is today in Tallahassee a Seville apartments near Lake Ella.]. From the preface of this work,
"The primary object of the Smithsonian Institution is the advancement of the science of meteorology and the elucidation of the laws of atmospheric phenomena; that of the Patent Office, to collect facts and deduce therefrom laws which have immediate reference to agriculture; while the system of the Medical Department [of the Army] is intended to be primarily subservient to the health of the troops and the advancement of medical science. These three Institutions are now in harmonious cooperation, and it is believed that it is no exaggeration to say that under their auspices more is now being done to advance meteorology than has ever before been attempted under any government."
Blank reports were prepared by the Patent Office. When filled out by the designated observers they could be returned under the Patent Office frank. These observations were forwarded to Professor James H. Coffin of Lafayette College who had a staff that "reduced" over 500,000 reports per year. In 1860 government funding was lost and the study was discontinued.

This report was a direct result of work begun by Matthew Maury. In 1851 Maury had begun a campaign for a worldwide system of co-ordinated weather observations and argued for the creation of a national weather service. "Having proved that ordinary sailors at sea were fully capable of making weather observations, Maury urged that farmers could do the same on land, as could also railroad agents, teachers, in fact, anyone who was willing." - Williams. Professor Joseph Henry, Secretary of the Smithsonian Institution, objected to the Navy taking the lead (and to Maury's lack of a college degree). After much acrimony and duplicated effort, in the end the Smithsonian's scientists took over. Note that Louis Agassiz was one of the scientists involved.

How was Lardner selected as an observer? A protege of Maury's, he was probably a member of Maury's group of field observers in the early Naval-led studies. His reports to Maury were probably incorporated into the Smithsonian report vice being one of their designated observers.

In the 1860 census of the Tallahassee post office, Leon county, Florida as Lardner Gibbon, a 40 year old farmer. In culture and outlook this area was more southern Georgia than it was northern Florida. Living with him was Alice, 29, his wife. In the census Lardner is shown as born in Pennsylvania. Alice (Shepard) was born in Florida, but her parents were from North Carolina. Lardner's grandmother had been a Shepard and Alice was his second-cousin. Note that William Lardner, Lardner's grandfather, married Ann Shepard, the daughter of Jacob Shepard of Newberry, North Carolina. Jacob's eldest son, and Ann's brother, was John Swann Shepard. He was Alice's father. The Lardners, Biddles, Shepards and Gibbon's all intermarried. This reminds me of the line from the movie "Gone With The Wind" -- "The Wilkses' always marry their cousins."

I don't really know how or when they met. Alice's father, John, had already moved from North Carolina to Florida by 1828. In the 1830 census of Magnolia township, Leon county, Florida we have a John Shepherd. In 1840 he is listed as John S. Shepherd. In the 1850 census as John S. Shepard, a 52 year old planter, born in North Carolina, in 1798. He was John Swann Shepard, the eldest son of Jacob Shepard of New Bern, North Carolina, see The Shepard Family. Living with him in 1850 were his wife, Catherine, 40, of Virginia, and Alice, 22, Julia, 18, Letitia, 12, and Robert, 15, all born in Florida. Note that in the 1850 slave schedule he had 116 slaves! He apparently died before 1860. In the 1860 slave schedule we have only R.G. Shepard, G.G.R.G. Shepard and Catharine G. Shepard, his widow, each with from 3 to 9 slaves.

Lardner Gibbon was doing well with $9,000 in real estate, $10,000 in personal property, and, in the 1860 slave census, 14 black and mulatto slaves. This probably put him in the middle range of plantation owners. Not Tara or Twelve Oaks, but well above the common southern farmer who held only a few slaves, if he had any. I wonder whether this prosperity was due to savings Lardner accrued while in the Navy or was this Alice's inheritance? I, of course, suspect the latter.

Tallahassee, Leon County, Florida

This is an in-land county, on the eastern end of the panhandle, bordering Georgia. Its largest city is Tallahassee, the state's capital. It is an land of many lakes.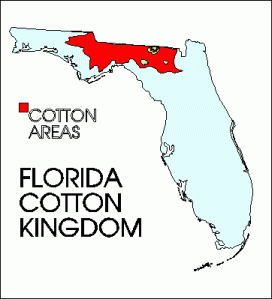 Tallahassee sits halfway between Georgia and the Gulf of Mexico. The streets of the city are lined with massive live oaks draped in Spanish moss that crisscross through the downtown area. In the antebellum period the plantation owners of northern Florida held most of the wealth and political power. Leon county, along with Jackson, Gadsden, Jefferson, and Madison counties, was a fertile, cotton-growing region between the Suwannee and Apalachicola Rivers. Corn was also raised for livestock and sugar cane was raised along the rivers. Only in Middle Florida was there a measurable number of absentee farms, most owned by professionals who lived in Tallahassee. On these estates, overseers were entrusted with the day-to-day management of the farm. Most of the plantations, however, were small and operated by their owners.
The land outside this fertile middle region was poor and sandy. This was were the "Florida Cracker," the small farmer, was forced to live.
When the Civil War began Lardner, along with two of his younger brothers and two brothers-in-law, joined the Confederate Army. Lardner was commissioned a Captain at Richmond Depot on 1 January 1862. From the "Journal of the Confederate Congress, 27 August 1861":
". . . the President, nominating, for the advice and consent of Congress, in the Provisional Army of the Confederate States . . .:
Corps of Artillery
Captains
Lardner Gibbon, North Carolina
I suppose Lardner was leveraging his experience as a gunnery officer in the Navy. Because the Confederate Navy in those early days lacked ships, most states made the decision to use experienced naval officers who had left Federal service to command the coastal batteries that were then being constructed. Note also that though Lardner probably joined from his plantation home in Florida, he was listed as 'of' North Carolina. I believe this illustrates the strong nationalistic feeling people had for their home states in those days. An unsourced citation on a Civil War history site says of Lardner,
"On July 2, 1861, he was appointed a captain in the Confederate States Artillery. He is listed as ordinance officer and commander of corps artillery in the 2nd Military District of South Carolina, Georgia, and Florida. He later resigned on August 5, 1863."
However, another source says "Lardner Gibbon resigned from the navy in the late fifties, and during the civil war served in the Navy Department of the Confederate States." - from the "Bulletin of the Pan American Union" of 1910.

Lardner had been born and raised in Philadelphia and, except for portcalls, never lived in the South before marrying. I assume he was influenced in his decision to go with the South by his Father, who had moved to North Carolina in 1838 and become a rabid Southerner and by his friendship with Matthew Maury and William Herndon. All of the Gibbon family and relations went with the Confederacy, with the famous exception of John Gibbon, Lardner's younger brother, a West Point Graduate who stayed with the Union Army and went on to become a Major General. From The Memoirs Of Daniel H. Hill, Lieutenant General, C.S.A.:
"General John Gibbon and his brother Lardner had been "best men" at my wedding. They were from North Carolina; one brother took the Northern side, while the other took the Southern."
This marriage took place on 2 November 1848 on the plantation of "Cottage Home," in Lincoln county, North Carolina. Note that Stonewall Jackson, the brother-in-law of D.H. Hill, was also married there. Cottage Home was located just northwest of Charlotte, the Gibbon's hometown. Both of the 'boys' must have been on post-Mexican War leave.

In the National Park Service Civil War Soldiers and Sailors System, Lardner is listed among the "General and Staff Officers, Corps., Division and Brigade Staffs, Non-com. Staffs and Bands, Enlisted Men, Staff Departments, Confederate States Army," a 'catch-all' category, as a "Capt. & O.O. [Ordnance officer?]." I have no evidence of any unit Lardner was attached to nor battles he may have been involved in. He was, of course, in his early forties at the time and may have been left on duty behind the lines for that reason.

I think that Lardner sold his Florida property at this time. He never returned to Leon county and his wife, Alice, appears to have accompanied him on his Army orders. The only Shepard's I see in Leon county in 1870 are listed as Colored or Mulatto. I assume these are freed slaves who took the surname of their one-time masters.

"Lardner Gibbon, is not mentioned in the official records although a Captain L. Gibbon was in the ordnance department at Richmond in December 1861 and at Charleston, South Carolina in June . . ." - from "Military Medicine." In 1861, in response to a request by General R. E. Lee for "guns for land defense and the protection of the rivers extending into the country" of South Carolina, L[ardner] Gibbon, Captain, replied
"On the 17th December [1861] three 32-pounder heavy guns. On the 21st December two 9-inch columbiads were sent to General Lee, and to-morrow one 8-inch columbiad and one 24-pounder siege guns will be sent. Very Respectfully,
L. Gibbon, Captain." " - from "The War of the Rebellion: A Compilation of the Officical Records . . . "
"Richmond, Va., January 1, 1862.
General Mansfield Lovell:

Please send two large 32-pounder navy guns for General A.S. Johnson, care of Lieut. M.H. Wright, ordnance officer, Nashville, Tenn.

L. Gibbon
Captain (for Chief of Ordnanace)." - from "The War of the Rebellion: A Compilation of the Officical Records . . . "
"A letter, dated March 15, 1862, from Captain Lardner Gibbon, Inspector of Ordnance at Richmond, to Pryor Lea of Goliad, requests cannon for the army in Virginia. He wanted "3 inch 6 lb. guns, rifled, and 12 lb. howitzers of bronze or iron." He advised that better guns could be bought abroad than could be founded at home. Captain Gibbon further advised that infantry should be equipped with Harpers Ferry percussion rifles, or Enfield rifles from England. The cavalry, he said, required short Enfield rifles, holster pistols and good sabers. He opined that good rifles could be had from London Arms Mfg. Co. and from Liege, Belgium, for $19 per gun, though he advised allowing fifty per cent more . . ." - from "Texas Gun Lore" by Carroll C. Holloway

From a Letter in the Call Family papers dated 26 March 1863, Lardner Gibbon writes from Mobile, Alabama, to "My Dear Friend," [Ellen Call Long, see below] relating his meeting with author Octavia Walton Le Vert and his impressions of her personally and as a writer. It also says, "I am very pleasantly located here on Engineer Duty - don't care for rank and don't particularly want it. Have never exerted myself in any other way than doing all I can for our afflicted country with as little pay and expense to it as possible." He mentions an Alice in a very homely, fashion, "I don't read anything but the papers - Alice reads everything." This must be Alice Shepard. Ellen Call Long had provided Lardner with a letter of introduction to Le Vert. Lardner claims a close friendship with Ellen; one in which he can tell her things frankly and which she will not repeat. At one point he writes of Le Vert, "She is very much like another friend of yours [meaning himself], will never attempt to write another book." It is signed "L.G."

Octavia Walton Le Vert (1811-1877)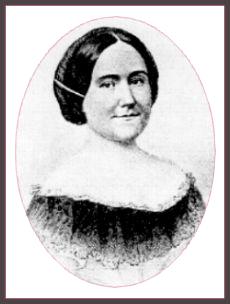 She was so closely associated with the state of Alabama in the mid-nineteenth century that her fame as the "Pride of Mobile" gave new stature to the city as a site of learning and culture. From her elegant house on Government Street, she entertained internationally known persons, and she became one of the most widely known socialites of the 1850's, North and South. She was a friend of such notables as Edgar Allan Poe, Washington Irving, and Henry Clay and knew many other well-known Americans. During her extensive travels in Europe she was presented to the Pope, to Queen Victoria and Prince Albert, and to Napoleon III and the Empress Eugenie. She wrote "Souvernirs of Travel."
In the letter above, Lardner notes having a servant, James, so things were not too tough. James was probably a slave. Madame La Vert promised, so Lardner said, to call on Mrs. G as soon as she could, meaning, I suppose, that Alice had not accompanied him.
In March 1863, the date of the letter above, the port of Mobile, while closely blockaded, was still free. The port of New Orleans had fallen to the Federals in April 1862 and in July 1863 Vicksburg would surrender, ending the South's control of the Mississippi. However, Mobile would not be attacked until August 1864. I suspect Lardner's 'Engineer duty' involved the installation and improvement of the harbor defenses and basic civil engineering.
The following provides a picture of what life was like in the city. From "Mobile as a Confederate City, 1861-1865," the Alabama Department of Archives & History:
"Despite the blockade Mobile's social activities continued. Residents and visitors observed local social customs such as gentlemen calling on the ladies of their acquaintance on New Year's Day. Naval officers visited fashionable homes, whose hosts and hostesses they entertained with ship-board balls, dinners, and moonlight cruises. A local newspaper dubbed Mobile the "Paris of the Confederacy." Some of the most fashionable homes where Mobilians entertained visiting generals, politicians, and literary figures were those of Octavia Walton Le Vert, Mary Walker Fearn, Augusta Evans, and General Dabney H. Maury, commander of the Department of the Gulf from the summer of 1863 to the end of the war. Numerous balls and concerts benefitted needy groups of soldiers and civilians. As touring companies curtailed their travels during the war, the Mobile Theatre relied heavily on local actors to offer plays. Visitors, particularly soldiers, comprised the bulk of audiences."
Note the name of General Dabney H. Maury above. This was the nephew of the great oceanographer, Commodore Matthew F. Maury, who sent Lardner Gibbon and William Herndon on their exploration of the Amazaon. Matthew was more than just an uncle to Dabney. After Dabney's father, Navy Captain John Minor Maury, had died he became the boy's unofficial guardian and second father. His influence may have brought Lardner to this post. Dabney graduated from West Point in 1846, a year before Lardner's brother, John, another link of influence. By the way during the war Matthew Maury served the Conferacy in England, purchasing ships and equipment, and trying to get foreign countries to support the South.
"With the blockade cutting imports, and Federal occupation and Confederate impressment interfering with transport of goods from the hinterland of Mobile, food shortages and inflation troubled residents. Municipal authorities sponsored a Free Market that served hundreds of poor residents. Private organizations labored to meet various needs: the Volunteer Relief Committee solicited private funds to aid the destitute, the Mobile Military Aid Society employed soldiers' dependents to sew uniforms for Alabama companies in the Confederate army, and the Mobile Supply Association hired agents to procure foodstuffs from areas north of Mobile, ship them to the city, and sell them at cost. All of these efforts failed to avert a bread riot staged in 1863 by women protesting shortages and high prices of food. Their protest sparked new charitable groups to relieve the distress of many needy families. "
So, while people tried to carry on normally, the stress of war, especially on the margins of society, resulted in sporadic explosions.

On 5 August 1863 Lardner resigned from the Army, per an unsourced webpage. Was he still in Mobile at this time?

The Battle of Mobile Bay, August 1864
by Arthur W. Bergeron, Jr.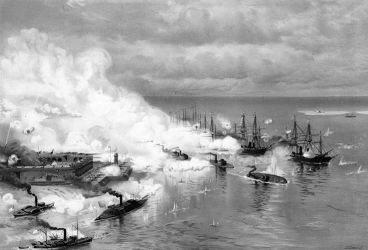 By the summer of 1864 the South had only one port still available for the blockade runners – Mobile, Alabama. The first line of defense for the strategic city consisted of three forts guarding the entrances to Mobile Bay. Fort Morgan, a pentagonal bastioned work built of brick on the western extremity of Mobile Point, commanded the main ship channel into the bay. An earthen water battery mounting seven heavy cannons stood at the base of the fort next to the channel. Fort Gaines, another old masonry work, was on the eastern end of Dauphin Island. Confederate engineers had constructed an earthen work at Grant's Pass on the Mississippi Sound and christened it Fort Powell. CS Brigadier General Richard L. Page commanded the garrisons of the three forts and had his headquarters in Fort Morgan.
To help obstruct all of the ship channels, Confederate engineers drove wooden pilings and floated mines (which they called torpedoes) in the waters near the forts. The engineers left a gap of four hundred to five hundred yards between the easternmost torpedoes and Fort Morgan to allow blockade runners to pass in and out. A small naval squadron within the bay supported the forts. Commanded by CSN Admiral Franklin Buchanan, this squadron consisted of the ironclad ram CSS TENNESSEE and three wooden gunboats: CSS MORGAN, CSS GAINES, and CSS SELMA. The forts, obstructions, and naval squadron combined gave Mobile defenses that would be a stern challenge to any attacking force.
In late July 1864, at Rear Admiral David G. Farragut's request, Major General Edward R.S. Canby, commander of Union land forces on the Gulf, sent about 1,500 men under US Major General Gordon Granger to attack the forts in a joint operation. Farragut's objective was the reduction of the forts, sealing off blockade running in and out of the bay. At daylight on August 5 Farragut's fourteen wooden gunboats and four monitors entered the main ship channel. The squadron steamed up in pairs, lashed together, with the more powerful ships on the side facing Fort Morgan. The monitors were between the gunboats and the fort, creating a "wall of iron" to shield the wooden vessels. The Federal squadron took about forty-five minutes to pass the fort. Heavy smoke from the artillery obscured the Confederate gunners' vision, and their fire did little damage.
The leading monitor, USS TECUMSEH, was proceeding through the gap between the torpedoes and Fort Morgan when its commander directed the ship into the torpedo field so that he could engage the ram CSS TENNESSEE. USS TECUMSEH struck a mine and sank. The commander of USS BROOKLYN, the leading wooden gunboat, ordered his vessel to back up to avoid the torpedoes. This maneuver threw confusion into the battle line and threatened either to force a retreat or to cause the gunboats to remain under the heavy Confederate artillery fire. While Farragut did not yell, "Damn the torpedoes, full speed ahead," he did utter some choice expletives and ordered his squadron to continue into the bay. He moved his flagship to the head of the line and through the torpedo field.
Farragut's vessels destroyed the Confederate naval squadron. They disabled CSS GAINES, and CSS SELMA was surrendered. Of the wooden vessels, only CSS MORGAN escaped. It reached safety under the guns of Fort Morgan and ran past the Union squadron to Mobile during the night. Once inside the bay, Farragut's vessels gathered about four miles from Fort Morgan and began to anchor. Buchanan decided to attack them with the CSS TENNESSEE alone. All of the Federal gunboats joined in the hour-long battle in which the cannon fire cut the TENNESSEE's steering chains so it could not be steered. When they shot the smokestack away, the ship filled with smoke, and its commander finally surrendered the ironclad.
Cut off from reinforcements and without the support of any naval vessels, the forts could not hold out. The 140-man garrison abandoned Fort Powell during the night of 5 August and blew up the fort's magazine. Fort Gaines surrendered on the morning of 8 August. The next day the Federals turned on Fort Morgan. Granger's infantry, reinforced from New Orleans, landed at Navy Cove and moved toward the fort. When Page refused to surrender, the Federals began siege operations. By 21 August Granger had twenty-five cannons and sixteen mortars ready to bombard Fort Morgan. Joined by all the vessels in Farragut's squadron, the Federal artillerymen opened a tremendous fire on the fort. After a day-long bombardment, Page surrendered on the morning of the twenty-third.
The Federal victory stopped blockade running at the port but left Mobile under Confederate control. Farragut's fleet could not take the city without a strong infantry force. In March 1865 Canby moved against Mobile, and the city surrendered on April 12, nine months after the harbor fell.
In March and April 1865 Major General Maury, with a garrison of about 9,000, attempted to defend the city against the assault of a Union army under General Canby numbering over 45,000. Since the city was most heavily defended to the west, where the Confederates had more than 300 heavy artillery pieces, the Union plan was to mount a two-pronged attack on Spanish Fort and Fort Blakeley, which protected the eastern approaches to the city. Afterward they would knock down the marshland batteries of Forts Huger and Tracy, then move across the Tensaw and Mobile Rivers into the City.
Spanish Fort surrendered on 8 April after a 13-day siege. Fort Blakeley was attacked the next day, the same day Lee surrendered at Appomatax. After that fort fell General Maury began to evacuate his army from its positions in Mobile and, on 12 April, declared it an open city. Maury had hoped to join the Army of Tennessee, then in North Carolina, but its surrender on 26 April forced him to surrender his force, at last, on 5 May in Citronelle, Alabama. This was the last Confederate army to surrender east of the Mississippi.
After the war Lardner moved to Greenville, South Carolina and became a farmer. He was living there in 1867, per Banta's "The Sayre Family." He didn't go back to his home in Leon county so I assume he must have sold out when he joined the Army. I wonder why he didn't go to Mecklinburg, North Carolina? While he had never lived there, his father and brothers, Robert and Nicholas, and I assume his sisters where still living there. Greenville is about 100 miles southwest of Charlotte, but on a direct rail line making visits home possible.
". . . in March, 1867, for instance, De Forest reported to his superiors that Dr. [sic] Lardner Gibbon intended to build a schoolhouse for freed-people in a neighborhood six miles from Greenville . . . " - from "A Union Officer in the Reconstruction" by John William De Forest.
On 6 January 1868 Lardner Gibbon, of Greenville, South Carolina, petitioned Congress, "praying for the removal of his political disability." This was referred to the Committee on Reconstruction. On 9 March 1870 the Senate referred this petition to the Select Committee on the Removal of Political Disabilities. I don't know what the final outcome was.
Political Disabilities

The original plan for Reconstruction after the Civil War was to readmit states after they accepted the 13th Amendment, which outlawed slavery. The southern states, however, passed what became known as Black Codes to control their ex-slaves by, among other things, limiting their ability to leave the plantations on which they had previously been held and by preventing them from suing or testifying in court. The 14th Amendment was passed to ensure that all former slaves were granted automatic U.S. citizenship and that they would have all the rights and priveleges as any other citizen. The 14th Amendment was ratified on 9 July 1868. Section 3 of the Amendment added that,
"No person shall be a Senator or Representative in Congress, or elector of President and Vice-President, or hold any office, civil or military, under the United States, or under any State, who, having previously taken an oath, as a member of Congress, or as an officer of the United States, or as a member of any State legislature, or as an executive or judicial officer of any State, to support the Constitution of the United States, shall have engaged in insurrection or rebellion against the same, or given aid or comfort to the enemies thereof. But Congress may by a vote of two-thirds of each House, remove such disability."
A select committee was created on 20 March 1868 to handle the removal of these political disabilities when the task became too burdensome for the Committee on the Judiciary. In 1872 the disabilities were removed by a blanket act from all persons "except Senators and Representatives of the Thirty-sixth and Thirty-seventh Congresses, officers in the judicial, military and naval service of the United States, heads of departments, and foreign ministers of the United States."
On 12 May 1869, while still residing in Greenville, Lardner wrote a letter to Ellen Call Long, all in rhyming couplets. In part it reads, "I have grown old, gray and morose, And quite as wrinkled as my neighbor Mrs. Grose, We have plenty to eat and homespun clothing, But there is something about wars I have a loathing, Mankind seems to fancy revolution fighting, I would rather take my carpetbag and go a-kiting. Your Father saw far beyond us all, He predicted a dreadful trial, and fall."
Does Lardner's friendship with the Call's imply he also was a Southern Unionist? Did he oppose secession and dissolution of the Union, but, once it happened, rally to support his home state?
Another line is interesting, "Who lives at Seville our former home, How much I wish we were all in Rome." That's pretty bad, but does indicate that Lardner sold the Florida home at some point. "We have such a shanty in the woods, We are ashamed to show you our goods. For a house in town we are negotiating, In which we may pass our future fate in."
Ellen Call Long

Ellen wrote "Florida Breezes," a rare book which presents a description of Florida conditions before and during the War. Mrs. Long lived her entire life (1825- 1905) in Tallahassee where as a daughter of General R. K. Call, twice Territorial Governor and Congressional Representative, she enjoyed unusual opportunities for observation. She was perhaps a friend from the days when Lardner lived in Leon county. Note that Lardner's letter from Mobile in 1863 was to the Call family.

Ellen was the daughter of Richard Keith Call, twice the Territorial Governor of Florida. He was an ardent Unionist and believed it was illegal for states to secede. Note the line in the poem above, "Your Father saw far beyond us all, He predicted a dreadful trial, and fall." When told that Florida had seceded, he said,
"And what have you done? . . . You have opened the gates of Hell, from which shall flow the curses of the damned which shall sink you to perdition!"
He frequently changed his political affiliations, being in turn a Democrat, Whig, Know-Nothing, and Constitutional Unionist. He built a plantation called "The Grove" outside Tallahassee.
In the 1870 census of Greenville, South Carolina as Lardner Gibbon, a 49 year old farmer, of Pennsylvania. Living with him was Alice, 42, of Florida. They had no children. He was still doing all right, with $7,711 in real estate [actually it says 77111, but I assume that's a mistake] and $3822 in personal property. Alice had $2,500 in real estate and $140 in personal property.
Lardner's interest in science continued. On 7 August 1872 he observed an aurora and wrote of it in the Smithsonian Institute's journal.
I've found a reference to "a letter from Jeremiah Jenkins, a black man, to L. Gibbon, dated Aug 1, 1879, Greenville, S.C., and by Mr. Gibbon sent to the Secretary of State, who forwarded it to the President of the American Colonization Society:
"I know that God has put it into the minds and hearts of the colored people to return back to their own land, that God gave to our forefathers. But the questions is, how can we get back? We are poor. We beg the United States please to help up on the best terms they can, as there is five hundred or six hundred that want to go in January, if it be possible for them to get away." - from "The African Repository" by the American Colonization Society.
This group resettled blacks in Africa. They were supported by two opposing interest groups. One group consisted of abolitionists who wanted to free the slaves and return them to Africa. The other group was made up of those who feared free blacks and wanted to expel them from America. Both groups felt that free blacks would be unable to assimilate into white society.

In the 1880 census of Greenville, South Carolina as Lardner Gibbon, a 59 year old farmer, of Pennsylvania. Living with him was Alice, 50, of Florida. His parents were from Pennsylvania and hers from North Carolina. They had no children, perhaps his many adventures and wars precluded it.

There is another letter referenced in regard to the freed slave issue. It was from Lardner to Benjamin Harris Brewster, Attorney General of the United States, on 18 May 1882.
"A white man of Greenville County reported in 1882 that he was constantly approached by his black neighbors who asked him to get assistance from the government in Wasington so that they could emigrate." - from "South Carolina Negroes, 1877-1900" by George Brown Tindall
At some point after 1882 Lardner moved back to his birthplace, the suburb of Holmesburg in Philadelphia [Why? He had no Gibbon relatives living there. Perhaps it was the Lardners or Shepards?]. I have a Lardner Gibbon in the Philadelphia City Directory of 1890. His profession was listed as "h Main n Mill." His address was "Hbg." This latter I assume refers to the Holmesburg suburb, northeast of downtown. I don't know what 'h Main n Mill' means, unless it is an address. There is a Mill street in the Holmesburg area, but no Main.
In an advertisement for an early coca-flavored drink appearing in the 3 February 1885 issue of the Olean Democrat, a newspaper in New York, Commodore [sic] Gibbon was quoted as saying,
"The Coca has properties so marvelous that it enables the Indians, without any other nourishment, to perform forced marches for five and six days. It is so bracing and tonic that by chewing it alone they perform journeys of 300 miles on foot without appearing in the least fatigued." - from Before There Was Coca-Cola, There Were Other 'Cocas' by Roger M. Grace
I don't suppose Lardner got paid for his opinion.

Alice died in about 1903. The following is from a book describing the country district around Philadelphia, from Frankford to Morrisville, along the Delaware river.
"Lynfield.--This ancient mansion, on Delaware Avenue, with its solid stone walls, was built by William Lardner, near the close of the last century.

The house was furnished with fine antique furniture, some of which has been preserved by Lardner Gibbon, who is the grandson of William Lardner, his mother, Catherine Gibbon, being a daughter of that gentleman. A carved bedstead is specially striking. William Lardner's wife was Ann Sheperd, of Newbern, N.C., the sister of Mrs. Nicholas Biddle . . . Lardner Gibbon now resides on Main Street, near the Welsh Road."

. . .

"Over Rock was so called because rock underlies the soil. This pleasant country seat with its ample mansion, at the corner of the Ashton and Willits Roads, on an eminence giving a wide view from its observatory, was formerly the property of Mr. Gibbon, the father of General Gibbon, of the United States Army. In after years it was owned by Dr. McCullough . . ."

. . .

"The next property was owned and occupied by the late Miss Catherine Moore, who left it to Emmanuel Church. A part of the place is the residence of Mr. Lardner Gibbon, a gentleman who served with distinction in the United States Navy. His book on the exploratin of the Amazon River is well known and highly valued."

- from "The Bristol Pike" by Samuel Fitch Hotchkin of 1893
Lynfield was in Holmseburg, on Delaware Avenue, now known as Rhawn street, just outside of Philadelphia. This house was demolished in 1942. Another source says, circa 1917, that "The latter [Lardner Gibbon] still lives in Holmesburg and owns some of the old family furniture."

Lardner Gibbon, formerly a lieutenant in the United States Navy, died at his home at 8056 Frankford avenue in Holmesburg, in Philadelphia, on 9 January 1910 at the age of 89 years and 5 months. He was buried in the All Saints Episcopal cemetery in Torresdale, Philadelphia county, Pennsylvania.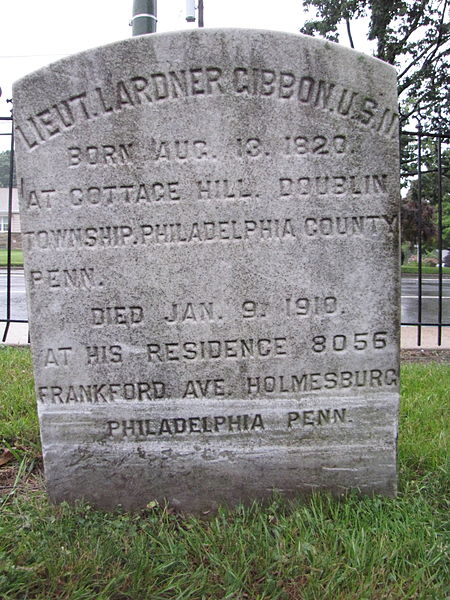 The following is Lardner's obituary from the Greenville News, page 8, of Monday, 17 January 1910:
"NOTED CONFEDERATE CROSSES THE RIVER

OLDEST EX-OFFICER OF U.S. NAVY, FORMER GREENVILLE COUNTY MAN, IS DEAD AT AGE OF 90 - WAS UNIQUE CHARACTER AND MAN OF FINE INTELLIGENCE

Lieutenant Lardner Gibbon, said to be the oldest ex-officer of the United States Navy, and a former Greenville County man, died suddenly last Sunday night at his home in Holmesburg, near Philadelphia, at the advanced age of ninety years. He lived for years in Greenville County, occupying the old Earle Place on the White Horse Road. He was appointed a midshipman in 1835, and in the early fifties conducted an expedition from the coast of Peru across the Andes and down the Madeira and Amazon Rivers, traveling about 2,000 miles in a canoe. The government published a book which he wrote describing this "expedition". He was the first to suggest the building of a railroad around the falls of Madiera River for the purpose of opening a highway from Bolivia to the Atlantic coast. The government of Brazil and Bolivia are now building this road.

At the close of the war he came to Greenville and lived on the White Horse Road. He is pleasantly remembered by the older inhabitants of the city. He used to drive into the city in a buggy pulled by two handsome horses, and wore a white suit of clothes all the time. He was known to be one of the most handsome men in this section of the country. After leaving Greenville nothing was ever heard of him until the report of his death was carried in the Associated Press dispatches several days ago.

He was buried at his home, near Philadelphia, with honors of a Naval Officer, although retired from the service and a veteran too of the civil war."
From the Bucks County Gazette of 14 January 1910:
"Some of our readers will remember the erect form, noble face and notable bearing of "old Mr. Gibbons" who was so long an almost daily passenger on our trolley line, going up and down and sometimes more than once in the day, as he took an outing for air and exercise."

"This was especially the case after the death of his wife seven years ago before which time this quaint aged couple were often seen taking long walks together like dear old lovers who had not outlived the romance of their early days . . . "

"His memory of early days was, of course, full of interest. He once recalled to the writer the occasion of the famous visit of Lafayette to this country to see the new land for which he had helped to win independence. As a little boy Mr. Gibbons had looked through the rails of the fence at the processionon that occasion as it passed by and recalled the hearty welcome way in which the famouse Frenchman received the guests at a reception near Holmesburg. If a young man came up to be presented he would ask him if he was married. If yes, "Happy dog" he would say. If no, "Lucky dog" would be his reply."
(23) Dr. Robert Gibbon (1822)
(22) Dr. John Heysham-Gibbon (1795)
He was born on 30 [31] December 1822 in Holmesburg, Pennsylvania, the second son of Dr. John Heysham and Catherine Lardner Gibbon, and moved with the family to North Carolina in 1838, when he was 16.
"Gibbon thus grew up in Charlotte and completed college before entering YMS [Yale Medical School], where he received his M.D., 1847. After further study at the Jefferson Medical College in Philadelphia, he returned to Charlotte in 1849 to practice medicine." - from "Yales' Confederates" by Nathaniel Cheairs Hughes
Robert's two sons, Robert Jr. and John Heysham, also became doctors.

In the 1850 census of Charlotte, Mecklenburg county, North Carolina as Robert Gibbon, a 28 year old doctor, born in Pennsylvania. He appears to be living in a hotel with a number of other professionals. I assume he was single at the time. Robert Gibbon was listed as a Physician in Mecklenburg county in "Thomson's Mercantile and Professional Directory" 1851-1852 for North Carolina.

In the 1860 census of Charlotte, North Carolina as Robert Gibbon, a 38 year old physician and druggist. He was living in the Mansion House Hotel, H.B. Williams proprietor. He had $18,000 in personal property. That seems a lot even for a Doctor.

Robert enlisted in the Confederate army on 25 September 1861 in Mecklenburg county and served as Surgeon in the Field & Staff Company of the the 28th North Carolina Infantry and became a surgeon in Brigadier General James Lane's brigade in the Third Corps, eventually rising to the rank of Major. His younger brother, Nicholas Biddle was in the same unit and company. Robert met his other brother, John, in battle at least twice; at Gettysburg, where his unit was defeated during Pickett's Charge, and at Petersburg, where they inflicted a defeat on the Union forces at Ream's Station.

The 28th North Carolina Infantry

28th Infantry Regiment was organized and mustered into Confederate service in September 1861 at High Point, North Carolina. Its members were from the counties of Surry, Gaston, Catawba, Stanley, Montgomery, Yadkin, Orange, and Cleveland.
The unit moved to New Bern and arrived just as the troops were withdrawing from that fight. Ordered to Virginia in May 1862, it was assigned to General Branch's and Lane's Brigade with the Army of Northern Virginia under Robert E. Lee. It fought at Hanover Court House and many conflicts of the army from the Seven Days' Battles to Cold Harbor. The 28th was then involved in the long Petersburg siege south of the James River and the Appomattox operations.
It came to Virginia with 1,199 men, lost thirty-three percent of the 480 engaged during the Seven Days' Battles, and had 3 killed and 26 wounded at Cedar Mountain and 5 killed and 45 wounded at Second Manassas. The regiment reported 65 casualties at Fredericksburg and 89 at Chancellorsville. Of the 346 in action at Gettysburg, where they took part in Pickett's Charge, more than forty percent were killed, wounded, or missing. It surrendered 17 officers and 213 men.
Its commanders were Colonels James H. Lane, Samuel D. Lowe, and William H.A. Speer; Lieutenant Colonels William D. Barringer and Thomas L. Lowe; and Majors William J. Montgomery, Richard E. Reeves, and S.N. Stowe.
Robert Gibbon, surgeon, was captured at the battle of Hanover Courthouse, Virginia, 27-29 May 1862, during the Penisular Campaign. I assume he was later exchanged.
The Battle of Hanover Courthouse

On May 27, 1862, elements of Brig. Gen. Fitz John Porter's V Corps extended north to protect the right flank of McClellan's Union army that now straddled the Chickahominy River. Porter's objective was to cut the railroad and to open the Telegraph Road for Union reinforcements under Maj. Gen. Irvin McDowell that were marching south from Fredericksburg. Confederate forces, attempting to prevent this maneuver, were defeated just south of Hanover Courthouse after a stiff fight. The Union victory was moot, however, for McDowell's reinforcements were recalled to Fredericksburg upon word of Banks's rout at First Winchester.
He was "discharged for promotion" to Senior Surgeon on 29 Janaury 1864.
"That summer of 1864, however, Gibbon was ordered to report to Dr. P.E. Hines, medical director of NC in Raleigh and thereafter he would be in charge of General Hospital No. 11, Charlotte, NC." - from "Yales' Confederates" by Nathaniel Cheairs Hughes
After the war Robert married Mary Amelia Rogers on 20 December 1865 in at Davidson College, Mecklenburg county, North Carolina. She was born on 16 May 1841 in Charleston, the daughter of the Reverand Zabdiel Rogers and Juliet Smith Mitchell. She died on 15 April 1877, in Charlotte.
Robert subsequently married, again at Davidson College, Corina Myrtes Pressley Harris on 4 June 1879. She was born on 29 August 1837 in Athens, Georgia, the daughter of the Reverand Samuel P. Pressley and Jane W. Todd. She was the widow of William C. Harris. In a letter between Lieutenant Colonel Sam Lowe and General James Lane in 1881 discussing the war, Lowe remarks of Robert that "He lives in Charlotte still and-can you believe it of the cold old batchelor?- has been twice married in about 10 years."
In the 1880 census for Charlotte, North Carolina as Robert Gibbon, a 58 [54?] year old medical doctor. Living with him was his new wife, Corina M., 38, and sons, Robert L., 13, and John H., 10. Corina was born in Georgia and her folks were born in South Carolina.
In 1881 Robert corresponded with retired General Lane about the history of Lane's Brigade, providing lists of surgeons assigned.
Robert died on 14 [13] May 1898 in Charlotte, North Carolina. He was buried, like his father, in the Elmwood cemetary, Charlotte, North Carolina, next to his first wife, Mary. From Findagrave.com:
"Civil War Confederate Surgeon. Three Gibbon brothers, including Robert, were wholly committed to the Southern cause – their loyalty was with the fledgling Confederacy. Brother John Gibbon, the accomplished and future Union general, remained a United States Army officer to defend the cause of the North. This splinter of family allegiances was characteristic of the era, and it tore asunder many lives at the onset of the American Civil War in 1861. The Gibbon family is a tragic example.

Robert, with credentials of a medical doctor, enlisted as a Surgeon into the 28th North Carolina Infantry Regiment on September 25, 1861. His competence as a Surgeon was tested in the aftermaths of some of the harshest battles of the war including Gaines Mill, Cedar Mountain, Second Manassas, Sharpsburg, Fredericksburg, Chancellorsville, Gettysburg, Wilderness and Spotsylvania.

Gettysburg, Pennsylvania was an instance where his 28th NC was on the same battlefield as his Unionist brother. Here, on the third day of this battle, the valorous 28th NC suffered severe casualties as it approached the Union defenses on Cemetery Ridge - A position that his brother John gallantly defended.

Dr. Gibbon was elevated to Senior Surgeon of Lane's Brigade on January 29, 1864. He later was assigned to North Carolina where he was the administer of a General Hospital located in Charlotte.

He renewed his life in Charlotte after the war, and was a founder of the Presbyterian Hospital."
His children with Mary were,
(24) Dr. Robert Lardner Gibbon (1866)
(24) Mitchell [Michael] Rogers Gibbon, he was born on 1 February 1869. He died on 28 February 1870 in Charlotte and was buried in the Elmwood cemetery, aged 11 months.
(24) Dr. John Heysham Gibbon (1871)
(24) Juliet Rogers Gibbon, she was born on 25 May 1873. She died on 25 April 1875 in Charlotte and was buried there.
(24) Dr. Robert Lardner Gibbon (1866)
(22) Dr. John Heysham-Gibbon (1795)
(23) Dr. Robert Gibbon (1822)
A noted physician and citizen of Charlotte. He was born in North Caroliina on 6 December 1866 and was an alumnus of the Charlotte Military Institute. This institute operated from 1873 to 1883 in the old North Carolina Military Institute buildings. I don't know where Robert attended medical school, though it was probably Jefferson Medical College, his father's alma mater. At the time of the 1880 census of Charlotte he was living at home with his parents. The Charlotte Directory of 1889/1890 lists Dr. Robert L. Gibbon, physician, at 215 North Tryon. This was probably his office. Note that most of the city's leaders lived on either Trade or Tryon street. He had a second address, his home, termed a "cottage" in one source, at 310 North College street.
He married Louise Erwin Wilson on 26 October 1892 at Morgantown, Burke county, North Carolina. He was 25. Louise was born on 2 March 1868 at Beeck Creek, McDowell county, North Carolina, the daughter of Major James William Wilson and Maria Louisa Erwin, of Morgantown. In 1898 he and four other doctors formed the Charlotte Private Hospital. This grew to be today's Presbyterian Hospital.
In the 1900 census of Charlotte as Robert Gibbon. Living with him was his wife, Louise W. [1869], children, James W. [1894], Mary R. [1895], and Corinne M. [1898], and his step-mother, C. M. Gibbon [1839].
From "Idle Comments"" by Isaac Erwin Avery, Late City editor of the Charlotte Observer, 1905, from University of North Carolina at Chapel Hill digitization project "Documenting the American South":
"The wisdom of Dr. R. L. Gibbon's horse.
This horse was hitched to a buggy in front of the Private Hospital yesterday morning when he became frightened by the near approach of a bicycle and ran away. He came at a rapid gait till close to the square, and then he remembered the city ordinance which says that no horse, not even a runaway doctor's horse, shall travel across the square at a greater rate of speed than three miles an hour. So the remembering animal slowed up almost to a walk till he had crossed the hard brick pavement. The brief respite in his race caused his riotous blood to cool, and after he had crossed the square he ran no more."
I guess its not really that funny.

In the 1910 census of Charlotte as Robert L. Gibbon, 43. Living with him were his wife, Louise, 41, James, 16, Corrine, 12, Mary, 10, Louise, 6, and Alice, 4. In about 1910 his practice was located at 7 West Trade Street, just off the square.

In the 1920 census of Charlotte, North Carolina as Robert L. Gibbon, a 53 year old physician. Living with him was his wife, Louise, 57, James, 27, Corinne, 22, Mary, 20, Louise, 15, and Alice, 13. None of the children were shown with an occupation, even James. Robert was residing in at 215 North Tryon. He had his offices on the same street, perhaps in his home.

In the 1930 census of Charlotte, North Carolina as Robert L. Gibbon, a 63 year old physician working in a clinic. Living with him was his wife, Louise W., 52. All of the children had finally moved out. Robert had real estate worth $100,000. Its good to be a doctor. He was member of the governing body of the First Presbyterian Church. He died in 1953.

Louise died in 1944. Robert Lardner Gibbon died on 27 March 1953 and was buried in the Elmwood cemetery.

His children were,
(25) Dr. James Wilson Gibbon (1893)
Corinne Myrtis Mary Rogers

(25) Dr. James Wilson Gibbon (1893)
(22) Dr. John Heysham-Gibbon (1795) (23) Dr. Robert Gibbon (1822) (24) Dr. Robert Lardner Gibbon (1867)

The son of Dr. Robert Lardner Gibbon, he was born on 26 August 1893. His middle initial may stand for Wilson, his mother's maiden name. In the 1900 census of Charlotte, aged 7. He, like his father and brother, was a doctor. He lived on South Tryon street in Charlotte. He married Catherine Gilmer. He was still living at home at the time of the 1920 census. He may have stayed at home while he set up his new practice.
"Well, he, Doctor [James Gibbon] was a very prominent surgeon here. They lived out on South Tryon Street. That's when it was a nice street." - from an interview with Jane Gilmer Guthery (1906-1988), lifelong Charlotte resident.
Note that Jane was Catherine's sister and may have overstated the importance of her brother-in-law.

In the 1930 census of Charlotte as James W. Gibbons [sic], a 36 year old doctor in general practice. Living with him were his wife, Catherine G., 31, and children Catherine G., 6, and Mary K., 1 3/12. James owned his own house, had $25,000 in property and owned a radio.

James Wilson Gibbon died on 11 November 1960 and was buried in the Elmwood cemetery.

His children were,

(26) Catherine G. Gibbon (c1924) (26) Mary K. Gibbon (c1929) (26) Alice Gibbon (c1930)

The daughter of Dr. James Gibbon, per Jane Guthery. She was probably born after the 1930 census.

(26) Dr. Robert Lardner Gibbon (1932)
(22) Dr. John Heysham-Gibbon (1795) (23) Dr. Robert Gibbon (1822) (24) Dr. Robert Lardner Gibbon (1867) (25) James W. Gibbon (1893)

Robert Lardner Gibbon was born on 29 March 1932, the son of James Wilson Gibbon of Charlotte. He was last living, still in Charlotte, at 1436 Maryland Avenue. He died on 22 February 1996 in Charlotte, North Carolina at the age of 63. He never married.

(25) Corinne Myrtis Gibbon (1897)
(22) Dr. John Heysham-Gibbon (1795) (23) Dr. Robert Gibbon (1822) (24) Dr. Robert Lardner Gibbon (1867)

She was born on 9 July 1897

(25) Mary Rogers Gibbon (1900)
(22) Dr. John Heysham-Gibbon (1795) (23) Dr. Robert Gibbon (1822) (24) Dr. Robert Lardner Gibbon (1867)

She was born on 11 February 1900

(25) Louise Gibbon (c1904)
(22) Dr. John Heysham-Gibbon (1795) (23) Dr. Robert Gibbon (1822) (24) Dr. Robert Lardner Gibbon (1867)

(25) Alice Gibbon (c1906)
(22) Dr. John Heysham-Gibbon (1795) (23) Dr. Robert Gibbon (1822) (24) Dr. Robert Lardner Gibbon (1867)

(24) Dr. John Heysham Gibbon (1871)
(22) Dr. John Heysham-Gibbon (1795) (23) Dr. Robert Gibbon (1822)

He was born in Charlotte, North Carolina on 16 March 1871, the second son of Dr. Robert Gibbon, M.D., and Mary Amelia Rogers. He received a preparatory education at the Macon School in Charlotte and received his M.D. from Jefferson Medical College in Philadelphia in 1891.

A distinguished, nationally recognized surgeon and professor of surgery at the Jefferson Medical College, his father's alma mater, from 1907 to 1931 (emeritus). Consulting surgeon at Jefferson Medical and Bryn Mawr hospitals. Surgeon in the U.S. Volunteer Engineers, Spanish-American War, 1898. Colonel M.C. U.S.A. and consultant in surgery to the A.E.F. during World War I. Fellow and President of the American Surgical Association. Member of AMA, the Medical Society of Pennsylvania, Philadelphia Pediatric Society, and National Society for the Study and Preventions of Tuberculosis. Contributor to the Reference Hand-Book of Medical Sciences and Keen's System of Surgery. He also wrote many articles for surgical journals. He lived at 1608 Spruce street in Philadelphia.

In the Charlotte Directory of 1889/1890 he was at 310 North College, as had been his brother, Robert Lardner Gibbon. He married Majorie G. Young (1872-1956) on 2 September 1901 in San Francisco. She was born on 26 April 1872 in Chicago, Illinois, the daughter of General Samuel Baldwin Marks Young and Margaret Jane McFaddin. They appear to have settled in Philadelphia.

Samuel Young was born of a prominent Pittsburgh family in 1840. He volunteered in April 1861 to fight for the Union in the Civil War. His promotions from Private to Brigadier General came about in only four years. Following service in Cuba during the war with Spain he was made a Major General, finally rising to Lieutenant General. He also served as Chief of Staff of the Army, Superintendant of Yellowstone National Park, Acting Superintendent of Yosemite, Commandant of the Presidio, and military governor of Northern Luzon.Perhaps the most important post he held was that of the first president of the War College in 1902.

John H. Gibbon served in the Spanish-American War, as "Gibbon, John H., First Lieutenant & Assistant Surgeon, 3rd U S Engineers" - from U.S. Army Historical Register, 1789-1903, Volume 2.

3rd U.S. volunteer Engineers

The Third U.S. Volunteer Engineers was part of the First Corps' Third Division. The regiment, one of only three of its type raised during the war, was quite unique in the level of technical ability that was concentrated in the regiment. Only one company of the 3rd saw action, serving in Puerto Rico. All companies eventually saw service overseas, however.

The unit was authorized by act of Congress on 11 May 1898 and on 6 June 1898 it was placed under the command of Colonel David DuB. Gaillard. Most of its members were engineers and mechanics. The unit was mustered into service between July 25 and August 20, 1898 at th Jefferson Barracks in Missouri. At the time of mustering in, the unit consisted of fifty-three officers and 1,094 enlisted men. Recruiting for the engineers apparently went fairly well, and all three regiments of volunteer engineers were filled by August 20, 1898. However, the war had essentially ended on August 12.

There were 2 Majors and 3 1st Lieutenants assigned to the 3rd as surgeons.

In the 1910 census of Ward 7, Philadelphia, Pennsylvania as John H. Gibbon, 39. Living with him was his wife, Marjorie, 37, and children Marjorie, 7, John H. Jr., 6, Samuel Y., 5, and Robert, 1 1/2.

John also served in World War I, during which his assignments included those of consultant in surgery to the American Expeditionary Forces and, ultimately, surgical consultant to the American hospitals in England.

In the 1920 census of Philadelphia as John Gibbon, a 48 year old physician, living on Spruce street. Living with him was his wife, Marjorie, 47, and children Marjorie, 17, John H. Jr., 16, Samuel Y., 14, and Robert, 11.

In the 1930 census of Philadelphia as John H. Gibbons [sic], a 59 year old physician. He had $25,000 in real property, quite a fortune in those days. They had a cook and two servants living in. Living with him were his wife, Marjorie, 57, and children John H. Jr., a 26 year old physician, and Samuel Y., a 24 year old office manager of an investment company. I imagine John's daughter, Marjorie, had already married by this time. Robert was probably in school at Princeton.

John Heysham Gibbon Sr. died in 1956. He was buried in the Old St. David's Churchyard, in Radnor, Pennsylvania.

His children were,
(25) Marjorie Young Gibbon (1902)
(25) Dr. John Heysham Gibbon Jr. (1903)
(25) Samuel Young Gibbon (1905)
(25) Robert Gibbon (1908)

(25) Marjorie Young Gibbon (1902)
(22) Dr. John Heysham-Gibbon (1795) (23) Dr. Robert Gibbon (1822) (24) Dr. John Heysham-Gibbon II (1871)

Eighteen months older than her brother John Heysham Jr, she was born in 1902. She attended the Sorbonne. She married Winthrop H. Battles.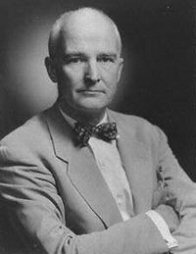 (25) Dr. John Heysham Gibbon Jr. (1903)
(22) Dr. John Heysham-Gibbon (1795)
(23) Dr. Robert Gibbon (1822)
(24) Dr. John Heysham-Gibbon II (1871)
Dr. John H. Gibbon, known to family and friends as 'Jack,' invented the first artificial heart-lung machine and performed the first human open heart operation. Born in Philadelphia on 29 September 1903. He received his A.B. from Princeton University, which he entered before his sixteenth birthday, in 1923 at the age of nineteen and his M.D. from Jefferson Medical College of Philadelphia in 1927. He would also later receive honorary degrees from the Universities of Princeton, Buffalo and Pennsylvania, and Dickinson College.
In 1930 he was still living at home. He married Mary ("Maly") Hopkinson in 1931, with whom he had four children. He volunteered for military duty in WWII, but was invalided home after service in the Pacific with the Pennsylvania Hospital Unit.
He took over direction of the surgical service at the Mayo General Hospital in 1945, a post which he kept until his discharge at the end of that year. As a member of the faculty at Jefferson Medical College, he held the positions of Professor of Surgery and Director of the Department of Surgery (1946-1956) and was the Samuel D. Gross Professor and Chairman of the Department of Surgery (1946-1967).
Dr. Gibbon is best known for his development of the heart-lung machine. It was first used with a human patient at Jefferson Hospital on 6 May 1953. On that date the first successful open heart surgery with cardio-pulmonary bypass was perfomed on a human, closing a hole in the upper heart chambers of an 18-year-old woman. He helped initiate a new era in cardiovascular surgery.
His awards included the Lasker Award (1968), Gairdner Foundation International Award, Distinguished Service Awards from both the International Society of Surgery and the Pennsylvania Medical Society, the American Heart Association's Research Achievement Award, and election into the American Academy of Arts and Sciences. He was named an honorary fellow of the Royal College of Surgeons and retired as Emeritus Professor of Surgery, Jefferson Medical College Hospital. Dr. Gibbon was also president of several professional societies and organizations including the American Surgical Association, American Association for Thoracic Surgery, Society of Vascular Surgery, and Society of Clinical Surgery.
His biography is "Dream of the Heart: The Life of John H. Gibbon, Jr. MD: Father of the Heart-Lung Machine" by Harris B. Shumacker, Jr. Dr. Gibbon died on 5 February 1973.
(26) Mary Gibbon (c1825)
(22) Dr. John Heysham-Gibbon (1795)
(23) Dr. Robert Gibbon (1822)
(24) Dr. John Heysham-Gibbon II (1871)
(25) Dr. John Heysham-Gibbon III (1903)
She married a Clarke.
(26) Alice Gibbon
(22) Dr. John Heysham-Gibbon (1795)
(23) Dr. Robert Gibbon (1822)
(24) Dr. John Heysham-Gibbon II (1871)
(25) Dr. John Heysham-Gibbon III (1903)
She married a Saltzman.
(26) Marjorie Gibbon
(22) Dr. John Heysham-Gibbon (1795)
(23) Dr. Robert Gibbon (1822)
(24) Dr. John Heysham-Gibbon II (1871)
(25) Dr. John Heysham-Gibbon III (1903)
She married a Masek.
(26) Dr. John Gibbon (1935)
(22) Dr. John Heysham-Gibbon (1795)
(23) Dr. Robert Gibbon (1822)
(24) Dr. John Heysham-Gibbon II (1871)
(25) Dr. John Heysham-Gibbon III (1903)
The son of Mary Hopkinson Gibbon and Dr. John H. Gibbon, Jr., he was born in Philadelphia, graduated from Exeter, passed briefly through Antioch College, where he met his wife, and received his BA and Ph.D. degrees from Columbia University.
In his teens, he was a nationally ranked tennis player. At Antioch, he temporarily abandoned tennis and spent much of his time playing blues guitar and singing the songs of Muddy Waters and John Lee Hooker. He dropped out of Antioch in 1954 and settled in New York, where he was a waiter, laundry truck driver, and an assistant stage manager while he studied with the legendary bluesman Reverend Gary Davis. Eventually, to his family's relief, he settled into academic pursuits.
Chief of Biopsychology at New York State Psychiatric Institute and a Professor at Columbia University, and expert on the psychology of time. Dr. Gibbon's theories of how people and animals perceive the passage of time have been confirmed in laboratories around the world and have led to experiments investigating the neural basis of diseases such as Parkinson's in which the perception of time is impaired. His work was recently featured in a BBC special, "The Body Clock."
During the 30 years of his academic career he was continuously funded by grants from the National Institute of Mental Health and the National Science Foundation. For much of this time he was studying time perception in birds, and he acknowledged his affinity with his experimental subjects, often referring to himself as a White Coated Grant Catcher. He was a fellow of the American Association for the Advancement of Science, a recipient of the National Institute of Mental Health Merit Award, and past president of the Eastern Psychological Association.
He died at his home in Ossining on January 16, 2001. He was 66. The cause was cancer. He leaves his wife Miriam (Mimi Wolf) Gibbon '54; his son, John Jesse Gibbon; two stepsons, Andrew and Mathew Harless; and his sisters Mary Clarke, Alice Saltzman (who also passed through Antioch), and Marjorie Masek.
(27) John Jesse Gibbon (c1960)
(22) Dr. John Heysham-Gibbon (1795)
(23) Dr. Robert Gibbon (1822)
(24) Dr. John Heysham-Gibbon II (1871)
(25) Dr. John Heysham-Gibbon III (1903)
(26) Dr. John Gibbon (1935)
The only son of Dr. John Gibbon.
(25) Samuel Young Gibbon (1905)
(22) Dr. John Heysham-Gibbon (1795)
(23) Dr. Robert Gibbon (1822)
(24) Dr. John Heysham-Gibbon II (1871)
He was named for his maternal grandfather, General Samuel Baldwin Marks Young (1840-1924). Eighteen months younger than his brother, John, he was born on 8 April 1905. He may have been born at-sea or in Europe. His parents made two transatlantic voyages that year. In the 1930 census of Philadelphia as Samuel Y. Gibbons [sic], a 24 year old office manager of an investment company. He was living at home with his parents. He worked with Dr. Charles C. Chapple, the original inventor, in the improvement of the first environmentaly stable infant incubator. Was he a doctor too? He is in 'Who Was Who in America," Volume 12, 1998-2000. His wife was the President of the Visiting Nurse Society of Philadelphia. He died in June 1987 while living in Lutz, Hillsborough county, Florida.
(26) Samuel Young Gibbon Jr. (c1930)
(22) Dr. John Heysham-Gibbon (1795)
(23) Dr. Robert Gibbon (1822)
(24) Dr. John Heysham-Gibbon II (1871)
(25) Samuel Young Gibbon II (1905)
A Princeton graduate, class of 1953. An educator deeply involved in Educational television. He was the Producer of "The Electric Company" from 1971 to 1972 and its Executive Producer from 1973 to 1977. A member of the Alfred P. Sloan Foundation. Executive Director of the Bank Street College Project in Science and Mathematics.
(25) Robert Gibbon (1908)
(22) Dr. John Heysham-Gibbon (1795)
(23) Dr. Robert Gibbon (1822)
(24) Dr. John Heysham-Gibbon II (1871)
He was named for his paternal grandfather. Four and a half years younger than his famous brother, John, he was born in 1908. While he was listed in the 1920 census, he was not in the one for 1930. He graduated from Princeton in 1930. He went on to the University of Pennsylvania Law School and became a corporate lawyer in the publishing industry at Curtis and Bantam books in Philadelphia. He was later in private practice in California.
In 1935 he married Dorothea Garrett, the daughter of Thomas Garrett and his first wife Elisabeth Kobbe. They had two children, Robert Gibbon Jr. and daughter Timothy [?]. He served in the Navy during World War II. Robert and Dorothea divorced in 1946 and Robert married twice more before dying in 1975 in Aptos, California.
(26) Robert Gibbon Jr. (1938)
(22) Dr. John Heysham-Gibbon (1795)
(23) Dr. Robert Gibbon (1822)
(24) Dr. John Heysham-Gibbon II (1871)
(25) Robert Gibbon (1908)
Robert Jr. graduated from Princeton in 1960 and the medical school at Thomas Jefferson in 1966. He is listed in the Princeton University Swimming and Diving Teams Men's All Time Lettermen list for 1957-58. He practiced psychiatry at the Pennsylvania Hospital in Phialdelphia until about 1995 and now practices in upstate New York.
He married Marion Appel, the daughter of George Frederick Baer Appel and Elizabeth Thomas, on 22 June 1963. They have four children, Robert III, Georgia, Marion, and Thomas.
(27) Robert Gibbon III (1967)
(22) Dr. John Heysham-Gibbon (1795)
(23) Dr. Robert Gibbon (1822)
(24) Dr. John Heysham-Gibbon II (1871)
(25) Robert Gibbon (1908)
(26) Robert Gibbon Jr. (1938)
Now living in Tasmania.
(27) Georgia Gibbon (1969)
(22) Dr. John Heysham-Gibbon (1795)
(23) Dr. Robert Gibbon (1822)
(24) Dr. John Heysham-Gibbon II (1871)
(25) Robert Gibbon (1908)
(26) Robert Gibbon Jr. (1938)
Now living in California.
(27) Marion Gibbon (1972)
(22) Dr. John Heysham-Gibbon (1795)
(23) Dr. Robert Gibbon (1822)
(24) Dr. John Heysham-Gibbon II (1871)
(25) Robert Gibbon (1908)
(26) Robert Gibbon Jr. (1938)
Now living in Georgia.
(27) Thomas G. Gibbon (1974)
(22) Dr. John Heysham-Gibbon (1795)
(23) Dr. Robert Gibbon (1822)
(24) Dr. John Heysham-Gibbon II (1871)
(25) Robert Gibbon (1908)
(26) Robert Gibbon Jr. (1938)
Now living in New York City. Thomas provided me with all of the information about the (25) Robert Gibbon branch as well as several other interesting facts about the family.
(26) Timothy Gibbon (1940)
(22) Dr. John Heysham-Gibbon (1795)
(23) Dr. Robert Gibbon (1822)
(24) Dr. John Heysham-Gibbon II (1871)
(25) Robert Gibbon (1908)
A daughter?
(23) Mary Gibbon (c1825)
(22) Dr. John Heysham-Gibbon (1795)
She was born on 25 January 1825 in Philadelphia. She did not marry. I don't know to which of the Gibbon daughters the following story applies, but I'll leave it here as Mary appears to have been the eldest daughter. The following is from "Excerpts from Thomas Fanning Wood's Journal.
"1862 There was a matron in the hospital, a sister of Dr. Robert Gibbon of Charlotte, who had left her home to minister to the sick. She had a good deal of zeal and but little knowledge of her duties. In fact many ladies wanted to imitate Florence Nightingale, who had not prepared themselves by study or practice in the art of nursing, and who having some success at home nursing a single patient, were greatly at sea when they undertook to look after numbers of rough soldiers, with few of the appliances at home. Miss Gibbons was very kind to me in many little ways. I had sent home for my citizen's clothes feeling some what secure that I would not be molested in the pursuit of my avocation for some time to come. She kept my white clothes nearly mend with out my knowledge for a long time who as the friend to whom I was indebted. I was very pained to learn some time after my separation for the hospital that she had left the city under a cloud. Her brother was General Gibbon, of the U.S. Army."
This may have been at the hospital in Charlotte set up at Steward Hall, in the old North Carolina Military Institute. Theodore Banta indicates that she was unmarried and lived in Holmesburg after the war.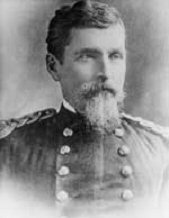 (23) General John Gibbon (1827)
(22) Dr. John Heysham-Gibbon (1795)
Possibly named John Hannum after his grandfather, Theodore Banta calls him John Heysham, and I've seen at least one notation in which he was called John Oliver. However, a letter written by his younger brother, Nicholas, indicated that their father disliked middle-names, perhaps adverse to his own, and gave them to none of his children, excepting Nicholas who was given his by his mother. The General was to be credited as one of the best divisional commanders in the Union Army of the Potomac during the Civil War.
He was born at 10 o'clock in the morning on 20 April 1827 in the Holmesburg section of Philadelphia, the third son and fourth of Catherine Larder and Dr. John Heysham Gibbon's ten children. His eldest brother, Lardner, went to see with the Navy when John was 10 years old. When John was just 11 the family moved to Charlotte, in Mecklenburg county, North Carolina where his father had a job as Assayer for the new Mint. In 1842, at the age of fifteen, he was appointed to the Army academy at West Point, in New York. He would serve in the Army for almost fifty years.
His time at West Point was, supposedly, 'troubled.' There is one story that his admission to the academy was delayed a year because he couldn't tell the examiner the date of "Independence Day." That sounds like a tall tale. More realistically, it has been reported that Cadet Gibbon was an average student who proved deficient in the study of English grammar. Faced with the choice of being dismissed or repeating a year, Gibbon chose the latter and consequently did not graduate until 1 July 1847, ranking twentieth in a class of thirty-eight. His most famous classmates were A.P. Hill, lifelong friend Henry Heth, both of whom would stand a few hundred yards away from Gibbon on the other side of the lines at Gettysburg, and Ambrose Burnside. A.P. Hill would offer John's young brother, Nicholas, a spot on his staff during the Civil War, perhaps in memory of their school days. John was commissioned as a brevet 2nd Lieutenant and assigned to the 3rd Artillery on 1 July 1847.
Brevet

A commission giving an officer higher rank, temporarily, than that for which he receives pay; an honorary promotion of an officer. In the Civil War it referred to a rank held in the 'Volunteer" Army, higher than the rank held in the 'Regular' Army. In today's Navy this is referred to as frocking.
The 3rd Artillery had taken part in the landing and siege at Veracruz in March 1847 while Gibbon was still at the academy. By 22 August they were before Mexico City, which capitulated on 13 September. John was unable to get to his unit before the major fighting was over. From an entry of 29 September 1847 in the "Memoirs of a Maryland Volunteer. War with Mexico, in the years 1846-8" by John Reese Kenly, Major (retired),
"A little while before this time, there had reached us from Vera Cruz two young officers of the army, endeavoring to join their regiments with General Scott. Not being able to go farther, they joined our command temporarily; their names were Lieutenants Ambrose E. Burnside and John Gibbon. These gentlemen were of material assistance to us, cheerfully laboring to instruct and drill the troops, and upon all occassions showing such zeal and alarcity in the performance of duty, as to inspire in our officers a noble emulation, to equal the example which the Military Academy at West Point had thus placed as frontlets before their eyes."
This unit, the District of Columbia and Maryland Regiment of Volunteers, was statined at Puente Nacional, guarding the National Bridge on the Antigua river. Puente Nacional was a small village about 50 miles northwest of Vera Cruz on the road to Mexico City. There is a fort called "La Atalaya de la Concepción" on the hill above the river at this point which the regiment held. Atalaya means Watchtower. The unit was engaged almost constantly by local militias and guerilla bands who, exasperated by the fall of Mexico City, threw themselves on the enemies lines of communication.

On 13 September Gibbon was awarded the permanent rank of 2nd Lieutenant and transferred to the 4th Artillery. I've seen one reference that indicates Lt. Gibbon saw no action at this time. He then served as part of the occupation force in Mexico City and Toluca (a nexus of communications 35 miles west of the capital) until the close of the War. A story about him from the period relates that he sat down to a game of cards,
"He had joined with a few dollars, a horse, equipments, and pistols, and was urged to take a hand, 'just to make up a game.' The next morning, going on detached service, he was compelled to borrow a horse, saddle, bridle, spurs, pistols, and money for his expenses, but never again played cards for a stake."
The Treaty of Guadalupe-Hidalgo

On 22 August 1847 General Scott's army arrived at Mexico City. At the direction of President Polk, Scott negotiated an armistice with Mexican President Santa Ana and then attempted to work out a treaty of peace. Santa Ana was not strong enough, politically, to accept the sweeping demands of the United States and not strong enough, militarily, to keep the American Army from taking the city. The negotiations failed and on the day after the armistice was scheduled to end Scott's forces assaulted the city. On 13 September the bastion of Chapultepec was stormed and Santa Ana fled the city. Scott entered the city on 14 September.

The Treaty of Guadalupe Hidalgo, ending the Mexican-American War, was signed by the U.S. Government on 2 February 1848. The Senate approved the treaty in March, but it was not ratified by the Mexican government until 30 May 1848. Under the treaty, Mexico ceded to the United States Upper California and what became Arizona, New Mexico, Nevada, Utah, and Colorado, and recognized U.S. claims over Texas, with the Rio Grande as its southern boundary. The United States in turn paid Mexico $15,000,000, assumed the claims of American citizens against Mexico, recognized prior land grants in the Southwest, and offered citizenship to any Mexicans residing in the area. Upon ratification by Mexico, the U.S. Army finally left Mexico. The last American soldier departed for home on 1 August 1848.
When the 4th Artillery left Mexico they went to Fort Monroe, in Hampton, virgina. Soon after, in October 1848, the unit was ordered to Florida and a headquaters was established at Fort Pickens, at the mouth of Pensacola Bay, Florida. However, they were moved into Pensacola the following spring. John was at home in North Carolina on 2 November 1848 when he and his brother, Lardner, attended the wedding of fellow Mexican War veteran Daniel H. Hill as "best men."
In Florida, from late in 1848 to at least April 1850, Lt. Gibbon was engaged in the struggle to subdue the Seminole Indian tribe. The companies were kept constantly at work moving through the country. While stationed at Fort Brooke, the lieutenant had the good fortune to serve with Captain John C. Casey, whose fair and considerate treatment of the Florida Indians made a lasting impression on the younger officer. Gibbon would later write of his mentor, "He never deceived them; never told one of them a lie; and never made a promise he did not fulfill, if within his power."
In an address delivered in 1887 in honor of Major General George Meade, Gibbon wrote:
"Nearly forty years ago the Seminole Indians broke out and commenced murdering the settlers in Florida. Troops were sent into the country and a line of camps was established across the Peninsula. Into one of these camps late one afternoon, rode a horseman attended by a single orderly. He was a gaunt, thin man, with a hatchet face and a prominent aquiline nose. He introduced himself as Lieutenant Meade, Topographical Engineers, just from a reconnoissance [sic] on the hostile border. He was wet, tired and hungry. It was my good fortune to be able to offer dry clothes, food and a bed of blankets to one whose name was destined fourteen years later to render famous the little town of Gettysburg, in the southern part of Pennsylvania. It was the first time I had met him."
The Seminole Wars, of which three are recognized, occured in 1817-1818, 1835-1842, and 1855-1858. The outbreaks in 1848 were more on the level of raids.

On 12 September 1850 John was promoted to 1st Lieutenant. From about 1850 to 1853 Gibbon was engaged in patrolling the Mexican Border with Texas with other companies under the 4th Artillery, first at Ringgold Barracks and then with the garrison at Fort Brown. Until 1857 the 4th's companies were widely dispersed. In 1857, however, they were all brought into the same theater of operations in the Utah & Nebraska territories, when Gibbon would rejoin them.

Following an extended leave of absence and a stint on court-martials duty, John was again ordered to Florida to assist in the removal of the remaining Seminoles.

On 25 September 1854 1st Lieutenant Gibbon was ordered to West Point where he served as an artillery instructor for five years. There, on 16 October 1855 he married Frances [Frannie] North Moale [Moal] of Baltifmore. She was born in Baltimore, the daughter of Samuel Moale, a retired army officer, and Ann White. His first two children, Frank and Caroline, were born in New York state in 1857 and 1858.

Gibbon assumed the additional duties of post quartermaster on 16 September 1856 and performed dual assignments throughout that school year. He continued to act as quartermaster until 31 August 1859 with one brief absence to serve on a board testing the merits of new breech-loading rifles. Gibbon used his experience as an artillery instructor, using his reworked class notes, to write what became the Army's standard document on the issue, "The Artillerists Manual, Compiled from Various Sources, and Adapted to the Service of the United States," (New York: D. Van Nostrand, 1859).

On 2 November 1859 he was advanced to the rank of Captain and was reassigned to his old unit, the 4th Artillery, in command of Battery B, and sent to Camp Floyd in the Utah Territory to maintain control of the region at the conclusion of the "Mormon War." Camp Floyd, about midway between Provo and Salt Lake City, was named for the Secretary of War, John B. Floyd, a notorious Southern sympathizer. After the start of the Civil War the camp's name was changed to Camp Crittenden.

The Mormon War

Acting on rumors that the Mormons were rebelling against federal authority, President James Buchanan replaced Brigham Young as territorial governor in 1857. Buchanan then sent a 2,500-man military force to accompany the new governor, Alfred Cumming, and to enforce his orders. A unit of the 4th Artillery was part of this force.

The Mormons, fearing religious persecution, armed and tried to harass and delay the federal troops. When the Federal troops finally reached Salt Lake City on 26 June 1858 they found it abandoned. The army proceeded to a site 40 miles southwest of the capital where they built Camp Floyd. After extensive negotiations, Governor Cumming was able to convince Brigham Young that he would respect their religion and the population returned, ending the 'war.'

As the situation with the Mormons improved the number of troops in the Utah Department was reduced to three companies each of the 2nd Dragoons and the 4th Artillery and four of the 10th Infantry. Some of these were stationed at Fort Bridger, in the southwest of present-day Wyoming, leaving about twenty officers and 488 men at Camp Floyd, along with six field guns. Their duties now became the familiar ones of the frontier. The native population, aroused by settler encroachments, would take the 'war path' and the Army would be sent in to settle things.

What was life like at Camp Floyd? Situated at the northern end of the Cedar Valley, it was a dusty, tree-less camp of sagebrush. There was little recreation or social life. The arrival of the Pony Express, in its brief life from 1860 to 1861, was a much anticipated event. The express rider, covered with sweat and on a heavily lathered pony, would come into town with the latest news, a week-old newspaper, and perhaps a harrowing story of narrow escapes from the Indians.

There were strong undercurrents at work in the camp, however, as the nation was swept toward Civil War. Officers from the South, including Gibbon, met to discuss what they would do if their home states seceded. It was sobering to consider violating the oath of allegiance they had taken upon being commissioned. After Fort Sumter was fired upon John wrote that,
"all our hopes of peace were blasted.... our once happy and prosperous country was plunged into the horrors of civil war, the end of which no man could foretell." - from "General John Buford" by Edward G. Longacre, 1995.
The rest of Gibbon's family, Democrats and slave-holders, were firmly for the Southern cause and his brothers, Lardner, Robert, and Nicholas, all fought for the Confederacy, as did at least two of his brothers-in-law. Captain Gibbon, however, chose to honor his oath of loyalty and stayed with the Union.

On the outbreak of the Civil War in 1861 Captain Gibbon was directed to move the 4th Artillery from Camp Crittenden to Fort Leavenworth, Kansas, some 1200 miles to the east. The move was under the command of Colonel Cooke and included companies B, E, H, and K of the Second Dragoons, two companies of the Tenth Infantry and three artillery batteries. The small force assimilated detachments, including two more companies of dragoons, at outposts along the route. On the way a Pony Express rider told them the news of the battle of Bull Run and the Union army's retreat. Some wondered if there would be a government in Washington once they got there.

At Leavenworth, John Gibbon heard from his family in North Carolina for the last time until the end of the war. He had been disowned as a traitor to his state and to his family. More than three years later, one of his sisters made her way to the Federal lines where she met John and was escorted north. John had sent a message to his younger brother [this would be Nicholas Biddle Gibbon] to come along with her on the flag-of-truce boat, but the younger Gibbon responded with the curt message, "It would not be agreeable."

From Leavenworth the troops were transported to Washington by train.

After some months as Chief of Artillery in Irvin McDowell's Division, John was made Brigadier General of an all-Western brigade of volunteers on 2 May 1862. These consisted of the 2nd Wisconsin, 6th Wisconsin, 7th Wisconsin and 19th Indiana Volunteer Infantry. Being regular Army, John didn't like the assignment, but made the best of it. To mold the men into a cohesive unit he instituted special uniform features, including the wearing of a black hat. After initial grumbling the men became proud of their distinctive head gear and the unit was for a while known as the "Black Hat Brigade." However, after a particulary staunch display in battle, they earned the title of "Iron Brigade." Gibbons led the unit in the battles of Second Bull Run [Second Manassas] and Antietam. In later years he acknowledged this as his favorite command and they were equally devoted to him.

The Iron Brigade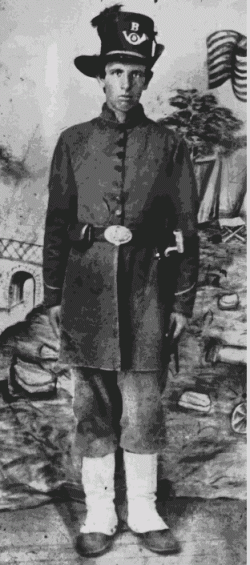 Three regiments from Wisconsin and one from Indiana were formed into the best known fighting brigade in the Army of the Potomac. To offset heavy losses, a Michigan regiment was latter added to keep this brigade a uniquely "western" unit.
Brig. Gen. Rufus King, former editor of Milwaukee's Sentinel and Gazette served as its first commander until Brig. Gen. John Gibbon assumed command in May 1862. A regular Army officer, Gibbon was keen on training and discipline and did much to improve the brigade's efficiency. To bolster morale and foster a sense of esprit de corps, Gibbon outfitted them with the black felt Army hat and canvas gaiters. The hats in particular became a source of pride and ultimately provided the distinctive sobriquet of the "Black Hat Brigade." The Brigade saw its first serious action on 28 August 1862 at Second Manassas, Virginia where, along with Battery B, 4th US Artillery, it was unlucky enough to be engaged by Stonewall Jackson. The Brigade was mauled, resulting in 751 casualties, but it held its ground and in so doing destroyed a third of the attacking Stonewall Brigade. A few weeks later, at Antietam, the brigade lost another 318 men. It was there that Major General Joseph Hooker referred to the hard-fighting Westerners as his "iron brigade."
At a particularly intense phase of the fighting at the battle of Antietam, Gibbon, the old artillerist, took command of a gun and acted as number 3 man for several rounds among the cannoneers in the 'bloody cornfield.' Afterward he wrote his wife, "I am as tired of this horrible war as you are, and would be perfectly willing never to see another battle field."
The Battle of Antietam

The Iron Brigade was the lead brigade of General Abner Doubleday's division in I Corps under Major General Joseph Hooker. The drizzle of the previous night had prevented Hooker from noticing Confederate Captain John Pelham's horse artillery on Nicodemus Heights, just west of the Poffenberger farm. These guns were in position to enfilade I Corps. Pelham fired his first round into the 6th Wisconsin, killing two and wounding 11.

Brigadier General John Gibbon, commander of the Iron Brigade, deployed prior to reaching the infamous Miller cornfield that morning. With the 2nd Wisconsin on the far left and the 6th Wisconsin on its right, both regiments deployed into what would be referred to with eloquent simplicity as the Cornfield. Three companies of the 6th Wisconsin set up across the Hagerstown Pike, linking the regiments to Lieutenant James Stewart's two gun section of Battery B, 4th U.S. Artillery that deployed south of the Miller Barn on the west side of the Pike. On the right of Battery B, the 7th Wisconsin formed with the 19th Indiana on the far right.

As the 2nd and 6th advanced through the corn, the three companies on the Turnpike came under fire from Rebels in the West Woods behind a limestone outcrop. The initial Confederate volley struck the 6th's Lieutenant Colonel Edward Bragg, forcing him to relinquish command to Major Rufus Dawes. Dawes wrote, "I ran to the fence in time to hear Bragg say, 'Major, I am shot,' before he collapsed on the ground ... I felt a great sense of responsibility, when thrown thus suddenly in command of the regiment in the face of a terrible battle."

The 19th Indiana and 7th Wisconsin pushed into the West Woods to protect the brigade's flank and drive the Confederates from cover. The maneuver was successful and allowed the rest of the Iron Brigade to advance with flanks covered. Dawes recalled, "As we appeared at the edge of the corn, a long line of men in butternut and gray rose up from the ground. Simultaneously, the hostile battle lines opened a tremendous fire upon each other. Men I can not say fell; they were knocked out of the ranks by the dozens."

The Confederate force confronting the 6th and 2nd Wisconsin was Alexander Lawton's Brigade. While fighting, the 2nd Wisconsin's commander, Lieutenant Colonel Thomas Allen fell among the cornstalks, leaving the regiment to Major Stevens. The intense fire from the Iron Brigade and Battery B was remarked on by General Thomas "Stonewall" Jackson, who later wrote of the "terrific storm of shell, canister, and musketry" raining down on his men. Finally the Confederate lines were driven back.

The 2nd and 6th Wisconsin drove into the fields south of the Cornfield. The Confederates retreated toward the West Woods, while Union forces moved on "loading and firing with demonical fury and shouting and laughing hysterically." At this point the two halves of the Iron Brigade caught the commands of Brigadier General William Starke and Brigadier General William Tallafferro between them on the Hagerstown Pike. The advance of Starke's Louisianans and Tallafferro's Brigade halted the Union advance, but only at the cost of putting the Southerners between Union forces. Starke's men did not realize that the 19th Indiana and 7th Wisconsin had come up on their flank behind the stone ledge. This crossfire forced the collapse of the Confederate counterattack.

Private George Washington Partridge Jr. of Company G, 7th Wisconsin, wrote home about the effect this had on Confederate troops.
"Wednesday we had the satisfaction of seeing the curses run. Part of the Brigade was fighting in a cornfield (the 2nd and 6th Wisconsin) and our regiment came up and gave them a crossfire and they run as if they were scart ... and I presume they were some."
The remnants of Starke and Tallafferro's commands withdrew to the West Woods as Jackson's last reserves were ordered up. These reserves, John Bell Hood's division, made up of the Texas Brigade and Law's Brigade, formed on the Smoketown Road directly east of the Dunker Church and marched across the rolling fields toward the Yankees.
Major Dawes spoke of the long unbroken gray lines and how their first volley was "like a scythe running through our line." The 6th and 2nd Wisconsin quickly fell back with the call of "Now, save, who can," Seeing the Southern counterattack, the 19th Indiana and 7th Wisconsin poured fire from the stone outcrop directly across the pike, hitting the Confederate line in the left flank. The 1st Texas, however, its blood boiling upon seeing the Yankees running back through the Cornfield, ignored this. Instead, they "slipped the bridle" — driving into the Cornfield, throwing the 2nd and 6th Wisconsin, to its northern edge. Here, the Pennsylvania Reserves waited. As the 1st Texas plowed through the field, they were hit on the flank by Battery B, and in their front by the mass musketry of the Pennsylvania Reserves. The 1st Texas sustained 88 percent casualties in this charge.
Meanwhile, the 4th Texas, 18th Georgia and (Wade) Hampton's Legion wheeled west to face the murderous flanking fire of the Indiana and Wisconsin men behind the stone ledge across the turnpike. The Confederates now fought 7th Wisconsin and 19th Indiana regiments, and the guns of Battery B. Massed canister as well as musketry from the remnants of the 2nd and 6th Wisconsin and Battery B helped throw back the 18th Georgia's assaults on Stewart's guns. They got within 15 yards of the guns but never took the position. The Texas Brigade withdrew.
The 19th Indiana and 7th Wisconsin stormed forward to the top of the rise the Texans had just left, right into the face of Brigadier General Roswell Ripley's Brigade, part of D.H. Hill's command. Here, Lieutenant Colonel Alois Bachman fell, and a 19-year-old Captain, William Dudley, took command of the 19th Indiana. To stay was suicide. The order was given to retire.
Major Rufus Dawes returned to many of the battlefields of his youth after the war, but he would never return to Antietam. He remembered that the "piles of dead on the Sharpsburg and Hagerstown Turnpike were frightful. The 'angle of death' at Spottsylvania, and the Cold Harbor 'slaughter pen,' and the Fredericksburgh Stone Wall, where Sumner charged, were all mentally compared by me, when I saw them, with this turnpike at Antietam. "My feeling was that the Antietam Turnpike surpassed all in manifest evidence of slaughter."
The casualities inflicted during the Civil War were enormous, but neither the soldiers nor the citizenry held such large "butcher's bills" against the commanding officers. It was felt that these were to be expected from the leadership of energetic officers and those who were able to win with few losses were actually held suspect, as if they had won through chance rather than device. It is for this reason that General Grant's skill as a leader were held in high esteem in his day, while today the incredible losses he suffered in his repeated frontal attacks are viewed as examples of his incompetence and callousness. It is Sherman, who through maneuver alone forced Johnston to a continual retreat down the railway line towards Atlanta, who is more highly regarded today.
John was breveted Major on 17 September 1862.
In November 1862 Gibbon was advanced to command of the Second Division of John Reynold's I Corps. He was subsequently wounded in the wrist at the battle of Fredericksburg in December.
"After going to the rear and having his wound dressed, he went to Aquia Creek by boxcar and to Washington by steamer. When he was able to travel he went to Baltimore [where his family was living]. His wound healed slowly, but he was able to rejoin the army in March 1863." - from "Medical Histories of Union Generals" by Jack D. Welsh, 1996
He was advanced to Lieutenant Colonel on 13 December. While in the hospital in Washington D.C. he was visited by President Lincoln for whom he developed a great personal regard.

Gibbon returned to action in command of the Second Division of Winfield Hancock's II Corps, and on two occassions the Corps itself.

At Gettysburg Commanding General George Meade, a good friend who had great trust in Gibbon, gave him command of the Second Corps twice in the first two days of the battle, despite the fact that General Caldwell was superior in rank. He was noted for conspicuous gallantry and distinction at the battle, where he was again wounded and carried from field. It was on his front of the battle that the "high tide" of the Confederacy would wash.

Gibbon at Gettysburg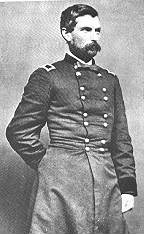 On July 3rd, after sharing a noon-time meal of stewed rooster and coffee with General Meade, Gibbon and his staff were lounging near the Union center when the Confederate artillery barrage began. This was prelude to Pickett's Charge. In his book, "Personal Recollections of the Civil War," General Gibbon vividly recalled:
"How long we sat there it is impossible to say but after a long silence along the line a single gun was heard off in my front and everyone's attention was attracted. Almost instantly afterwards the whole air above and around us was filled with bursting and screaming projectiles, and the continuous thunder of the guns, telling us that something serious was at hand. All jumped to their feet and loud calls were made for horses, which orderlies hurried forward ... I started on a run, up a little swale leading directly up to the center. The thunder of the guns was incessant, for all ours had now opened fire and the whole air seemed filled with rushing, screaming and bursting shells.

"The larger round shells could be seen plainly as in their nearly completed course they curved in their fall towards the Taneytown Road, but the long rifled shells came with a rush and a scream and could only be seen in their rapid flight when they 'upset' and went tumbling through the air, creating the uncomfortable impression that, no matter whether you were in front of the gun from which they came or not, you were liable to be hit. Every moment or so one would burst, throwing its fragments about in a most disagreeably promiscuous manner, or first striking the ground, plough a great furrow in the earth and rocks... throwing these last about in a way quite as dangerous as the pieces of the exploding shell. At last I reached the brow of the hill to find myself in the most infernal pandemonium it has ever been my fortune to look upon. Very few troops were in sight and those that were, were hugging the ground closely, some behind the stone wall, some not, but the artillerymen were all busily at work at their guns, thundering out defiance to the enemy whose shells were bursting in and around them at a fearful rate, striking now a horse, now a limber box and now a man. Over all hung a heavy pall of smoke underneath which could be seen the rapidly moving legs of the men as they rushed to and fro between the pieces and the line of limbers, carrying forward the ammunition. One thing which forcibly occurred to me was the perfect quiet with which the horses stood in their places. Even when a shell, striking in the midst of a team, would knock over one or two of them or hurl one struggling in his death agonies to the ground, the rest would make no effort to struggle or escape but would stand stolidly by as if saying to themselves, 'It is fate. It is useless to try to avoid it.' Looking thus at Cushing's Battery, my eyes happened to rest upon one of the gunners standing in rear of the nearest limber, the lid open showing the charges. Suddenly, with a shriek, came a shell right under the limber box and the poor gunner went hopping to the rear on one leg, the shred of the other dangling about as he went.

"As I reached the line just to the left of Cushing's Battery, I found General Webb seated on the ground as coolly as though he had no interest in the scene and somehow it seemed to me that in such a place men appear to take things a good deal as I had remarked the horses took them. Of course it would be absurd to say we were not scared. None but fools, I think, can deny that they are afraid in battle.

"How long did this pandemonium last? Measured by our feelings it might have been an age. In point of fact it may have been an hour or three or five. The measurement of time under such circumstances, regular as it is by the watch, is exceedingly uncertain by the watchers. Getting tired of seeing men and horses torn to pieces and observing that although some of the shells struck and burst among us, most of them went high and burst behind us, the idea occurred to me that a position farther to the front would be safer and rising to my feet, I walked forward accompanied by my aide (Lt. Frank Haskell). I had made but a few steps when three of Cushing's limber boxes blew up at once, sending the contents in a vast column of dense smoke high up in the air and above the din could be heard the triumphant yells of the enemy as he recognized this result of his fire. We walked forward to the fence where the men were lying close behind it and motioning them to make room for me, I stepped over the wall, went to a little clump of bushes standing just in front of the line and looked out there to see if I could detect any movement going on in that direction. Nothing could be seen but the smoke constantly issuing from the long line of batteries and nothing heard but the continuous roar of hundreds of guns, the screaming of countless projectiles as they rushed through the air in all directions and the bursting of shells. These all went over our heads and generally burst behind us. Whilst standing here and wondering how all this din would terminate, Mitchell, and aide of General Hancock, joined me with a message from Hancock to know what I thought the meaning of this terrific fire. I replied I thought it was the prelude either to a retreat or an assault. After standing here for some time and finding the enemy did not lessen the elevation of his pieces, we walked down to the left still outside the line of battle, the men peering at us curiously from behind the stone wall as we passed.

"The fire on both sides now had considerably slackened and only a few shells were coming from the enemy's guns. As we walked towards the right, a staff officer with an orderly leading my horse met me with information that the enemy was coming in force. I hurriedly mounted and rode to the top of the hill where a magnificent sight met my eyes. The enemy in a long grey line was marching towards us over the rolling ground in our front, their flags fluttering in the air and serving as guides to their line of battle. In front was a heavy skirmish line which was driving ours on a run. Behind the front line another appeared and finally a third and the whole came on like a great wave of men, steadily and stolidly. Hastily telling Haskell to ride to General Meade and tell him the enemy was coming upon us in force and we should need all the help he could send us, I directed the guns of Arnold's Battery to be run forward to the wall loaded with double rounds of canister and then rode down my line and cautioned the men not to fire until the first line crossed the Emmitsburg Road. By this time the bullets were flying pretty thickly along the line and the batteries from other portions of the field had opened fire upon the moving mass in front of us. The front line reached the Emmitsburg Road and hastily springing over the two fences, paused a moment to reform and then started up the slope. My division, up to this time, had fired but little but now from the low stone wall on each side of the angle every gun along it sent forth the most terrific fire. From my position on the left I could see the terrible effect of this. Mounted officers in the rear were seen to go down before it and as the rear lines came up and clambered over the fences, men fell from the top rails, but the mass still moved on up to our very guns and the stone wall in front. I noticed after all three lines closed up, that the men on the right of the assaulting force were continually closing in to their left, evidently to fill the gaps made by our fire and that the right of their line was hesitating behind the clump of bushes where I had stood during the cannonade. To our left of this point was a regiment of our division and desirous of aiding in the desperate struggle now taking place on the hill to our right, I endeavored to get this regiment to swing out to the front, by a change front forward on the right company, take the enemy's line in flank to sweep up along the front of our line. But in the noise and turmoil of the conflict it was difficult to get my orders understood. Few unacquainted with the rigid requirements of discipline and of how an efficient military organization must necessarily be a machine which works at the will of one man as completely as a locomotive obeys the will of the engineer... in everything which the locomotive was built to obey, can appreciate the importance of drill and discipline in a crisis like the one now facing us.

"In my eagerness to get the regiment to swing out and do what I wanted, I spurred my horse in front of it and waved forward the left flank. I was suddenly recalled to the absurd position I had assumed by the whole regiment opening fire! I got to the rear as soon as possible. I galloped back to my own division and attempted to get the left of that to swing out. Whilst so engaged I felt a stinging blow apparently behind the left shoulder.

"I soon began to grow faint from the loss of blood which was trickling from my left hand. I directed Lt. Moale, my aide, to turn over the command of the division to General Harrow and in company with another staff officer, Captain Francis Wessells, 106th Pennsylvania, (I) left the field, the sounds of the conflict on the hill still ringing in my ears."
Dr. Robert Gibbon and Nicholas Biddle Gibbon, John's brothers, were with the Condederate 28th North Carolina Infantry, which was attacking John's position as part of Pickett's infamous charge, marking the "high tide" of the South's fortunes in the war.
After being wounded "[h]e was taken by ambulance to the hospital at Rock Creek and was then transported by ambulance to Westminster, Maryland, where he arrived the next morning. He was cared for at a relative's house until that afternoon when he was placed in a boxcar with other wounded. That night the car was left a few miles out of town in the pouring rain, and the next day the wounded were taken to Baltimore." - from "Medical Histories of Union Generals" by Jack D. Welsh, 1996.
After another recovery and a period of light duty behind the lines as commander of the Cleveland and Philadelphia draft depots, Gibbon returned to take part in General Grant's Overland Campaign in 1864, assuming command of his old Division. He fought in the battles of the Wilderness, Spotsylvania and Cold Harbor. On 7 June 1864 he was promoted to Major General and given command of the newly organized XXIV Corps of the Army of the James. He led them in the siege of Petersburg and it was the timely arrival of Gibbon's troops west of the court house at Appomatox on the morning of 9 April 1865 that effectively blocked Robert E. Lee's escape route to Farmville, leading to Lee's decision to meet with General Grant that afternoon to discuss surrender terms. Gibbon was one of three commissioners appointed by Ulysses S. Grant to arrange the details of Robert E. Lee's surrender [On pages 24-25 of his memoirs, his brother Nicholas describes John's suggestion that they meet under a flag of truce and Grants refusal to do so.].
After the war Gibbon remained in the army. He commanded the District of Nottoway, Virginia, from 18 August 1865 until his muster out of the volunteer force on 15 January 1866, when he reverted to the rank of Captain in the Regular Army. On 30 January Captain Gibbon began a seven-month assignment as a member of an artillery board which worked to restructure that arm of the service after the war. He appears to have been considered as a member of the 4th Artillery at the same time. Gibbon was promoted to Colonel of the 36th Infantry on 28 July 1866.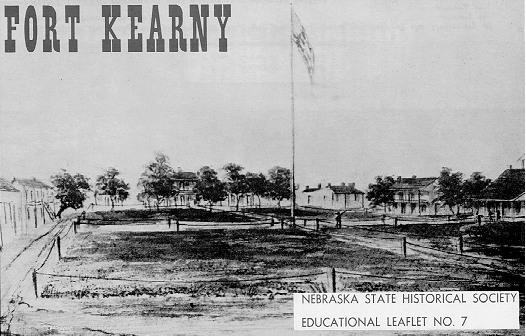 From 4 December 1866 to May 1867 he commanded Fort Kearny, Nebraska and the 36th Infantry stationed there. Fort Kearny was located on the Platte river in Nebraska. Though never attacked, the fort did have a small stockade upon an earthen embankment.
The fort served as way station, sentinel post, supply depot, and message center at the eastern nexus of the Oregon trail. John's main mission, however, was to guard Union Pacific workers from Indian attack. The Army, who had a strategic interest in the railroad, cooperated closely with the Union Pacific during the railroad's construction. Surveyors and construction gangs were escorted by federal troops and civil order was also maintained by the Army. Gibbon's authority would have been wide and he earned the enmity of some of the local newspapers for enforcing UP policy at "the end of the bayonet," though it isn't clear if these were valid charges or simply the hyperbole common to the newspapers of the day. The town of Gibbon, Nebraska, founded in 1871, was named in the General's honor.
Interestingly, John Gibbon kept up correspondence with Louis Agassiz, a Harvard professor of natural history. This started as early as 1856 and continued until at least 1870. He may have been inspired to share his observations of nature in the Great Plains with the great man by his brother, Lardner. Note also that 1856 was shortly after Lardner had written his book on South America and shortly before Professor Agassiz took his own trip to Brazil. Could correspondence between Lardner and the Professor have led to John's input?
Louis Agassiz

The son of a minister, Jean Louis Rodolphe Agassiz was born on 25 May 1807 in the village of Montier, in the French-speaking part of Switzerland. Agassiz was educated in the universities of Switzerland and Germany as a physician, like many naturalists of the time. Receiving his medical degree from the University of Erlangen in 1830, he went to Paris in November 1831 to study comparative anatomy under Cuvier, the most famous naturalist in Europe. Cuvier was so impressed with Agassiz's work on fossil fish that he turned over to Agassiz his own notes and drawings for a planned work on fossil fish. Cuvier died in April 1832, yet although their relationship lasted only six months, Agassiz always considered himself an intellectual heir of Cuvier For the rest of his life, Agassiz promoted and defended Cuvier's geological catastrophism and classification of the animals. With the publication of his vast work on the fossil record of fish, "Poissons fossiles," Agassiz's reputation began to grow in the scientific community.

After Cuvier's death, Agassiz took up a professorship at the Lyceum of Neuchatel in Switzerland, where for thirteen years he worked on many projects in paleontology, systematics, and glaciology. Agassiz took up the study of glaciers in 1836 as something of a sideline, but his contributions made him known as the "Father of Glaciology." Observing the glaciers of his native Switzerland, Agassiz noticed the marks that glaciers left on the Earth: great valleys, large glacial erratic boulders carried long distances, scratches and smoothing of rocks, and mounds of debris called moraines pushed up by glacial advances. He realized that in many places these signs of glaciation could be seen where no glaciers existed. Previous scientists had variously explained these features as made by icebergs or floods. Agassiz integrated all these facts to formulate his theory that a great Ice Age had once gripped the Earth, and published his theory in "Étude sur les glaciers" in 1840. His later book, "Système glaciare" (1847), presented further evidence for his theory, gathered all over Europe. Agassiz later found even more evidence of glaciation in North America.

In 1846 Agassiz came to the United States to lecture and in 1848 he accepted a professorship at Harvard. He immediately set about organizing and acquiring funding for a great museum of natural history. In 1859 his dream came true with the founding of the Museum of Comparative Zoology, which opened its doors in 1860. Agassiz labored for support of science in his adopted homeland. He and his colleagues urged the creation of a National Academy of Sciences, and Agassiz became a founding member in 1863. Agassiz was also appointed a regent of the Smithsonian Institution in 1863. He campaigned constantly for funds and resources for American science, and for his research projects in particular. Agassiz died in 1873.
John Gibbon was post commander at Fort Sanders [Saunders], further down the Union Pacific line in the Dakota territory, later Wyoming, until December 1868. The fort is two miles south of the present day town of Laramie.
It was here, in July 1868, that Generals William T. Sherman, Philip Sheridan, and U.S. Grant met in a showdown with UP Vice President Thomas Durant to force the company to take the shorter, straighter route proposed by the UP chief engineer, ex-Union General Grenville M. Dodge. Durant wanted to take the longer route because the UP would then be paid more under the terms of their contract with Government/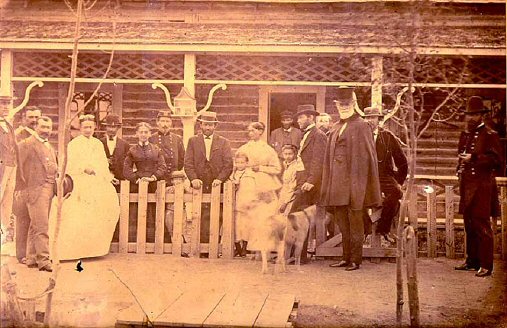 Above is a photograph taken of General U.S. Grant and party at Fort Sanders, Wyoming. Left to Right - Sidney Dillon, Frank P. Blair, Genl P H Sheridan, Mrs Joseph H Potter, Genl F I Dent, Mrs Genl John Gibbon, Genl John Gibbon, Master John Gibbon, Genl U S Grant, Katy Gibbon, Mrs Kilbourne of Columbus Ohio, mother of Mrs Potter, Fannie Gibbon, Genl G M Dodge, Genl W T Sherman, Genl Hunt, Genl W S Harney, Mr T C Durant, Genl Joseph Potter. ID provided by Brig Gen John W Budd 11-5-1906.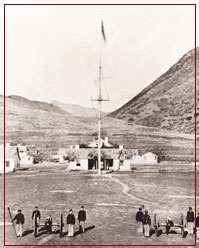 On 15 March 1869 Gibbon took command of the 7th Infantry, under Brigadier General A.H. Terry. They were quartered at Camp Douglas, Utah, left, until 1870. The fort, east of Salt Lake City and backing up against the Wasatch mountains, was originally built to protect the Overland Mail and Telegraph from Indian disturbances. It was named in honor of Senator Stephen A. Douglas, Lincoln's opponent during the presidential election of 1860. When the transcontinental railroad was completed in 1869 the outpost became an important supply center for cavalry units throughout the West. It was only in 1873 that permanent buildings began to be built which earned the camp an upgrade to a designation as a fort.
In 1870 they were ordered forward to Fort Shaw, on the Sun river, in Blackfeet territory in Montana. The fort had only been built in 1867 and was established to protect the local mining camps from Indian incursions.
The 1870 Federal census of Lewis and Clark County, Montana Territory lists John Gibbon, 43, Post Major General, US Army. Living with him are his wife, Frannie, 39, born in Maryland, Frank, 13, Caroline, 12, both born in New York, and John S., 6, born in Maryland. This is the only mention I've seen of Frank or Caroline. Frank appears to be a misnomer for a daughter, Francis. Caroline may also be a mistake for Catherine, the Katy of the Fort Sanders photograph.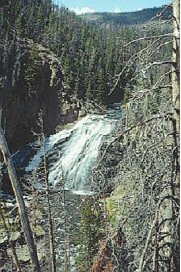 In 1870 Gibbon authorized a military escort for a proposed survey expedition into what is now known as Yellowstone National Park. The expedition, led by Henry D. Washburn, surveyor-general of the Montana territory, is credited with 'discovering' Yellowstone. Gibbon assigned First Lieutenant Gustavus Doane, Second Calvary, U.S. Army, as commander of the military escort. Some sources claim the General was on the expedition, though I doubt this. The Gibbon river in Yellowstone is named for the General, as are the Gibbon meadow, Gibbon Canyon, Gibbon Hill Geyser, and Gibbon Falls, left, which makes an 84 foot drop as it glides over the worn rock to the river below.
In 1871 Gibbon personally explored the passes of the Rocky Mountains looking for the route of the Lewis & Clark expedition. This is recounted in his article "An Autumn in the Rocky Mountains: Searching for Lewis and Clark's Pass." He carried a pocket sized edition of the Clark's journal with him in his search, much like Schliemann who carried a copy of Homer in the his hunt for Troy. The pass on the Continental Divide that Clark took on his eastbound route in 1806, rediscoveredd by John Gibbon, is known today as Gibbon's Pass.
John was briefly back east, as superintendent of the recruiting service in New York City during 1873, but came back to Fort Shaw, commanding the District of Montana and, briefly, the Department of Dakota, until 1879.
In 1876 Gibbon road out of Fort Shaw with the 7th infantry in the campaign against Sitting Bull. Against the highly mobile Sioux, infantry were poorly regarded, but the government was too stingy to put all of its soldiers on horseback. In June Gibbon was paired with Generals Custer and Crook in a coordinated attack to drive the Lakota Sioux from their encampment on the Little Bighorn river. Crook's troops were surprised by Crazy Horse and forced to retreat. General Custer had been ordered to drive the enemy down the Little Bighorn towards Gibbon's forces who would soon be waiting at the river's mouth. Custer's cavalry advanced too rapidly, however, and met destruction at the hands of a force four times his size two days before Gibbon's infantry could reach the battlefield. His troops were left with the responsibilty for burying Custer and his men. Gibbon was known to the Indians as 'One Who Limps,' probably from the injuries he received during the Civil War.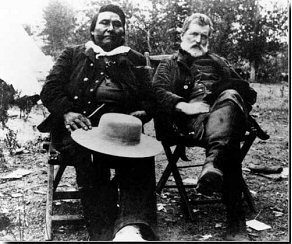 The next year John Gibbon, still operating out of Fort Shaw, was involved in a critical battle with the Nez Perce as they attempted to flee to Canada. Gibbon's infantry, supplemented by local volunteers to a total force of 200 men, had been pursuing Chief Joseph and his band up the Bitterroot Valley of Montana. On the night of 8 August Gibbon found Chief Joseph and his village of some 700 men, women, and children, as well as 1,500 ponies, in a meadow on the south side of the Big Hole River. In the battle next morning the Indians were initially routed, but regrouped and counterattacked. The troops were engaged during the night of the ninth and all of the next day against the skillful leadership of Chief Joseph. "Fighting like a private with a rifle in his hand," Gibbon was wounded by a ball in his thigh. Feeling that he had gained a moral victory, Chief Joseph ordered a withdrawal, leaving more than eighty of his people, thirty of them warriors, dead on the battlefield. Ironically, Gibbon and Chief Joseph later became good friends. Chief Joseph, leader of the Wallowa Valley Nez Percé, and General John Gibbon, posed together in 1889, twelve years after Joseph's epic retreat.
"Adventures on the Western Frontier," edited Alan and Maureen Gaff, contains three articles written by Gibbon about the Nez Perce tribe.
- "Battle of the Big Hole," which originally appeared in Harper's Weekly on December 21 and 28, 1895: Colonel Gibbon's firsthand account of the attack he led against the nontreaty Nez Perce on August 9, 1877. Fairly well balanced, considering his perspective on the event.
- "The Pursuit of Joseph" was originally published in American Catholic Quarterly Review in 1879, in which Gibbon relates his march from Fort Shaw to Missoula and down the Bitterroot Valley; his description of the hardships crossing the rugged terrain illustrates the abilities of the fleeing Nez Perce to move the elderly, women, children and warriors and stay ahead of pursuit.
- "Enemies Become Friends" is a previously unpublished article written after an 1889 meeting with Chief Joseph at Lake Chelan, Washington. Gibbon relates how he interceded to help Joseph's band in their early and difficult years on the Colville Reservation, and Joseph's reciprocation in refuting rumors that persisted that Howard rescued Gibbon's forces at the Battle of the Big Hole; Joseph asserts the Nez Perces left the Big Hole to continue their escape before Howard arrived.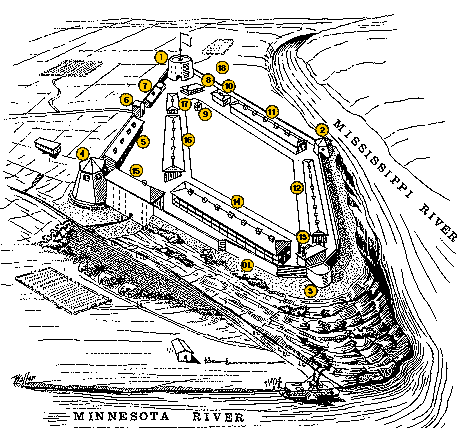 Gibbon was then placed in command of Fort Snelling, Minnesota until 1883. In testimony at the Court of Inquiry following the Custer debacle, Gibbon referred to this as Fort St. Paul. The 7th infantry was still under his command at this time. Fort Snelling was a true fortification, built of limestone in the 1820's. See Virtual Tour for photographs of the restored fort. Note that the restoration brings the fort to its appearance in approximately 1847. In 1878, just before Gibbon arrived, a number of the fort's original buildings were demolished and others had second story's added. The numbers in the drawing of the fort, right, correspond as follows:
1 - Round Tower
2 - North Battery
3 - Half Moon Battery
4 - South Battery
5 - Shops
6 - Gatehouse
7 - Guardhouse
8 - Powder Magazine
9 - Well
10 - Sutler Store - This was similar to today's post exchange. It also served as a soldier's club with a room in the back for liquor. After the Civil War the sutler's title was changed to Post Trader.
11 - Stone Barracks
12 - Wood Barracks
13 - Commanding Officer's Quarters - An elegant single-story home built in the Georgian style. Note the fantastic view it must have had from the rear, overlooking the Half Moon Battery to the river below.
14 - Officer's Quarters
15 - Commissary - A warehouse that held the fort's food and soldier's equipment.
OL - Officers' Latrines
16 - Hospital
17 - Schoolhouse - Schoolmasters were hired to instruct the soldiers' children, as well as some of the soldiers themselves.
18 - Gun Shed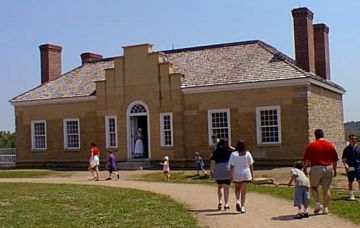 An newspaper illustrator passed through St. Paul and described Colonel Gibbon as "a grizzled old soldier." He would certainly have aged by this time, both from the constant sun and wind of the plains, and of the after effects of his many wounds.
He was listed in the 1880 census of Richfield, Hennepin county, Minnesota as Colonel John Gibbon, USA, aged 53. Living with him were his wife, Francis, 47, and children Frances, 23, born in New York, and John, 15, born in Maryland. Richfield is today a residential suburb of Minneapolis, due south of the city center. Fort Snelling is about 3 miles east of Richfield, on the river. Though the census seems to imply that the General's family lived off the post, the excellence of the commanding officer's quarters, in a modern photograph to the left, argues against this. Note that I've finally realized that the census clearly shows that they are "inhabitants of Fort Snelling." I also note that they had three servants, further emphasizing the grandeur to which they had been raised. The commanding officer's house served as both the official and social center of the fort. Much of the fort's business was conducted in offices located in the home's basement while on its main floor spaces balls were held. The house had a front porch when Gibbon was living there. While stationed here Gibbon's son, John Jr., was selected to attend West Point. He probably entered as a cadet in the fall of 1882.
In 1883 Gibbon was ordered back out west to take command of Fort Laramie, in the Wyoming territory. In 1884 he was made Commander of the Department of the Platte. Fort Laramie was located on a small bluff at the confluence of the Platte and Laramie rivers, in the territory of the Sioux and the Cheyenne. The fort defended the emigration routes on the adjacent Oregon and Mormon Trails, and the cattle drives that went up the Texas Trail. The fort was also a stop on the Deadwood stage road. The fort had originally been built the fur traders in 1834 as a simple palisade. They replaced this with an adobe fort in 1841. The U.S. Government bought the fort in 1849 and replacand it with a wooden stockade. In its final configuration the stockade walls were taken down to leave a mix of unprotected buildings. By 1883 the fort's heydey was over and in 1890 it was closed and the buildings sold at public auction. For more information see Fort Laramie Photos from "Wyoming Tales and Trails." Below is a photo of the fort in 1876.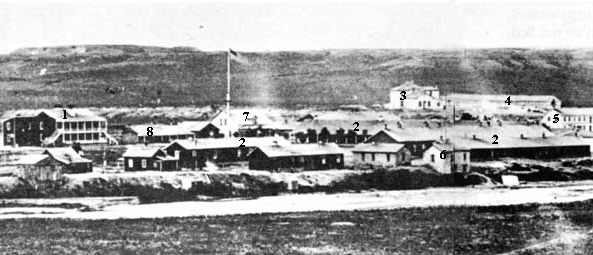 Legend:
1 - "Old Bedlam", the bachelor officers quarters
2 - Infantry Barracks
3 - Post Hospital
4 - Stables
5 - Cavalry Barracks
6 - Old Guard House
7 - Post Surgeon's Quarters
8 - Magazine






On 10 July 1885 Gibbon was promoted to the rank of Brigadier General and assumed command of the Army of the Pacific Northwest and the Department of the Columbia. Note, he was the senior Colonel in the Army at the time. His advancement re-established the Army tradition of primogeniture.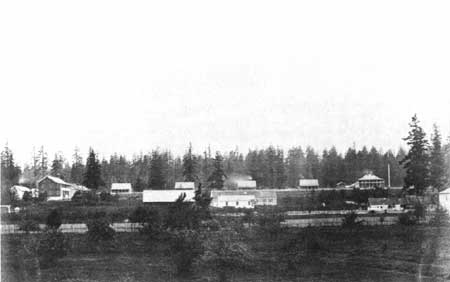 The Department of the Columbia was responsible for all military operations in Washington, Oregon and Idaho. When Gibbon arrived its headquarters were at Vancouver Barracks, in Vancouver, Washington. This was just across the river from Portland, Oregon.
Vancouver Barracks were located on a bluff above the Columbia river. The fort was originally built by the Hudson's Bay Company as a fur trading post. In 1849, following the 1846 treaty which established the forty-ninth parallel as the boundry with Canada, the Army built a base of operations, called Camp Vancouver, above the fur trading post. As this fort grew name changes followed, first Columbia Barracks and then Vancouver Barracks in 1879. The Department of Columbia, established in 1865, was originally located at Vancouver Barracks, but was moved to Portland in 1867. In 1878 they were moved back to Vancouver Barracks. For more information about the post, see Fort Vancouver, Cultural Landscape Report Volumes I and II, or Vancouver and the U.S. Army Vancouver Barracks for some ghost stories.
While originally sited to control Indian uprisings, by the late 1880's the Vancouver Barracks forces was used more for police actions. It was used to control anti-Chinese riots in Seattle and Tacoma, Washington during Gibbon's tenure, and later mine union strikes in Coeur d' Alene, Idaho and railroad union strikes. In 1886 Gibbon used his authority to declare martial law in Seattle to restore order after the outbreak of anti-Chinese riots.
Seattle Riots

When economic depression followed completion of the Northern Pacific Railroad in 1883, and the Canadian Pacific in 1885, the Chinese community became an easy scapegoat for white frustrations in the Washington Territory. Again, it was their willingness to work for minimal wages which drew the ire of "Labor."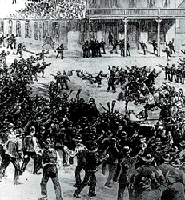 Anti-Chinese riots occurred in Seattle in February 1886. A mob rounded up more than 350 Chinese people and sought to deport them to San Francisco via ship. When the ship sailed, 196 Chinese people were on board and 185 who could not obtain passage were victims of further rioting. President Grover Cleveland declared martial law and sent in the Army to restore order.
On 12 June 1886 John returned to West Point to address the graduating class. This should have been his son's graduating class, but I don't believe John Jr. was commissioned.
"On July 11, 1888, General John Gibbon was elected a Companion of the First Class of the Military Order of the Loyal Legion of the United States through the Commandery of Oregon and assigned Insignia Number 6388. Although his active service in the U.S. Army restricted his participation in the Loyal Legion, he did attend meetings when able. On October 8, 1890, General Gibbon gave a paper on the subject of pensions before the Oregon Commandery in Portland. In advocating improvement in pensions for those who faithfully served in the War of the Rebellion, General Gibbon said,
When we look back on the dark days of 1862 and '63' and recall the sacrifices made by the patriots of this country, and the promises freely given on all hands in regard to what care should be extended to the widows and orphans and dependents of all kinds of those who, volunteering to take the field in support of the government, should fall or be crippled in the National cause, the very natural question arises now, 25 years after the close of the struggle, have those promises been kept? If called on suddenly to face our comrades who fell in the war, could be truthfully say that the promises made to them as they marched to the battle field had been faithfully kept?" - from MOLLUS
In the 1890 Veteran's Schedules for Vancouver Barracks, Clark county, Washington as John Gibbon, Major General, with a date of enlistment of 1 July 1847.
He was next assigned command of the Division of the Pacific, headquartered in San Francisco, from where he retired on 20 April 1891.
After retiring Gibbon made his home in Baltimore, Maryland, at 239 West Biddle Street. This was his wife's birthplace. Certainly North Carolina was no longer a home to him. He compiled his memoirs, published as "Personal Recollections of the Civil War," (New York: G. P. Putnams Sons, 1928). In 1896 he wrote the suffragette pamphlet "Why Women Should Have the Ballot." He also wrote, "Hunting Sitting Bull," in the American Catholic Quarterly, 1877, "Last Summer's Expedition Against the Sioux," also in the American Catholic Quarterly, 1877, "The Battle of the Big Hole," in Harpers Weekly, 1895, and "Gibbon on the Sioux Campaign of 1876." Additional works from the North American Review that can be found in the Cornell's online Library include "Another View of Gettysburg" of June 1891, "Needed Reforms in the Army" of February 1893, and "Can West Point Be More Useful?" of June 1895.
In 1895 Gibbon was elected commander-in-chief of The Loyal Legion of the United States, a Civil War Veteran's organization comprised of Union officers. The following may be the same event, or something similar. From the Colorado Springs, Colorado "Gazette" of 19 June 1895:
"The annual meetings of the Army of the Potomac was held at New London, Conn. Gen. John Gibbon was chosen president . . . "
I believe this is what became known as the Grand Army of the Potomac.

The General died of pneumonia on 6 February 1896, a few months before his 70th birthday. He was buried in Section 2, Grave 986, at Arlington National Cemetery, a few hundred yards from the home of his former West Point commander, Robert E. Lee. See also "Iron Brigade General: John Gibbon, a Rebel in Blue" by Dennis Lavery & Mark H. Jordan, 1993.

For more information about the General, and an excellent personal description, see General Gibbon, Gibbon, the Man and the Monument, and Friends of Bear Paw, Big Hole & Canyon Creek Battlefields (a superb biography).

In 1900 John's widow, Francis, was living as a boarder, aged 69, in the Court House precinct of Albemarle county, Virginia with her daughter, Francis. In 1910 she was living, aged 79, in South Bethlehem, Northampton county, Pennsylvania [this is old Heysham and Sayre territory], again with her daughter and her grandchildren.

His children were,
(24) Frances Moale Gibbon (1856)
(24) Catherine (Katy) Lardner Gibbon (1858)
(24) John Gibbon Jr. (1861), who died young
(24) John S. Gibbon (1865)


(24) Frances Moale Gibbon (1856)
(22) Dr. John Heysham-Gibbon (1795) (23) General John Oliver Gibbon (1827)

Frances was born on 28 July 1856 at West Point, New York. She was in the 1868 photo at Fort Sanders, above. Called Fannie, she was named for her mother. The 1870 Federal census of Lewis and Clark County, Montana Territory lists a Frank Gibbon, 13, born in New York, probably at Highland Falls, the town next to West Point. This was probably a mistake for Francis. In the 1880 census of Richfield, Hennepin county, Minnesota as Francis, aged 23.

She was still living with her parents when they were living in Vancouver Barracks, Washington. From the Portland, Oregon "Morning Oregonian" of 2 August 1885:
"Mrs. General John Gibbon and daughter of Vancouver barracks paid Portland a visit during the week."
From the "Morning Oregonian:"
9 June 1889 ". . . General and Mrs. John Gibbon, Miss Gibbon, Mr. John Gibbon, jr., . . ."
They were attending a wedding. I can not, at this time, make sense of her daughter's subsequent age in 1889, unless everything that follows is wrong.

In 1900, aged 43, she was living with her mother in the Court House precinct of Albemarle county, Virginia. Living with her was her neice, Francis M. McCoy, aged 15. I do not see her nephew, John McCoy. Perhaps he was away at school. Why was she here? This is in the middle of Virginia. Charlottesville is the capital and probably the location of the Court Houe precinct.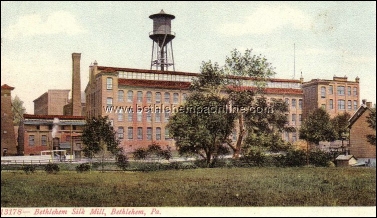 In 1910 she was living, aged 53, in South Bethlehem, Northampton county, Pennsylvania, again with her mother. She had a neice, Francis M. McCoy, aged 23, who had been born in Wyoming, and a nephewn, John G., aged 22, who had been born in Washington state. Francis and her neice worked in the local silk mill. The nephew had no occupation. The main industries of the county were coal and steel, but there were also major textile mills which employed many women. In general you might imagine this was not the nicest place to live.
Frances edited her father's "Personal Recollections of the Civil War" and got it published in 1928. The book has since become accepted as a classic account of the war.
(24) Catherine (Katy) Lardner Gibbon (1858)
(22) Dr. John Heysham-Gibbon (1795)
(23) General John Oliver Gibbon (1827)
Catherine, or Katherine, was born on 15 January 1858 at West Point, New York. She was in the 1868 photo at Fort Sanders as Katy Gibbon. The 1870 Federal census of Lewis and Clark County, Montana Territory lists a Caroline, 12, who was born in New York, probably at Highland Falls, the town next to West Point. I think Caroline is a transcriber's mistake for Catherine. She may have been named for John's mother, Catherine Lardner Gibbon. I don't see her in the 1880 Minnesota census.
Catherine married Lieutenant John E. McCoy, of the 7th U.S. Infantry, in 1885.
"At Vancouver Barracks, W. T. [Washington Territory], Oct. 28, Lieutenant J. Espy McCoy, Seventh Infantry, to Miss Kathaine Gibbon, daughter of Gen. John Gibbon." - from "The United States Army and Navy Journal" of 1 November 1885
John Espy McCoy, the son of James Culbertson McCoy and Ellen Espy Bartley, had been born in 1856 in Columbus, Franklin county, Ohio. His father had been an aide-de-camp to General Sherman during the Civil War. In 1878 John was ordered to sit for examination for 2nd Lieutenant. That is, he had not gone to West Point. He was noted as,
"and Wm. English, W. E. P. French, and J. Espy McCoy, are sons of deceased oflicers." - from "The United States Army and Nay Journal" of 26 July 1879
His father, then a Lieutenant Colonel and still aide-de-camp to General Sherman, had died in 1875. John had apparently been under the command of General Gibbon, with the 7th Infantry at Fort Snelling, since the end of 1879.
"To the Commanding Officer Columbus Bks, Ohio.
. . .
2nd Lieut. J. Espy McCoy, to the 7th Infantry, Co. D, Fort Snelling, Minnesota.
. . .
IV. The officers will join their stations, as above indicated, without expense to the Government, in accordance with Par. 1115, Revised Army Reguations of 1863." - from "The United States Army and Navy Journal" of 1 November 1879
In 1886
"Lieutenant J. Espy McCoy, Seventh Infantry, now stationed at Fort Laramie, Wyoming, has been detailed as aide-de-camp to his father-in-law, Brigadier-General John Gibbon." - from "The Critic" of Washington D.C. of 28 December 1886
In 1888 General Gibbon, Commanding Officer of the Department of Columbia, had two aides-de-camp, 1st Lieutenant Edward J. McClernand, 2nd cavalry, and 2nd Lieutenant J. Espy McCoy, 7th infantry.

The couple had a daughter, Francis, who was born in 1887 in Wyoming. They also had a son, John G. [John Gibbon McCoy?], who was born in 1888 in Washington state.

Catherine died on 17 February 1888 at Fort Vancouve, Washington and was buried in the military cemetery there. She may have died as a result of her son John's birth. Her obituary,
"Mrs. Katherine Lardner McCoy, wife of Lieut. J. Espey McCoy, 7th U.S. Inf., Aide de-Camp, and daughter of Gen. John Gibbon, U. S. A., died at Vancouver Barracks Feb. 17. The deceased lady, who had a large circle of friends in and out of the Army, was born at West Point, N.Y., Jan. 15, 1858, and was educated at Sacred Heart Convent, Eden Hall, Torresdale, Pa. She was married to Lieut. McCoy, of Gen. Gibbon's staff, October 28, 1885, by Bishop Gross, at Vancouver Barracks. She was noted for her genial and kindly disposition."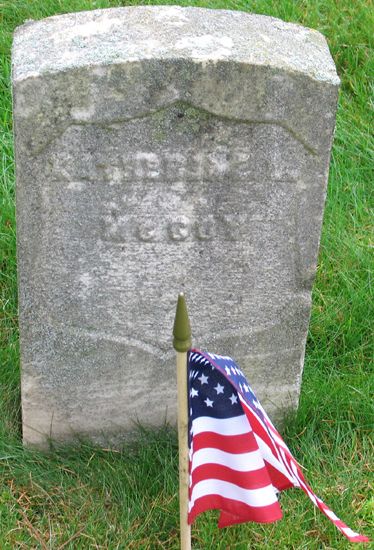 An article in the "Morning Oregonian" of 1 May 1889 lists a party escorting General Gibbon which included Second Lieutenant J. E. McCoy. John McCoy subsequently died, on 23 July 1889. His obituary,
"Died at Pilot Buttes.

Lieut. J Espy McCoy of the 7th infantry died suddenly at Camp Pilot Buttes, near Rock Springs [Wyoming Territory], yesterday. The remains will be brought here and interred at the Fort Russell cemetery this afternoon.

Lieut. McCoy was Gen Gibbon's son-in law and was on the staff of that officer until a short time ago. Lieut. McCoy was a thorough gentleman who was popular not only in army circles, but with civilians of his acquaintance as well." - from the Cheyenne Daily Leader of 27 July 1889, page 3
See also,
"2d Lieutenant J. Espy McCoy, to be 1st lieutenant, May 15, 1889 [since deceased], vice Kendrick, promoted. [Company A]." - from "General Orders" of the United States, War Department of 1889
He was buried at Fort Russell, Laramie county, Wyoming.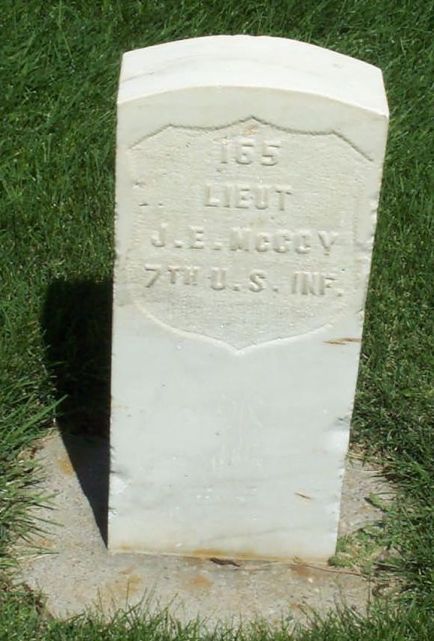 "Tradition has it that the General and Mrs. Gibbon took the children into their home and raised them. After Gen. Gibbon's death, the younger Fannie (sister of Catharine) continued to care for her aging mother, niece, and nephew." - from an email by Melissa Swank, a researcher working with the National Park Service on a historic resources survey for the Vancouver Barracks, Washington.

(24) John Gibbon Jr. (1861)
(22) Dr. John Heysham-Gibbon (1795) (23) General John Oliver Gibbon (1827)

He was born on 5 July 1861 in Salt Lake, Utah. According to "John Gibbon: The Man and the Monument," by Steven J. Wright and Blake A. Magner, "Personal tragedy struck on 16 June [1863] when twenty-three-month-old son, John, died suddenly." John Sr. returned home [on emergency leave?] for a short visit following this event.

(24) John S. Gibbon (1865)
(22) Dr. John Heysham-Gibbon (1795) (23) General John Oliver Gibbon (1827)

A son, John S. Gibbon, was born in Baltimore, Maryland on 16 July 1865. While the Civil War raged the Gibbon family apparently stayed in Baltimore, Maryland, perhaps with John Sr.'s in-laws. Its probable that the first son John, who died suddenly in 1863, was commemorated by giving his name this second son, born in 1865. His middle initial may stand for Shepard [or Secundus!], from his grandmother's family. There was a photo taken at Fort Sanders, Dakota Territory in 1868, above, that included a 'Master John Gibbon' standing with his mother and father. He's just tall enough to peer over the fence.

John S. Gibbon was listed in the 1870 census of Lewis & Clark county, Montana, the site of Fort Shaw, Montana, as the son of Major General John Gibbon. He was 6 years old at that time. In the 1880 census of Richfield, Hennepin county, Minnesota, the site of Fort Snelling, as John Gibbon, aged 15. The census indicates that they were, inhabitants of Fort Snelling.

What was it like to grow up on a string of frontier Army posts? As the General's son [actually a Colonel at this time] he was obviously treated well by the troopers. Otherwise it sounds like a Huck Finn existence. The following is a list of the frontier posts where John lived:

Fort Kearny, Nebraska 1866-1867

Fort Sanders, Dakota Territory 1868

Camp Douglas, Utah 1869.
I suspect John would have remembered little of these posts except for an image of mounted troops and a dusty parade field.

Fort Shaw, Montana 1870-1879
- 1873 in New York City.
This was the time of the Sioux & Nez Perce Wars. This period probably comprised the bulk of John's childhood memory, from 6 to 15 years of age. Fort Shaw is, even today, in the middle of nowhere, a hundred miles north of Helena. It is a severe climate. The average temperature in Janaury is 23 degrees Farenheit, annual precipatation is only 12.5 inches and the wind blows at a constant 10 to 15 miles an hour. Below is a panaramic photo of Fort Shaw taken in 1910.





It is interesting to compare the upbringing of John Sr., mostly spent in a proper Philadelphia suburb, and John Jr., on a boundless prairie of few limits, either visually or spiritually.

Fort Snelling, Minnesota 1879-1883
John lived in the fort, with his parents in the fairly grand Commanding Officer's house. They had three servants. The surronding countyside is depicted rather idyllically below. This would have been a great change from his life on the plains. John lived here during the difficult years of 15 to 19.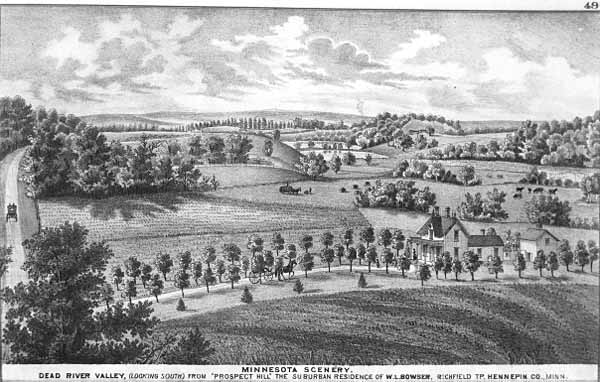 On 5 August 1881 John accompanied his father to the Big Hole battlefield. From the Butte, Montana "Daily Miner:"
"Anniversery Meeting
Bound for the Big Hole Battle Ground


General John Gibbon, U.S.A., Hon. Martin Maginnis, Colonel Edward Moale, and Lieutenant Jacobs, U.S.A., and John Gibbon, Jr., arrived in the city yesterday from Helena, and are at the Centennial. The party of gentlemen, after spending a day in Butte, will proceed to the Big Hole Battle Ground to be on the ground on the anniversary of the fight with Chief Joseph's band of Nez Perce warriors."
On 25 April 1882 the same newspaper reported that:
"John Gibbon, Jr., son of Gen. Gibbon, has been appointed a cadet to the military academy at West Point, and is credited to Montana."
He would have begun his academy career in the fall of 1882 as a part of the class of 1886. The notable graduate of that West Point Class was General "Black Jack" Pershing of World War I fame. He was ranked 30 out of 77, but was elected class president. By the way, Pershing got that nickname for having served with the Buffalo Soldiers, a segregated unit. Other classmates included Major General Mason Matthews Patrick, who graduated second and helped keep the Army Air Corps alive in the interwar years, Charles S. Riche, who ranked third, Charles T. Menoher, the Air Service chief who had to resign over the Billy Mitchell affair, and James P. Kinard, the President of Winthrop College. West Point 1882-?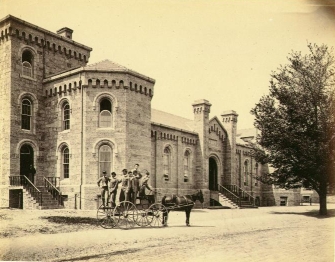 During the years 1883 to 1885 John Sr. was in charge of the post of Fort Laramie, Wyoming. I wonder how well prepared John Jr. could possibly have been for the Academy after the necessarily haphazard education he had received on the plains?

Vancouver Barracks, Washington 1885-1890.
John Sr. was in charge of the Army of the Pacific Northwest during this period. John Jr. shows up in the newspaper in 1887, but disappointingly as a Mr. rather than as a Second Lieutenant. In the Portland, Oregon "Morning Oregonian" of 3 January 1887 a John Gibbon Jr. of Vancouver was noted as staying at the Gilman Hotel. I suspect John dropped out, or was forced out, of the Academy. Even sadder, if the former is true, on 12 June 1886 General John Gibbon returned to West Point to address the graduating class. This should have been John Jr.'s class and the General may have scheduled this address before knowing that his son would not be there.

It is interesting to note that General Gibbon's father, John Heysham Gibbon, went to medical school and became a doctor, though he never practiced. I've always believed this was because his mother, Mary Heysham, wanted him to emulate his deceased father, Dr. John Hannum Gibbon. In the same way John Jr. may have gone to the Academy because it was what his father wanted, instead of being what he wanted. The Academy is a hard school and quickly identifies and winnows out those who are not truly committed.

The younger Gibbon did keep up contacts with the Army. From the "Morning Oregonian:
4 March 1888 "Vancouver Notes. Capt. C. A. Woodruff, department chief commissary of substance, returned to the garrison from Fort Walla Walla on Thursday, accompanied by Mr. John Gibbon, Jr."
30 December 1888 "From Walla Walla. John, son of General Gibbon, is visiting the garrison."
During the period from 1887 to 1890, John Jr. was listed as attending many social events in Portland, including balls, the opera and the theater.

On 30 March 1890 the "Morning Oregonian" reported that
"Mr. John Gibbon jr., returned on Monday last from his tour through the Southern states."
I imagine this was a visit to the Charlotte, North Carolina homes of Uncles Robert and Nicholas, the Holmesburg, Pennsylvania home of Uncle Lardner, and perhaps to Baltimore to visit his mother's relations. San Francisco 1890-1891

I don't know if John Jr. accompanied his father during his last military tour in San Francisco. After a short stint there the General was forced to retire in April 1891 and moved back east to Baltimore. John Jr. stayed out west, in Portland, Oregon, after his father retired.

On 19 June 1895 John married Josephine Cunningham, of Portland, Oregon. She was about 10 years younger than he. Not long after he married, John's father died. From the Bismarck, North Dakota "Daily Tribune" of 24 March 1896:
"General John Gibbon, who died recently, bequethed to his son the table upon which General Lee's surrender was written."
I wonder what John's wife made of this and what happened to the table?

While he may have done so before this time, by the start of the Spanish-American War John had joined the 2nd Oregon Volunteer Infantry, a unit drawn from the Oregon National Guard. In 1898 he was with "the U.S. Volunteers as Quartermaster at Guam in charge of the transport ROSECRANS." As an Academy attendee, if not a graduate, and as the well-known son of a Major General, he was apparently made an officer in the unit. He would have been 33 years old in 1898.

United States Volunteer units were a special category, being raised exclusively under Federal sponsorship as a temporary wartime augmentation to the Regular Army. Note that every volunteer regiment, by law, contained at least one Regular Army officer who normally held a volunteer commission one or more grades above his lineal rank in the Regular Army. Such officers normally were selected either because they were native sons of the specific state or because they were serving as Regular Army advisors with the state or teaching in a state's college or university system when war broke out. John may have been such an officer. He did eventually become a regular Army officer, perhaps as early as 1901.

The Spanish-American War

The America of the 1890's was beginning to feel its strength and was ready to take its place on the world stage. In that era that meant as an empire, aping the British. During this same period new powers, Germany, Italy, and Japan, scrambled for colonies as did a reinvigorated France.

Alfred Thayer Mahan's naval treatise "The Influence of Sea Power upon History, 1600-1783" captured the imagination of the world - The German Kaiser kept it by his bed. It told the world that it was its navy that made England the world's greatest empire and advised America that they needed overseas bases to support a Navy that would protect their world-wide shipping.

Into this excited environment erupted Cuba's attempt to gain its freedom from Spain. Many Americans wanted to become involved, both to help the Cubans and as an excuse to take territory from Spain. When the battleship MAINE blew up in Havana harbor in February 1898 they felt they had the provocation. Newspapers of the day both fed and echoed widespread public enthusiasm for this war. Spain was wholefully unprepared for combat with a modern nation and was quickly defeated. Secretary of State John Hay notoriously called this a "splendid little war."

As an indemnity America gained a number of colonies from Spain, including Puerto Rico, Guam and the Philippines. In the latter islands the inhabitants, who thought they were to gain their independence, began an insurgency when they found they had simply changed masters. This conflict lasted until 1902. At the same time American inhabitants of Hawaii engineered that nations annexation.

The ROSECRANS

A 2618 ton steamer built Port Glasgow, Scotland in 1883 as the METHVEN CASTLE. It was later named the COLUMBIA. It was used as a military transport in 1898 during the Spanish-American War. The US Navy, short of vessels for this "short-notice" war, had conscripted a number of civilian vessels to serve as troop transports.

The Matson company bought the ship in 1902 and converted to a tanker. It was then sold to Associated Oil in 1906. It was wrecked off Peacock Spit, Washington at the mouth of Columbia River on 7 January 1913, with loss of 33 men.




2nd Oregon Volunteers

In 1898 Oregon was called upon to furnish a regiment of infantry for the the U.S. Army in the Spanish-American War. Regiments 1, 2 and 3 of the National Guard were consolidated into the 2nd Oregon Volunteer Regiment. Colonel Owen Summers, who had created the Oregon National Guard twelve years earlier, was selected as the Regimental Commander.

The Second Regiment was mustered at Camp McKinley between 7 and 15 May in Portland on the old Irvington racetrack. Almost immediately orders were received ordering the regiment to proceed to San Francisco for embarkation to the Philippine Islands.

On 24 May 1898, the Second Oregon, along with the First California, five companies of the 14th US Infantry and a detachment of California artillery, sailed as the first of the United States Forces heading into the Pacific. While food and accommodations aboard the transports was deplorable, the spirit of the Oregonians remained high. In Honolulu, the cruiser USS CHARLESTON joined to convoy the transports into the Western Pacific.

The first engagement occurred on Guam. A landing party of Oregonians, along with Navy and Marine personnel, went ashore and accepted the surrender of the island. After running up the American flag and appointing a governor the landing party returned to the ship. The convoy then proceeded to the island of Cavite in the Philippine chain. There Oregonians were first to land and, after a short skirmish, they seized control of the area.

They were now a unit of the 13,000 volunteer and 2,000 Regular troops that constituted the VIII Corps under Major General Wesley Merritt. In the battle of Manila was over quickly. The Spanish defenders only meant a show of resistance to save their honor. This ended the Spanish phase of the war.

In February 1899 the Oregon soldiers found themselves fighting a Philippine insurgent movement, forced to use their Indian War skills in a guerrilla campaign. The Second Oregon, along with the 13th Minnesota, was called upon to secure Manila and drive the insurgents from within the city and the suburbs. It took months of bitter fighting in the Philippine countryside before the insurgents surrendered. The American governor of the islands did not, however, declare an end to the fighting until 1902.

In June 1899 the Second Oregon returned home to a hero's welcome in San Francisco as they paraded up Market Street. After some weeks at the Presidio, were they were mustered out of service on 7 August 1899, the troops finally returned to Oregon for another hero's welcome. See Second Oregon Volunteer Infantry by Joseph DeBurgh.

When the 2nd Oregon Volunteers were mustered out in 1899 that probably denoted "out of Federal service," not out of existence. As a National Guard they continued to exist as the 2nd Oregon Infantry, which later became the 162nd. From 1900 to 1901 John Gibbon Jr. was a Captain in a volunteer unit in the Oregon National Guard.

I have a John Gibbon in the 1900 census of Portland, Multnomah county, Oregon, aged 34 shown as born in Maryland in July 1865. His father was from North Carolina [sic] and his mother was from Maryland. His occupation is hard to decipher. It appears to be "6 [Q?] aq[?]tr [Assistant Quartermaster?] 2. [2nd Regiment] M. [Company M?] US Army." Living with him was his wife, Josephine, aged 26. She was born in April 1874 in Oregon. They were boarders living in a very large boarding house whose landlady was a Mrs. A Norton. Army officers lived in what was known as "genteel poverty" so it wouldn't be surprising to find them unable to afford a home.

From the "Historical Register and Dictionary of the United States Army" I have a "John Gibbon Jr., Md. [born in Maryland], Oreg. [volunteered from Oregon or part of an Oregon unit?] Capt. assistant quartermaster volunteers 18 April 1900 [this may be a date of enlistment, of advancement, or simply a muster date]; honorable discharged 30 June 1901." I'm fairly certain this is our John. In this same document General Gibbon is listed as Gibbon, John Pa. N.C. and comes just before John Jr.'s entry. I don't think that was a coincidence.

John remained in the Army, making the transition from a volunteer unit into the regular Army, perhaps at the time he was discharged from the Oregon unit in 1901.

In the 1910 census of Brookline, Norfolk county, Massachusetts as John Gibbon, of Maryland, a 40 year old chief clerk of a U.S. Army [perhaps Armory] [unreadable] office. He was living at 32 Linden street. His parents were of North Carolina and Maryland. Living with him was his wife, Josephine C., 32, of Oregon. They had no children. Their ages seem off, but their names, places of birth and occupation look good. I'd guess that John made the big move across country as a result of Army orders. Note that in 1912 Congress authorized a Quartermaster Corps. The Corps was responsible for the operation of a number of general supply depots and subdepots throughout the United States.

John was still living in Brookline at the time of the 1920 census. John, a 50 year old Army Captain, and Josephine, 41, were again boarders living at 1075 Beacon street. Across Beacon street is Armory Playground. Is this a clue? Poor old John seems to have leveled off. He was a Captain in 1900 and a Captain in 1920.

John Gibbon, a 65 year old Quartermaster [corp] U.S. Army, and Josephine, 45, where still in Brookline at the time of the 1930 census, living at 26 Claflin road. This appears to be an apartment building, three other family's lived there. John's age was back to correct, but Josephine was growing younger. They apparently never had children.

(23) Catherine Gibbon (1829)
(22) Dr. John Heysham-Gibbon (1795)

She was born on 31 October 1829 in Philadelphia. Theodore Banta indicates that she was unmarried and lived in Holmesburg after the war. She was employed for many years at the U.S. Mint in Philadelphia, though in what capacity I do not know. She died on 31 Mary 1897 and was buried at Elm Wood cemetary in Charlotte, North Carolina.

(23) Anna Gibbon (1832)
(22) Dr. John Heysham-Gibbon (1795)

She was born on 21 February 1832. She married Richard Penn Lardner, her mother's cousin and 37 years her senior. He was born on 8 November 1796 in Philadelphia, the son of John Lardner and Margaret Saltar of Philadelphia. Richard was a Confederate Army Officer. It was his second marriage. Richard was First Treasurer of the Philadelphia & Reading Railway and of the Franklin and Bristol Turnpike Road. He was one of twelve Directors of the Hand-In-Hand Insurance company. He apparently was also a diplomat in the Foreign Service, if "The Moore's of Mecklenburg County" can be believed. He died on 19 May 1883 while living at 1137 Girard street, Philadelphia. She died after 1905. They had no children. She died on 7 July 1870 and was buried at the Old Christ Church in Philadelphia.

(23) Virginia Gibbon (1835)
(22) Dr. John Heysham-Gibbon (1795)

She was born on 4 March 1835. She married Lieutenant James Humbert, U.S. Army, on 4 June 1868 in Charlotte. James was born on 15 April 1839 in Uniontown, Fayette county, Pennsylvania, the son of William Humbert and Jane Smiley. After their marriage they lived in Columbia, South Carolina. In March 1868 he was ordered to Fort Macon, North Carolina and then in May to Philadelphia on recruiting duty until 1871. Orders then followed to Fort Rice, Dakota where they lived for nine years. They then moved to Fort Ringold, Texas, but, having been exposed to a severe storm, James was sent back to Philadelphia on sick leave in 1880. James died on 20 September 1883, at the time a Captain of Company H, 1st U.S. Infantry, stationed in Arizona. I do not have her date of death. Their children were Mary Gibbon (died young), John Gibbon (died young), James Lardner, Jane Biddle, and William Sheperd.

(23) Nicholas Biddle Gibbon (1837)
(22) Dr. John Heysham-Gibbon (1795)

He was born on 28 November 1837 in the Holmesburg district, Philadelphia, Pennsylvania. I used to think that the choice of his son's name was an interesting commentary on Dr. John Heysham Gibbon's views on the National Bank, Nicholas Biddle being its first director. Later I thought it may have been out of respect for Captain Nicholas Biddle, a naval hero of the Revolution. Now I know that there was a blood relationship that his mother sought to honor. From "Genealogy of the Hannum Family,"
"Mr. Gibbon says he was not named Nicholas Biddle, only Nicholas. Frances M. Gibbon, daughter of Gen. John Gibbon, from whom she perhaps got her information, says, "You will notice but one of John Heysham Gibbon's children bears a middle name, as he did not like them. My grandmother, however, named this son after her cousin, Nicholas Biddle, of whom she was very fond.""
The Biddle Family
A prominent family of Philadelphia whose members had a significant impact on American history.
Nicholas was the eighth child and youngest surviving son of Dr. John Heysham Gibbon and Catherine Lardner Gibbon. The family moved to Charlotte in 1838 when Dr. Gibbon, physician turned metallurgist, accepted an appointment as the assayer of the newly authorized branch of the United States Mint. Nicholas was only a year old.
Nicholas was educated at Yorkville, South Carolina and Rutherford College, North Carolina.
In the 1860 census of Mecklenburg county, North Carolina as Nicholas Gibbon, 21, living at home with his mother, Catherine, and father, Dr. John Gibbon. Living at home with him were also his sisters, Maggie, 28, Catherine, 27, Mary, 29?, Alice, 25, and Virginia, 20. Robert was also living in town, though on his own. John was at Fort Crittenden, Utah and Lardner was living on his plantation in Florida. I don't find any indication in the census that anyone lived on the campus of the military institute.
At the start of the war Nicholas was attending lectures at the Jefferson Medical School in Philadelphia. He returned to Charlotte and enrolled in the North Carolina Military Institute, under the command of family friend D. H. Hill.
North Carolina Military Institute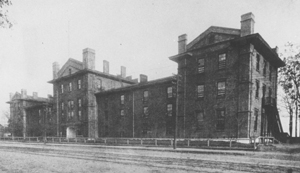 There had always been a number of military schools in the South, and their number increased as tensions with the North rose. The North Carolina Military Institute was opened in Charlotte on 1 October 1859, with retired Major Daniel Harvey Hill its superintendent, and supported by $15,000 in private funds and $10,000 from the City of Charlotte. Hill, a Mexican War veteran, had been President of Davidson College from 1854 to 1859. He, and James Henry Lane who was a professor of natural philosophy and instructor in tactics at NCMI, later became Generals in the Confederate Army.
The main building, Steward's Hall, a massive, castle-like, three and four-story brick edifice was designed to look like the buildings at West Point. Ex-Governor William A. Graham, who as Secretary of the Navy had sent Lardner Gibbon to South America, spoke at the Institute's opening.
The institute had two departments. A Primary Department for boys from 12 to 15 and a Scientific Department for young men from 15 to 21. Chartered by the North Carolina Legislature to award degrees, the Scientific Department, which had 60 cadets enrolled during the first year, patterned its curriculum after the courses taught at West Point, which meant that it emphasized such technical and scientific skills as engineering, surveying, mathematics and chemistry, plus the art of warfare.
Dr. J. H. Gibbon, a prominent citizen, was probably a subsriber to the $15,000 drive to support opening the new military school. The school closed at the start of the Civil War and the cadets were marched off to war by their professors. It is also interesting that in 1858, just prior to reporting to NCMI, James Henry Lane was Chair of the Department of Mathematics and Military Tactics at the State Seminary in Tallahassee, Florida. That's within "spit'n" distance of Lardner Gibbon's home.
NCMI Goes to War

After Confederate troops fired on Fort Sumter on 12 April 1861 the superintendent, D. H. Hill, summoned the young cadets to the chapel in Steward's Hall, right. He told them what they could expect in the period ahead. A cadet remembered the following:
"He warned us that it would be no child's play, and the chances were that it would last as long as the Revolutionary war, and we would all get enough of it. He mentioned the contrast between the resources of the North and the South, both in men and means. . . ." - from "The Civil War in Charlotte-Mecklenburg" by Dr. Dan L. Morrill
North Carolina Governor John W. Ellis summoned D. H. Hill to Raleigh to organize the State's first military instruction camp. The cadets followed soon thereafter to serve as drill instructors. They marched as a body into Charlotte and boarded trains headed for the State capital on April 26th. Crowds lined the platform as the locomotive pulled away from the station.

During the war the school was used as a hospital and prison for Yankee soldiers. After serving for a period as a girls' school, John P. Thomas revived the North Carolina Military Institute as a private school in 1873 and renamed it the Carolina Military Institute.
Although of northern origin, most of the Gibbon family chose to support the Confederacy during the Civil War. Only Nicholas's brother, John, a graduate of West Point and a Captain in the U.S. Army at the beginning of the war, remained loyal to the Union.
Nicholas enlisted as a Cadet in May 1861 in the 1st North Carolina Regiment commanded by Colonel, later General, Daniel Harvey Hill. Hill had been the founder and superintendent of the North Carolina Military Institute in Charlotte. At the outbreak of the Civil War Hill was asked to take charge of the training of the Confederate troops. His first official act was to take the 150 cadets composing the student body of NCMI to Raleigh. There they are reported to have drilled 10,000 volunteers. Nicholas served as a drill master with the 1st North Carolina. I assume based on this and his enlistment as a Cadet that he had been a student at the North Carolina Military Institute. James Henry Lane, who had been a professor at NCMI, was another drillmaster for the 1st North Carolina, and its Major. Charles C. Lee, another NCMI instructor, was its Lieutenant Colonel.
At some point A.P. Hill offered Nicholas a staff position - from "Papers" by William Alexander Graham, Max Ray Williams, Mary Reynolds Peacock. When this occurred, or how Nicholas responded to the offer, is unknown. A.P. Hill was not related to D.H. Hill.
Nicholas was with the 1st North Carolina when they fought in the Battle of Bethel Church in Virginia, a Conferate victory, in June 1861.
In September Nicholas returned to North Carolina and was transferred to the 28th North Carolina Regiment on 18 Octoberr 1861. This was a new unit under the command of Nicholas' old NCMI instructor and a Major from the 1st North Carolina, James Henry Lane, now a Colonel. Nicholas' older brother, Robert, was also to be in the 28th, as a surgeon. Nicholas may have recruited his brother into this unit. Soon after arriving Nicholas was appointed the Field & Staff Company as commissary [a kind of quartermaster or supply corps officer] with the rank of Captain.
Army Organization

The Brigade

The tactical infantry unit of the Civil War, the Brigade generally consisted of 4-6 regiments. However, it could have as few as 2 and later in the war, when consolidation of Confederate regiments became common, some brigades contained remnants of as many as 15 regiments. There were 3 or 4 brigades to a division and several divisions to a Corps.

By definition, a brigadier general commanded a brigade. But colonels were often in charge of brigades too small to justify a brigadier, and if the brigadier was absent, the senior colonel would act in his stead.

The brigade's staff usually comprised the brigadier general, his aide, the quartermaster, ordnance and commissary officers, an inspector, and one or more clerks.

The Regiment

Regiments were comprised of 10 companies. Each company, commanded by a Captain, had about 100 men. These companies were lettered in alphabetical order, with the letter "J" omitted. Regimental headquarters consisted of a colonel, lieutenant colonel, major, adjutant, quartermaster, surgeon (major), two assistant surgeons, and a chaplain. Regimental headquarters noncommissioned officers were the sergeant major, quartermaster sergeant, commissary sergeant, hospital steward, and two principal musicians. Authorized strength of an infantry regiment was a maximum of 1,025 and a minimum of 845. Since it was the Civil War practice to organize recruits into new regiments rather than to send them to replace losses in veteran units, regimental strengths steadily declined.
The regiment wintered in Wilmington and in March 1862 was involved in the Battle of New Bern, where they covered the Confederate withdrawal. In May 1863, when the commissary system was reorganized, Gibbon was reassigned as commissary to Wilcox's division.
The 28th North Carolina

The regiment, numbering 1,199 for duty, was ordered to Virginia 2 May 1862. It was armed with old smooth-bore muskets from the Fayetteville arsenal, badly altered from flint to percussion. It soon threw them away and supplied itself with more serviceable and more modern weapons gathered on the bloody battlefields of Virginia.

The regiment was in the battle of Hanover Court House on 27 May 1862 when they were cut off from the main Confederate body. On the same day the Twenty-eighth was placed under the command of Ambrose P. Hill and his "Light Division." They fought at the battle of Mechanicsville and the fight at Frazier's Farm. Later in the month the Light Division was transferred to "Stonewall" Jackson's Army of the Valley. The regiment would see action at the battles of Cedar Mountain, 2nd Manassas, Ox Hill, Harper's Ferry, and Sharpsburg. Lane was given command of the brigade at Sharpsburg and, on 6 November, it became Lane's brigade. Next they fought at the battle of Fredericksburg where the brigade held an exposed position that was soon flanked and forced to fall back.

During the battle of Chancelorsville Lane's men had the dubious distinction of accidentally shooting General Jackson as he returned from a night reconnaissance. Stonewall died and this changed the course of the war. On 3 July 1863 they were part of Pender's Division in A.P. Hill's Third Corps. They gained another dubious distinction by supporting Pickett's Division and becoming part of their infamous Charge. When that force reached Union lines, which were under the command of Major General John Gibbon, they had reached the "high tide" of the Confederacy. After the battle the 28th retired to spend the winter of 1863-1864 at Liberty Mills, on the Rapidan River above Fredericksburg.

Other battles would follow: Bristoe Station, the Wilderness, and Spotsylvania Court House. The brigade was there too at Appomattax when General Lee finally surrendered.
In a snippet view, I've seen the following letter by John H. Gibbon, dated, perhaps, 5 July 1863
"Dear Sir

I have just received a letter from my youngest Son, Capt. Nicholas Gibbon, 28 Regt. N.C. Troops, in the General Hospital No. 8 in Raleigh, where he is obliged to remain for want of an extension of his furlough that he may not be reported . . . " - from "The Papers of William Alexander Graham"
Does this mean he was residing at the hospital in a military role, not a patient?

The 28th Regiment fought at Fredricksburg and Gettysburg, battles where Nicholas' brother, John, was twice wounded. As a commissary however, Nicholas would have been behind the lines.

Nicholas resigned his commission on 17 September 1863, 2 months after Gettysburg. Now what was that all about? He was only 24 years old and if he were in fighting form he could not have escaped further duty. Had he somehow become 4-F, wounded at Gettysburg or in its immediate aftermath? He then served on General Cadmus Wilcox's staff, whose command's included Lane's North Carolina brigade.

Near the end of the war, when regimental commissaries were abolished, Nicholas returned to North Carolina to assist with the search for deserters. Perhaps this return to North Carolina assumed that he took up the search for deserters as a volunteer, in the Home Guard perhaps, after resigning his commission. If so, then think of the movie "Cold Mountain," set in the hills of North Carolina, and how it treated the Confederate deserter and his foe. North Carolina was said to have the highest desertion rate of any of the Confederate states. To more favorably portray the Home Guard, however, their duty was also to protect communities from deserters who had turned outlaw and banded with Union guerilla forces. Nicholas probably had both duties.

The Home Guard

In 1862 the Confederate Congress declared that all men between the ages of 18 and 45 were subject to military duty. This excluded, however, those designated by the States as necessary to it's State service. North Carolina included in this list State and County officers, Justices of the Peace, and Officers of Militia Regiments. On 7 July 1863 the Confederate Congress passed the Guard for Home Defense Act which allowed the formation of Home Guard units in the counties of all Southern states where needed. The Home Guard was intended to be a replacement for the Militia, since conscription had left the Militia a unit of officers without men to command.

The Home Guard was organized into a battalion for each county. They were used to arrest army deserters and quell disturbances. They also impressed slaves to work on fortifications and verified the 'infirmities' of men who claimed excemption from conscription. Due to the unpopular nature of their work, and the way it was carried out at times, the Home Guard were despised by the general population.

Nicholas kept a diary of his Civil War years and eventually wrote a memoir of the years 1861 to 1866. This document also includes a Gibbon family genealogy, which I haven't seen. The memoir is available in the manuscript collection of the J. Murrey Atkins Library of the University of North Carolina at Charlotte.

As late as 1867 Nicholas was still living at home with his parents [per Banta], as were his sisters, Anna and Virginia.

After the war Nicholas settled down as a farmer on Mallard Creek township, a region of small farms in northeastern Mecklenburg county. The family farms of the region have today disappeared, replaced by subdivisions and office parks for the city of Charlotte. In the 1870 census of Mallard Creek, Mecklenburg county, North Carolina as Nicholas Gibbon, a 33 year old single man keeping a farm.

Nicholas married Harriet Cornelia Alexander, a descendent of Hezekiah Alexander, on 20 October 1870 near Derita, Mecklenburg county, North Carolina. She was born on 3 October 1850, the daughter of Joseph M. Alexander and E. C. Robinson. Nicholas and Harriet had seven children. Their home still stands on Gibbon Road near its intersection with Christenbury Road in north Charlotte. The homesite originally totaled 640 acres, purchased from Nicholas's sister, Margaret, and her husband, John Wilson Moore.

Gibbon became active in North Carolina politics, serving stints as Justice of the Peace and as a member of the General Assembly. He also served as President (1880-84) of the Mecklenburg Farmers' Alliance.

The Farmers' Alliance

In the Post-Civil War period Agriculture was in a critically depressed condition. The old plantation system had been replaced by farm tenancy which long remained the dominant system of holding land. Much farm property was destroyed, credit was largely unavailable, and transportation systems had broken down and railroad rates were unfairly high. The nationwide agrarian revolt reached North Carolina in the Granger movement, the Farmers' Alliance, and the Populist party, which united with the Republicans, who were overwhelmingly black, to carry the state elections in 1894 and 1896. However, the Farmers' Alliance, having tried, and failed, to take joint action on the respective grievances with the Colored Farmer's Allicance, were blamed for the rise of black control in many tidewater towns and counties. In the election of 1898, when the Red Shirts, like the Ku Klux Klan of Reconstruction days, were active, the Democrats regained control.

In the 1880 census of Mallard Creek township, Mecklenburg county, North Carolina as N. Gibbon, a 42 year old farmer and Deputy [?] Justice of the Peace. Living with him were his wife, H.C., 29, sons, Edward, 7, and Nicholas Jr., 5, and daughters M.L., 2, and an unnamed female infant, 2/12. In the Landmark newspaper of Statesville, North Carolina of 15 November 1888, he was listed as a member for Mecklenburg of the House of Representatives of the General Assembly, as a Democrat.

In the 1900 census of Mallard Creek as Nicholas Gibbon, a 62 year old farmer. Living with him were his wife, Harriet C., 49, Cora A., 20 [she must have been the unamed infant above], Fred L., 13, and Catherine, 11.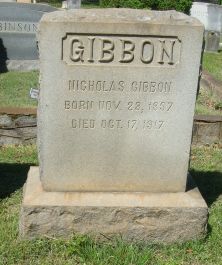 Nicholas died on 17 October 1917 and was buried in the Sugaw Creek Presbyterian church cemetery.
In the 1920 census for Mecklenburg, North Carolina are Hariet, 69, a widow living with her youngest son, Fred L. Gibbon, a 33 year old farmer, living in Mallard Creek, perhaps on the old family farm. In the 1930 census for Mallard Creek, Mecklenburg county, North Carolina is H.C. Gibbon. She was living with Fred L. Gibbon, her son. Harriet died on 8 March 1944.
His children were,
(24) Edward Moore Gibbon (1872)
(24) Nicholas Lewis Gibbon (1874)
(24) Margaret Lizzie Gibbon (1877)
(24) Cora Annie Gibbon (1880)
(24) Richard P. Gibbon (1883)
(24) Frederick Lardner Gibbon (1886)
(24) Catherine Gibbon (1889)
(24) Harriet Gibbon
(24) Edward Moore Gibbon (1872)
(22) Dr. John Heysham-Gibbon (1795)
(23) Nicholas Biddle Gibbon (1837)
He was born on 21 March 1872 in North Carolina. In the 1880 census of Mallard Creek township, Mecklenburg county, North Carolina as Edward, 7, living with his parents. He probably attended the University of North Carolina at Charlotte (UNCC) where he earned a degree in Engineering.
He married Kate V. B. Respess on 7 February 1900 in Winston, Forsyth county, North Carolina. She was born on 3 July 1877 in Warrenton, North Carolina, the daughter of Richard Williams Respess and Bettie Hilliard Davis, of Greensboro, North Carolina. In the 1910 census of Jacksonville, Duval county, Florida as Edward M. Gibbon, a 37 year old Civil Engineer. Living with him was his wife, Kate, 32, of North Carolina, and children Richard, 9, and Alice, 6, who were also born in North Carolina.
In the 1920 census of Jacksonville, Duval county, Florida as Edward W. Gibbon, a 48 year old, self employed Civil Engineer. Living with him are his wife, Kate R., 43, Richard, a gasoline salesman [does that mean he sold fuel wholesale or did he work in a gas station?], 19, and Bessie A., 16. All were born in North Carolina.
In the 1930 census of Duval county Kate, now 52, was a Matron at the Children's Home Society, an orphanage. Oddly her marital condition is shown as married. Where was Edward? If he had died why wasn't Kate shown as a widow? A Kate Respess Gibbon died in 1955 in Duval county, Florida.
His children were,
(25) Richard M. Gibbon (1900)

(25) Richard M. Gibbon (1900)
(22) Dr. John Heysham-Gibbon (1795)
(23) Nicholas Biddle Gibbon (1837)
(24) Edward Gibbon (1873)
He was born on 15 December 1900 in North Carolina. Before 1910 moved to Duval county, Florida with his parents and sister, Bessie Alice. In the 1930 census of Duval county as Richard E. [Edward?], a 29 year old clerk in a a bank. He owned his own home, had property worth $10,000, and owned a radio. Living with him was his wife, Virginia, 23, of Georgia. Virginia was born on 17 August 1908.
Richard died on 9 May 1987 in Duval county, Florida, at the age of 86. Virginia Mcrae Gibbon died on 9 November 1996 in Duval at the age of 88.
(25) Bessie A. Gibbon (1904)
(22) Dr. John Heysham-Gibbon (1795)
(23) Nicholas Biddle Gibbon (1837)
(24) Edward Gibbon (1873)
She was born in North Carolina and before 1910 moved to Duval county, Florida with her parents and brother, Richard. In the 1910 and 1920 census of Duval county, Florida. Apparently she married after this time.
(24) Nicholas Lewis Gibbon (1874)
(22) Dr. John Heysham-Gibbon (1795)
(23) Nicholas Biddle Gibbon (1837)
He was born on 17 September 1874 in North Carolina. In the 1880 census of Mallard Creek township, Mecklenburg county, North Carolina as Nicholas Jr., 5, living with his parents. He probably attended the University of North Carolina where he earned a degree in Engineering.
He married Ethel M. Parcher in Biddeford, Maine, where he was residing at the time, on 24 September 1906. He was 28 years old. Biddeford is on the coast, between Portland and Kennebunkport. It was and is a textile manufacturing center. In the 1910 census of Providence, Rhode Island as Nicholas L. Gibbon, 32, of North Carolina, employed by a cotton manufacturer. Living with him was his wife, Ethel M., 28, of Maine.
In 1917, at the age of 43, he registered for the draft in Charlotte, North Carolina. At the time he was a purchasing agent for a chemical [?] construction company. His wife, Ethel M., signed as his nearest next of kin. They appear to have been living at 310 Raleigh Sheffield [?], in Charlotte.
In the 1920 census of Boston, Suffolk county, Massachusetts as Nicholas Gibbon, a 45 year old Textile Mill Engineer, a lodger living on Newbury street. He was born in North Carolina. Living with him was his wife, Ethel M., 40, who was born in Maine. They had no children.
In the 1930 census of McNeills township, Moore county, North Carolina as Nicholas L. Gibbon, a 52 year old Civil Engineer in general practice. Living with him were his wife, Ethel M., 43, of Maine. They continued to be childless.
His movements north, south, north, and south again don't make much sense at this point. Maybe he couldn't hold a job.
(24) Maragaret Lizzie Gibbon (1877)
(22) Dr. John Heysham-Gibbon (1795)
(23) Nicholas Biddle Gibbon (1837)
She was born on 7 October 1877. In the 1880 census of Mallard Creek township, Mecklenburg county, North Carolina as M.L., 2, a daughter. Nothing more is heard of her.
(24) Cora Annie Gibbon (1880)
(22) Dr. John Heysham-Gibbon (1795)
(23) Nicholas Biddle Gibbon (1837)
She was born on 4 April 1880. In the 1880 census of Mallard Creek township, Mecklenburg county, North Carolina as an unnamed female infant, 2/12. In the 1900 census of Mallard Creek as Cora A., 20, a student living at home with her parents.
(24) Richard Parks Gibbon (1883)
(22) Dr. John Heysham-Gibbon (1795)
(23) Nicholas Biddle Gibbon (1837)
Richard was born on 5 November 1883. I don't see him in the 1900 census, perhaps he was "farmed-out" to relatives. In the 1920 census he was living with his brother, Fred, and sister, Clara.
Just after this census, in 1920, Richard married Helen. She was from Canada as were her parents. In the 1930 census of Mallard Creek as R.P. Gibbon, a 47 year old farmer, living near his brother Fred. Living with him are his wife, Helen R. H., 37, and daughters Jean J., 7, and Hilda R., 6.
Richard died on 5 January 1974 in Mecklenburg county at the age of 91.
(25) Jean J. Gibbon (1923)
(22) Dr. John Heysham-Gibbon (1795)
(23) Nicholas Biddle Gibbon (1837)
(24) Richard P. Gibbon (1885)
(25) Hilda R. Gibbon (1924)
(22) Dr. John Heysham-Gibbon (1795)
(23) Nicholas Biddle Gibbon (1837)
(24) Richard P. Gibbon (1885)
(24) Frederick Lardner Gibbon (1886)
(22) Dr. John Heysham-Gibbon (1795)
(23) Nicholas Biddle Gibbon (1837)
He was born on 12 September 1886. In the 1900 census of Mallard Creek as Fred L., 13, living at home with his parents. He registered for the draft on 5 June 1917 at the age of 31. A farmer, of Charlotte, Mecklenburg county, North Carolina. He was single in 1917. He claimed to have had two years of military training at A&E College, North Carolina.
A & E College

Today known as North Carolina State University, it is located in Raleigh.
In the 1920 census for Mecklenburg, North Carolina as Fred L. Gibbon, a 33 year old farmer, living in Mallard Creek. Living with him were a brother, Richard P., a 35 year old laborer, sister, Cora, 37, and mother, Hariat C., 69.
In 1925 Fred married Eula, aged 32. In the 1930 census of Mallard Creek Fred L. Gibbon, a 42 year old farmer, was married to Eula S., 38, with a daughter Nine Mae, 4. His mother, H.C., 79, was still living with him.
(25) Frederick Lardner Gibbon Jr. (1930)
(22) Dr. John Heysham-Gibbon (1795)
(23) Nicholas Biddle Gibbon (1837)
(24) Frederick Lardner Gibbon (1886)
He was born in 1930 in Mecklenburg the son of Fred L. Gibbon of Charlotte.
(24) Catherine Gibbon (1889)
(22) Dr. John Heysham-Gibbon (1795)
(23) Nicholas Biddle Gibbon (1837)
She was born in 20 May 1889. In the 1900 census of Mallard Creek as Catherine, 11.
The Gibbon-Moore Family
The Moore family papers, like those of Nicholas Gibbon, are held in the University of North Carolina.
(23) Margaret Gibbon (c1838)
(22) Dr. John Heysham-Gibbon (1795)
She was born on 14 August 1840 in Claremont, near Charlotte, North Carolina.
She married John Wilson Moore on 5 September 1865 in Mecklenburg county. He was born on 2 January 1842, the son of Samuel McEwen [W?] Moore and Eveline Catherine Wallace [Susan Henderson?]. He lived in New Hanover county, North Carolina.
John Wilson had enlisted as a Private on 11 June 1861, in Company C, 1st North Carolina Infantry Regiment. He was wounded on 26 June 1862 at Ellerson's Mill, Virginia, 5 May 1864 at the Battle of the Wilderness, and again on 19 October 1864 at Cedar Creek, Virginia.
John was a planter and large landowner. He was in the North Carolina Legislature. At some point Margaret and John sold their farm to Nicholas Biddle Gibbon, Margaret's brother. Margaret died on 25 February 1886 in Woodlands, twelve miles from Charlotte.
John next married Mary A. Williamson of Lancaster, South Carolina. John died on 31 December 1923 and was buried in the Hopewell Prebyterian Church cemetary, Charlotte, North Carolina, alongside Margaret.
They had a number of children. Note that Margaret used her brothers' names extensively in naming her sons, I suppose in pride in the family connections.
(24) John Wallace Moore (1866)
He was born on 18 May 1866 in Nerita, North Carolina. He married Mary Eleanor Reid in 1890. He married Katherine Thompson Boude on 17 September 1895 in Pleasant Hill, Missouri. He died on 19 March 1943 in Clearwater, Florida.
(24) Nicholas Gibbon Moore (1867)
He was born on 7 September 1867. He married Margaret Ann White in 1897. He died on 19 September 1915 in Mooresville, North Carolina. There is a Dr. Nicholas Gibbon Moore in the The Landmark newspaper, Statesville, North Carolinia, on 19 September 1949. He was this Nicholas' son, but raised by his uncle Lynford.
(24) Lynford Lardner Moore (1869)
He was born on 22 April 1869. He studied at Davidson College, graduating in 1889. He went on to Jefferson Medical College in Philadelphia, where he obtained a degree in 1893. Moore practiced medicine for two years in New York and Philadelphia before entering Princeton Theological Seminary in 1895. In 1897 he was appointed as a Presbyterian medical missionary to Asia. Later that year in Yokohama, Japan, he met and married Mary Buford Torrance a missionary already in the field.
For seven years he was in charge of the medical work at Hsuchoufu. However by 1905 he had become so devastated by Chinese malaria contracted during his missionary work that he was forced to return to America. Upon his return to the United States, he attended the Union Theological Seminary in Richmond, Virginia and the Princeton Theological Seminary, graduating in 1906 with master degrees from both institutions. That same year he was ordained at Lexington Presbytery at Craigsville, Virginia. In 1911, he accepted calls from Taylorsville, New Salem and Shiloh Churches, in Concord Presbytery. In 1915, upon the death of his brother, Nicholas, he was designated guardian of his brother's five children and their estate. On 11 August 1925 at the residence of his brother-in-law, Thos. J. Smith, Lynford Lardner Moore passed away due to heart failure. He was buried the following day beside his father in Hopewell Cemetery.
(24) Samuel Williams Moore (1872)
He was born on 16 November 1872. He died on 29 September 1954 in Bluefield, West Virginia.
(23) Frances Gibbon (1844)
(22) Dr. John Heysham-Gibbon (1795)
She was born on 28 February 1844 in North Carolina. She died on 22 January 1845.